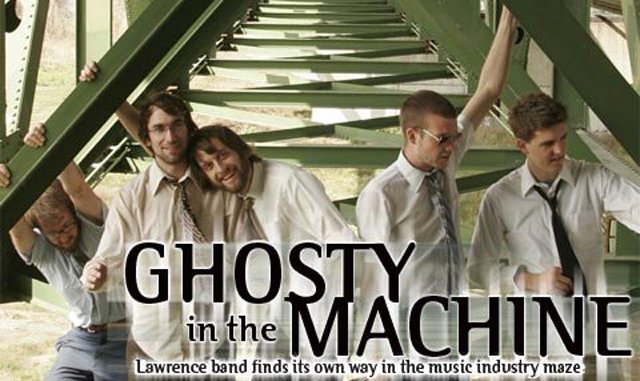 If every band were given the chance to script their own big 'break,' many might well come up with what actually happened to Lawrence's Ghosty.
In late 2003, they were at Trent Bell's studio recording, when none other than Flaming Lips' frontman Wayne Coyne showed up.
Coyne had recorded several times before at the Norman, Okla., studio and now wanted to lay down some tracks short-notice style.
But Ghosty had the studio booked for the entire week.
"It was pure, pure chance. We were in there and Wayne called and said 'I need to get in the studio'," said Ghosty frontman Andrew Connor. "We heard the conversation and we were like 'Yeah! We'll put our record off for a day to do this.' And of course, Wayne was like 'Well, maybe we'll get em on'" the Flaming Lips recording."
Ghosty spent the next day in the studio with the Lips' star, and Coyne eventually asked Connor to step up and record some backing vocals. He handed the Ghosty vocalist a legal pad with barely legible lyrics scrawled in the margins and, shaking with nerves, Connor laid down some vocals...
"He ended up keeping pretty much everything we did just because it wasn't bad," Connor said. "We happen to be the kind of band that can do something on the spot."
Before they parted for the day, Connor gave Coyne a copy of Ghosty's demo to take with him and get the feel of the music so that the next day he could return the favor with some backing vocals of his own.
"He came back with some advice," Connor said. "He told me 'OK Andrew, you got too many words in this song for one thing. What the fuck are you doing? I see it as a Lennon / McCartney thing. You know, you're McCartney, I'm Lennon and this is 'Getting Better'. You're saying 'It's getting better all the time' and I'm saying 'I can't get no worse,' you know what I mean?'
"That's what he said to me and I thought it was perfect, it was right on. It was cool, he was completely honest and said what he thought. It was fine, it didn't hurt my feelings," Connor said.
And so it was...the band from Lawrence appeared on the Lips' "Ego Tripping At the Gates of Hell" EP and Coyne contributed vocals for Ghosty's "Grow Up Or Sleep In" album. (Listen to the alt. version of "Clouds Solve It" featuring Wayne Coyne")
They didn't pay for it, sell their soul for it, they didn't even try to arrange it...but it happened. There it was - their break.
Or was it?
"I thought when the Flaming Lips' EP was released we'd get some attention and we could milk it for whatever," Connor said. "But fact is - we were credited in the liner notes and people would even talk about (our) backing vocals in reviews, but not one review that I read talked about Ghosty.
"I didn't really know what to expect. I kind of thought that was going to be our break," he said. "To us it was this huge thing. Being big fans of the Lips' music, it was the best thing that could have possibly happened - getting to work with Wayne as a mentor and an artist we respect. I guess I naively hoped something else might come out of it, too - not that I'm bitching about it because it didn't. We were just wide-eyed and didn't know what to expect."
Five short minutes
Whatever it was, the band's chance collaboration with Coyne has been followed by a year of ups and downs that has given Ghosty a glimpse into the fickle music-industry machine.
"Grow Up..." has garnered attention from several mid-tier labels - including Domino and Barsuk - and spinART records (Frank Black, Apples in Stereo) even sent Ghosty a working contract outline. But after that negotiation stalled in early 2004, the album fell into limbo, recorded but unreleased.
"We just think we deserve better," Connor said. "The communication has been bad and we feel like we've been put on the back burner for a long time. They kept telling us 'We're slammed' or 'You guys are on deck.' On deck for a year and a half. That's what I'm talking about with the flakiness of the industry."
Though it's something of a mystery to Connor why talks with spinART stalled, he speculates it might have had something to do with being drummer-less for a time during negotiations.
In Feb. 2004, Ghosty parted ways with original drummer Richard Gintowt (who writes for this publication) about the time spinART talks were peaking. The lineup instability may have led to reservations on the part of the label.
"You get kind of discouraged at times...the whole flightiness of the music business and the chance involved in the things that you wish were more predictable," Connor said.
"We should have never stopped shopping for a label, but we did because they said they were going to release it. It's been a major setback."
Since then, the band has taken in one of the best drummers in town - classically trained jazz drummer Josh Adams, who also plays with Hi-Dive - and though they aren't any closer to signing on the dotted line with a label, Ghosty is moving on.
A couple weeks ago, the band decided to release "Grown Up..." independently, beyond spending a few hundred dollars to burn copies for local distribution. They plan on taking out a loan this summer - capping off the better part of $10,000 spent on the album so far - to pay for mastering the album, distribution and college radio promotion.
"We could gain a lot from it being a Lawrence thing, starting our own label and having it be more of a grassroots-oriented effort - not doing too much at one time," Connor said.
Come hell or high water
One tangible outcome that did already come out of Ghosty's work with Coyne is their partnership with Derek Brown of Hellfire Management, which manages with the Flaming Lips and Starlight Mints.
Brown began working with Ghosty pro bono-style after Lips' manager Scott Booker and Mints' drummer Andy Nunez both referred the band.
"I kept hearing about them, heard the stuff, met the guys and loved it," Brown said.
"I talk to those guys maybe once a week at this point, if not more. We're just trying to get the record to as many people as might be interested in signing them," he said. "Once they're signed and on a label, it'll be so much easier to get them a tour, get them good shows. Because without the muscle or the infrastructure of a label, a record can't get distributed that well or get promoted that well.
"I love the band. If I had a label I'd sign them to it. They've got good attitudes. I'm not going to be at all surprised when something ends up coming from it," Brown said.
Ghosty keyboardist David Wetzel says the band is indebted to Brown for his willingness to help them for free, which is crucial since the band can't afford to pay a manager.
"He's been invaluable in helping us get our shit together - press packs and booking shows, looking out for us," he said. "It's a learning process both figuring out how the usual system works and how we want to do it, if differently."
Since the usual system hadn't yet yielded a proper release for "Grow Up...," over the past few years the band did what it could to burn copies of its latest home recordings - most recently the seven-track "Me, me, me" demo. But without a chunk of cash to pay for a bulk order of copies, their homemade stashes ran out fast.
"It's frustrating not to have an album to give people. When people come to shows and want to buy a CD and I have to say 'Oh, here's this old one'," Wetzel said. "We're pretty poor businessmen obviously, but it's been working for us so far. Miraculously people have been very patient. We appreciate all those people who still come out to all the shows and go home empty-handed and don't have any Ghosty memorabilia to speak of."
(In a big world), Little dreams count
Since the band began in 2000 as a three-piece, Ghosty has expanded their ranks and sound to include Wetzel on keyboards as well as Jeff Ferrell on guitar and vocals after his former band, The Hardaways, disbanded two years ago. In 2002, Mike Nolte moved to Lawrence from South Dakota to replace original bassist Jacob Baum, who left to form the experimental group (blue). For about six months, Andrew Sallee (of namelessnumberheadman) commuted from Liberty, Mo., to fill in on drums until late last year, when Ghosty found their newest member - drummer Josh Adams.
When talking about Ghosty's recent progress, the band's often-reserved songwriter gets animated.
"He makes us play better, he makes us sound better, he makes us not have to worry," said Connor of Adams. "The other drummers we've played with have both been great, but Josh is like a little gift from the sky.
The band has hit the road more recently for one-off regional shows, including a headlining set at Austin's South by Southwest Music Festival.
"We have a good thing going. It's not just in our own minds. We've had a lot of interest from other people and if we just keep at it there's a future somewhere. I just want to be able to tour and make records. I wanna do it because I know I'm going to do it anyway even if there's no support from a label," he said.
"We have all these songs that we work on and we love doing that - we don't focus on the business side like that's the most important thing to us. That's not what we have an affinity for, you know, it's the music that matters to us. Even if we don't have this big release plan or a plan to package it a certain way, we're having a lot of fun.
"And it feels like we're making progress. That's why I'm encouraged by everything. We're not taking the fast track - we're taking the slow road - and it seems to be working fine," Connor said.
"Not that we're satisfied by going slowly, but just building a reputation for good shows, that's fine with me."