I sometimes wonder why collections of short stories aren't more popular. The advantages over their novel counterparts are numerous. The time commitment is low, unlike, say, "The Brothers Karamazov." If you didn't like what you just read, there's another, completely different story on the next page. And when written well, insightful vignettes of character's lives-critical moments that define a person-can often have more staying power with a reader than scenes from a lengthy novel.
Topeka author Thomas Fox Averill has established himself as a respectable practitioner of the short story, with three collections to date and an O. Henry award for his talents. Like his previous short story works, the stories in "Ordinary Genius" use Kansas as a canvas for stories of seemingly ordinary people in a seemingly ordinary place. But the stories are anything but ordinary.
His subjects range from an alcoholic, East-coast aunt who comes to visit a family, to another family that embraces futuristic technology. He explores the relationship between a boy and a horse in one story; bocce ball and a priest in another; as well as bus rides of a mentally challenged Topeka man. While written in similar clear styles, the stories are entirely distinct, with no overlap of characters, setting or plot. Each story is a fresh start.
Past Event
Thursday, May 5, 2005, 7 p.m. to 9 p.m.
Lawrence Public Library, 707 Vermont St., Lawrence
All ages / Free
Averill's tales can sometimes be boiled down to simple plot lines: A man and his elderly father grocery shop together in "Shopping." But it isn't the story that is captivating; it's how it's told. Averill plays with the natural tension between a widower-father - recently diagnosed with diabetes - and his gay son as they stroll the store aisles looking for low-sugar, low-fat foods. Averill touches on the guilt that the son feels for being healthy around his sick father and sick partner. Averill writes, "His energy, his endurance, his muscle tone, his lack of symptoms, all seem to mock Bill. Maybe they mock his father, too."
In "The Onion and I," Averill waxes science fictional on the human struggle to accept progress. The story is built around an onion farmer who falls in love with a computer science student at a university. They get married, have a son, and-due to the wife's insatiable desire to be a part of the next big technology-sign their family up for an experimental cyber world called "Bidwell." Bidwell requires them to commit all of their material possessions (even their dog) to computer algorithms that join them on the other side when they don their virtual reality helmets. Averill seems to be at his best when he's describing Kansas land. So when he details the man's earnest, yet ultimately futile efforts to program the Onion (in its Platonic form) into Bidwell, even I, who identified more with the tech-savvy wife, ached for the real world life of the farmer.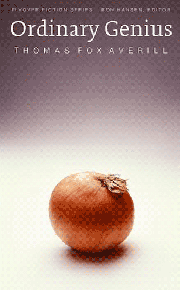 Averill writes tenderly of a loss of innocence in "Topeka Underground," where a young boy experiences the eccentric world of his neighbors. Ostracized from their neighborhood, the Linsborg couple has not finished building their house, but instead, live in their cellar. The neighbor boy, William, ventures into their Boo Radley-like yard where, incidentally, he finds Mr. Linsborg peeing next to his woodpile. The relationship between William and the Linsborgs grows into one of mutual trust. When the boy chooses to trespass, this trust is tested. Averill writes how the boy's experience after snooping tests his maturity, illustrating how youthful recklessness and compassion can coexist in a child at the same time.
"The Man Who Ran with Deer" is a story that borders on the bizarre. It begins with Harry and Mavis, a taciturn couple, eating breakfast, when they notice a family of deer outside - and a naked man standing amongst them. Throughout the year, the deer and man come back, and when they do, Harry follows them into the woods to investigate. The reader expects something to happen each time Harry pursues the man and deer: a confrontation or perhaps someone dying, but I found the twist Averill chose quite unexpected, and somewhat disconcerting.
Averill's writing is very Kansas-centric, but keeps from being hokey, or overly sentimental. His talent lies in telling captivating stories with inspired imagery. And while his themes may seem universal, he tells them in a way that is entirely unique. It's his imagery and unexpected versions of stories I thought I knew that kept his tales resonating in my mind days after I read them.
More like this story on Lawrence.com