The Moon Bar, 821 Iowa, was transformed Friday into a very different establishment: "Rosie's Cafe," an eatery specializing in strawberry pie.
It might be difficult to get your own slice, however; the cafe and the pie were fiction, created for a feature-length independent movie being shot by a Lawrence filmmaker.
"It's very small, very low budget," said the director, Marlo Angell, who didn't disclose the budget. "The crew is mostly friends and family."
Her movie, "Waiting for the Sun," tells the story of Eve, a young woman with amnesia who makes a surprising self-discovery. Angell described "Sun" as a character-driven science fiction movie.
While much of the cast and crew is local, Angell is getting help at the national level. The lead actor, Jesse Harper, is a Los Angeles friend of Angell's. Eve is played by Hedia Anwar, a New York actress who got the job after Angell advertised in trade publications.
Place
821 S. Iowa, Lawrence
And the cast will soon be joined by a bigger name: Lupe Ontiveros, who was nominated for an Emmy award for her performance as a mother-in-law on "Desperate Housewives."
"I wrote the part with her in mind and sent it to her agent, and she agreed to do it," Angell said.
The shoot will move around to Wichita, Newton and Topeka in coming weeks.
"Local support has been wonderful," said Kerri Wedel, a Kansas University student serving as an assistant director on the movie. "We couldn't have asked for anything better."
Despite her Lawrence residency, Angell isn't a stranger to the ways of Hollywood. She went to film school at the University of Southern California before moving to Kansas. Her husband, Peter Jasso, is director of the Kansas Film Commission, which tries to attract film and television projects to the state.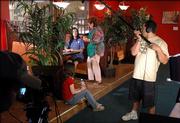 Angell said it's easier, in some ways, to film a movie in Kansas than in California. There aren't so many projects competing for time and space in good locations here, she said.
In contrast, places like the Moon Bar - which recently earned some infamy as the site where J.R. Giddens was stabbed, leading to his transfer out of the Kansas University basketball program - have proven cooperative.
"People here are excited" to help on a movie, she said.
She said "Sun" should wrap shooting in September. After that, she hopes to complete production by Christmas, in order to submit the movie to the prestigious Sundance Film Festival in January. After that, she hopes for a distribution deal.
But that's not the important part, she said. The best thing about this shoot, Angell said, is actually getting the movie made.
"Basically," she said, "I want that script that I wrote - I want to see that vision on film."