Throngs of Kansas University students returned to campus residence halls Sunday, traveling in vehicles packed with everything from clothes and food to stereos and television sets.
"And a guitar - you got to have a guitar, don't you?" John Redding said with a chuckle as he loaded up a cart with some of his son Grant Redding's belongings in the parking lot outside Oliver Hall.
If Grant Redding forgot anything, he won't have far to go to get the missing item.
A Lawrence resident and 2004 Free State High School graduate, he chose to live in a resident hall instead of at home. He spent a semester last year at Johnson County Community College and then took a semester off before transferring to KU.
"I'm excited," he said of the upcoming semester.
By mid-afternoon on Daisy Hill, where most of the residence halls are located, traffic was bumper-to-bumper along Engel Road. Student volunteers on the Hall Orientation Team, or H.O.T., passed out fliers to motorists asking them to unload along the curb and then move to a parking lot. Drivers using a restricted parking area had 30 minutes for unloading before they had to move to the remote lot across the bridge over Iowa Street near the Lied Center. H.O.T. also was assisting the students with getting their belongings up to their rooms.
Photo Gallery
KU Move-In Day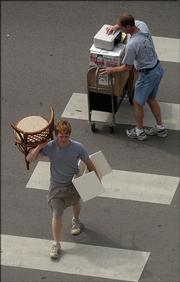 "It's been a zoo, but it's also going pretty smoothly," said Joseph Hermens, one of the H.O.T. members. "Yesterday we were helping the sorority girls move in and it was raining."
Adam Rogers and Lauren Tallent, both freshmen from Overland Park, were almost through moving into their rooms in Ellsworth Hall after making nearly 10 trips between the two of them from the front curbside into the building.
"It wasn't as bad as I pictured it," Tallent said. "I pictured it being a lot worse."
Tallent's father, Todd Mosely, agreed as he loaded up a cart for the final trip.
"I'm surprised at how organized it's been," said Mosely, who admitted he also had been concerned about the possibility of rain.
"Or it could have been a hundred (degrees)," he quickly added. "We were pretty fortunate.
For the first time in several years, KU's move-in day saw mild weather with temperatures in the upper 70s under cloudy skies. The downpours that took place Saturday did not return.
The weather, however, was the last thing on Sharon Rethmeyer's mind after helping her son Brady Greig move into Ellsworth. It was the first time one of her children was leaving home for college. She had mixed emotions as she made the long walk across the Iowa Street bridge to the Lied Center parking lot with her second son, Kyle Greig, 15, and husband, Dean Rethmeyer, all from Sprin Hill.
"It was a long walk and a long cry," she said.
More than 3,000 students moved into the residence halls. One of them, Hashinger Hall, is closed for renovation.