There's never a reason to lose all hope in Lawrence.
That's because the volunteers at Headquarters Counseling Center are on-call 24 hours a day, sleeping on futons and interrupting their REM sequences to counsel those in need of serious help - immediately.
Kristen (last name withheld for privacy reasons) is one of 40 volunteers that keep Headquarters running 24 hours a day. She's a friend to the suicidal, the depressed, the sexually confused, the at-risk, the addicted, the abused and the lonely. Most of the time she doesn't know what becomes of her tell-all conversations, except on the rare occasions when people call back to thank her for saving their lives.
In September, Kristen will take an AmeriCorps position at a domestic violence crisis center in New Hampshire. In doing so, she'll join the ranks of previous who graduated with lame duck degrees.
"Teaching is obviously a really important profession, but just not something that I want to do anymore," Kristen says. "I think that without Headquarters I wouldn't have realized that."
Story time
Kristen's moment of clarity didn't come the moment she walked into Headquarters. First she had to pass an interview to prove she was stable - enough to deal with people who weren't. Then she had to endure a 100-hour crash course to prepare for every conceivable crisis she might encounter.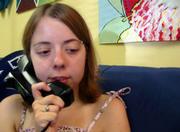 "There were definitely times when I left training and I was like, 'I'm never going to be able to do this,'" she recalls. "They definitely keep you motivated and try to give you confidence. When it was over I felt a lot better about it."
Once she hit the phones, Kristen quickly became acquainted with the "regulars." Their stories are intimately known by all of the Headquarters staff and their voices are instantly recognizable. Sometimes they call just to talk about how their day is going.
Such calls are a breeze compared to the suicide calls. It's hard to imagine that any amount of training could prepare a counselor to deal with somebody who just ingested a bottle full of pills. There's no script to follow, but there are patterns to learn.
"You can tell right away how intense the situation is," Kristen says. "I wouldn't by any means say that I'm detached from their feelings, but because I've done it so many times that it's a lot easier for me to take what they're saying and use the skills that I've learned."
Headquarters Counseling Center is currently seeking good listeners with good hearts. The center will host new volunteer meetings Aug. 20th from 10-11am at The Community Mercantile, 901 Iowa St., and Aug. 24th from 7-8pm at the Lawrence Public Library, 707 Vermont St. Volunteers should expect to work about eight hours a week.
Most of the time Kristen hangs up feeling helpful, but occasionally she wonders if she didn't make the situation worse. As if such doubts didn't create enough stress, she also must deal with the occasional prank call.
"There was a kid, maybe a 13-year-old, and it totally sounded like he had shot himself on the phone," Kristen says of a call she received last month. "I kind of had suspected thoughout the call that maybe it was a prank because I kept hearing the kid hit the mute button. But still, you always wonder."
Talk the walk
As if suicide counseling wasn't heavy enough, Kristen also fields calls on issues of sexual assault, domestic abuse, drug addiction, stress, loneliness and sexuality.
"People are amazingly resilient," she says. "Just calling a stranger and saying, 'I was raped last night' or 'I'm really scared' - that takes courage. I don't know that if I were in that position I would really be able to open up to someone like that."
Kristen has referral lists at her fingertips for things like AIDS testing, rape counseling and food and housing assistance. She leads callers in the right directions, but it's up to them to walk the walk.
"You can't make anyone do anything," she says. "You just have to trust that it's going to work out and encourage people to call back if they need to."
Between calls, Kristen spends her time socializing, watching TV, doing homework and maxing on the center's luxury futons. The decidedly non-cubicle environment has spawned many a friendship, including Kristin's current affair with a male volunteer she previously trained.
"It's a really good place to find some loyal, trustworthy people that you can be friends with," she says. "It's not like, 'Oh hey, remember when I met you at that frat party?' It's much more long-lasting and it's something you can always go back to.
"It isn't all about being totally selfless," Kristen says. "I know that everyone feels better about themselves or they wouldn't do it.
"It's scary of course, but what worthwhile things aren't?"


Know someone who's working for positive change in our community? Drop us a line to suggest them for this feature.