Bill Nutt isn't the kind of guy who likes to live with regrets.
Sometimes, though, Nutt wonders what life would be like with a college degree.
"I've thought about it many times, because this is hard work and it's hot and it's dirty," says the 47-year-old car mechanic. "I've thought, 'You know, I wish I would have gone to school for something else; something where I use my brain a little more; something with computers.'"
Actually, Nutt did go to college, but he can't remember the name - it was a junior college in Florida and he lasted about half a semester. "The '70s were the '70s," he explains.
Thirty years later, Nutt owns Mike's Auto Service, 2150 Haskell Ave. He bought the business five months ago hoping it would bring an end to 30 years of doing grunt work for dealerships.
"Realistically I'll just do this until I retire and let the kid take over," he says. "I purposely moved here because it is a college town. If you're hardworking and honest and you've got some motivation, these college students tear the hell out of their cars."
Big cheese
Nutt's decision to forego college and become an auto mechanic wasn't that unusual in the late '70s, when just 30 percent of all high school graduates went directly into college, according to U.S. Census stats. Since then, however, the number has grown to nearly 50 percent.
With tuition going through the roof, the question of a whether college is worth the cost can be a tough call make, particularly for prospective students without clear idea of what they're going to do after they get the degree.
Is going into deep debt or shelling out thousands of dollars worth the vague "investment in their future"?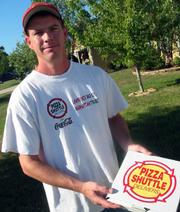 Or should they say "screw it" and go deliver garlic chicken pizzas?
Twenty years ago, Jeff Morris chose the latter.
"I ran out of money, and that's when I came to work at Pizza Shuttle," explains the 38-year-old general manager of the store.
"A year later, I moved up and started to make a little money. I had intentions to go back (to school) but I just loved the place. I've been there ever since."
At the time, Morris's justification for pissing off his parents and foregoing future earning potential was twofold: 1. He was making money instead of spending it. 2. He was preserving his sanity.
"I was working 50-60 hours a week and honestly I didn't have the motivation to go to school," Morris says. "By the time you study and all that kind of stuff it's another 40-hour-a-week job. I wasn't up to 100 hours a week."
As he moved his way up in the ranks from cook to assistant manager to night manager, Morris often wondered whether it would be useful to get a business degree from KU. Ultimately, he decided he could learn just as much on the job.
"I just don't think school teaches you how to manage people," he says. "I'm sure there's some fancy techniques and graph charts and all that kind of stuff that I could learn, but I know all those business techniques through experience."
As he sprawls out with a Bud Light on the back porch of his southeast Lawrence home, Morris reflects on his Pizza Shuttle-spawned earnings: a nice home, a wife (whom he met at the store) and chance to eventually own the store. Heck, that's at least as much as his college-educated coworkers could hope for.
"I bet I have at least eight employees that have at least one degree that still continue to work there," he says. "As long as you take care of your car, it's good money."
No shortcuts
Service industry denizens like Morris are just a portion of the modern day workforce surviving without the aid of a college degree. According to U.S. Census surveys, these workers should expect to make only half as much money as those with a college degree: $27,000 as opposed to $51,000.
Stats, of course, don't mean as much when you've got a plan. Even the KU career counselors will admit that much.
"Truthfully, those who really put some thought into it are probably going to be successful if they go to college or not, because they're looking at themselves as someone who has skills," says David Gaston, director of the University Career Center. "That's one of the things we try to stress to the students we work with: If you make conscious decisions and you have a plan, you're more likely to be successful."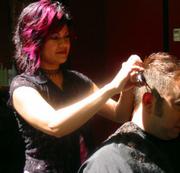 Proof of Gaston's advice can be found downtown near Eighth and New Hampshire St., where Roxanne Klaus is living her dream of owning a hair salon.
The former Sakaroffs stylist opened Static six weeks ago, capitalizing on her six years of experience on the Mass. St. hair circuit.
"I really didn't want to deal with corporate America," says Klaus, 28. "I didn't want to be sitting behind a desk all day, and that to me what my life was going to be if I went to college."
Ten years ago, Klaus had one major advantage over her high school peers: she knew exactly what she wanted to do with her life. Klaus's mother, grandmother and grandfather were all in the hair business, and she already had experience working at her mother's salon in Tulsa, Okla.
Following her high school graduation (with a GPA of 3.2), Klaus spent one year attending a cosmetology school in Tulsa at a cost of $5,000. The payoff, she says, has been well worth it.
"I think hair dressers get a bad rap like, 'You went to beauty school; you're going to work for crap,'" Klaus says. "It's not that way. You can make $15-20,000 a year or you can make $100,000-plus a year."
Now that she owns her own business, Klaus has the opportunity to surpass the $35,000 salary she made working for local salons. To get to that point, she had to endure a half-year of minimum wage interning and an initial struggle to establish a clientele.
"I went out every night handing out cards and giving information to people to get them to come to me," she says. "I was working 10-hour days shoving people in as many places as I could."
While Roxanne was living the college lifestyle minus the college, her sister Suzanne was bouncing from major to major. Eight years of college later, Suzanne is a hairstylist too.
"I never think that college education is a waste of time," Klaus says. "But I do think that there are a lot of creative kids who are forced to go to school by their parents who could be doing other things that their heart desires."
"I feel like I could have been one of those kids," she adds. "If I had chosen to go to college then maybe I would have had a more boring life."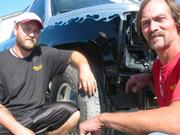 Passing the pump
When Bill Nutt finally retires his wrench, his son Jeremy Nutt will take the reins of Mike's Auto Service.
Jeremy could easily have chosen a different path than his father. He graduated high school with a 3.4 GPA and his grandfather offered to finance his college education. Much to Grandpa's chagrin, Jeremy decided to work on cars instead.
"There's always going to be something on the road, whether it's a car with four wheels or a frickin' hovercraft," says the 27-year-old grease monkey. "There's a security blanket in that."
At age 18, Jeremy needed the security of a steady cash flow. He was living on his own and financing "toys" like stereo systems, cars and motorcycles. His financial situation became more urgent two years later, when he had his first child and got hitched. For the next five years, Jeremy supported his family on what he supposes is the standard salary for a grunt-level auto mechanic: $16,000-$20,000.
"That's the range I had to stick it out at to get up to the point to where I know what I know now," he says. "That was kind of my college - taking the low pay and going through the 5-6 years of working for garages and sponging it all up."
Jeremy is hoping his investment will pay off now that he co-owns a shop with his dad. His work days are enlivened by custom jobs that allow for creativity outside the bounds of oil changes and tire rotations, and he gets to go to work everyday with the man who taught him to fix cars.
At this point, everything seems to be working out.
"If I was bankrupt and didn't know where I was going to get my next meal, then I might say, 'That was a bad decision; I should have went to college for sure,'" Jeremy reflects.
"At the same time, I learned a trade to keep me moving and support the things that I wanted. Now I gotta support the things I have to support."