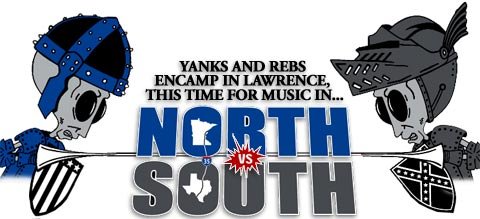 Wednesday, August 17, 2005
While some people in Lawrence are celebrating the 142nd anniversary of Quantrill's Raid with walking tours, vigils and re-enactments, Mike McCoy has organized a more unconventional tribute.
Starting today, Lawrence will provide the setting for the second annual North vs. South Music Festival. Nearly 30 acts hailing from either Minneapolis, Minn., or Austin, Texas, are preparing to encamp for three days on one of three downtown stages. The resulting concerts will offer a rock music equivalent of the blue vs. gray.
"People were super-receptive to it last year," McCoy says. "You get to see the rather extreme personalities and styles of two very similar, strongly knit music scenes."
Despite the fact these regional extremes aren't necessarily rife with Civil War history, they represent two of the nation's musical hot spots.
"I really like the idea of the tie-in with Quantrill for Lawrence," McCoy says. "It kicks off the school year as well. And it brings focus to two of my favorite cities. It's a very selfish festival in a lot of ways."
McCoy, a native of Hutchinson, got to know the places well while fronting the Kansas City band Cher U.K. (The group was originally called Cher until attorneys for the aging diva pressured the trio to alter its name.) He recorded two records with Cher U.K. in Minneapolis during the early 1990s, and he also spent 1998-2002 living in Austin and immersing himself in the "live music capital."
Thursday, Aug. 18
10 p.m., Jackpot Saloon and Music Hall ($5) more info
10 p.m., The Replay Lounge ($2) more info
10 p.m., The Eighth Street Tap Room ($2) more info
Friday, Aug. 19
10 p.m., Jackpot Saloon and Music Hall ($5) more info
10 p.m., The Replay Lounge ($2) more info
10 p.m., The Eighth Street Tap Room ($2) more info
Saturday, Aug. 20
10 p.m., Jackpot Saloon and Music Hall ($5) more info
10 p.m., The Replay Lounge ($2) more info
10 p.m., The Eighth Street Tap Room ($2) more info
Although last year's debut of North vs. South went smoothly, according to McCoy, he originally envisioned the ongoing festival would feature different cities.
"What we've found when we started to get some feedback is we didn't fill it in enough for these two cities," he says. "What I'm trying to do is be patient with it. I do want to do Dallas vs. Chicago, but I've got to establish it a little further."
Pop stars
"There has always been a kinship between the two music scenes," says Mike Nicolai, who will perform at 10 p.m. Saturday at The Eighth Street Tap Room. "They're both places where a lot of vanguard artists have come from - ahead-of-the-curve stuff, always. Both scenes have a lot of cross-pollination."
Nicolai should know. The Minneapolis native lived for several years in Austin. The acoustic songwriter also will perform at North vs. South with Austin group Grand Champeen as his backing band.
The experience gave him insight into the musical differences between the artists of the competing regions.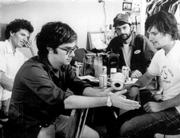 "Sound checks tend to happen on time up here," he says. "But there's a really nice looseness to the Austin scene."
Otherwise, he finds amusement in the minor contrasts of living in both Texas and Minnesota.
"There's pop versus soda," he explains. "Or there's Frito pie in Texas, and up here you get Jell-O salad. When I first moved down there, I said, 'I'm going to go get a pop.' Somebody glared at me and said, 'We don't make pop down here, son.'"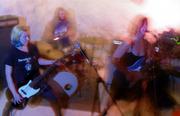 Sleep state
"There are like 7 million bands in Austin," says Gary Chester, guitarist-vocalist for Austin's Pong. "Everyone is a musician. But everyone also has this other job because of the high cost of living.
"And there are a million places to play. Then the pollen descends on Austin and puts everybody in this sleep state. In Minneapolis, there are way fewer bands, but they're all super serious. They have their (stuff) together - their Web page and all - they're very businesslike."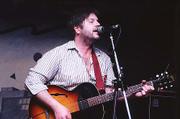 Chester spent 1986-1996 with Austin's beloved rock act Ed Hall. Three of the members went on to form the theatrical Pong, which tones down the feedback and dissonance in favor of quirkier sounds bolstered by Vocoders and Moog synths.
"We used to call it retro futurism," he says. "But I got an (amp effects device), and one of the settings was 'retro futuristic.' So now we can't call it that anymore because that's a real term."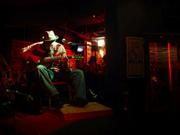 While Chester is no different than the other musicians trying to survive in Austin's demanding economic setting, he and his fellow band members share a link somewhat unique to the community.
He says, "In Ed Hall we all worked at the Texas School for the Blind and Visually Impaired, and we decided, 'We should just quit and tour forever.' Our first big tour was with (punk bands) Flipper and The Dwarves, who were just like the children in the blind school who we worked with in the multihandicapped department. Ever since then it was like, 'Wow, we can use these skills forever.'"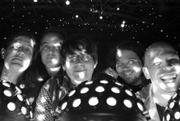 Attractive lineup
"I've never heard any music quite like it," McCoy says of Pong, who performs during the late slot on Saturday at The Jackpot Saloon.
He cites Pong as one of the groups he's most looking forward to watching at North vs. South, along with The Moonlight Towers, Ol' Yeller and Grand Champeen.
"I'm also interested in this all-girl punk band from Duluth called Keep Aways," he says. "It's two words, so whatever they're trying to say, I think they say it right in the name of their band."
To thank the more than 100 musicians who will be making the trek to Lawrence, McCoy has printed up vintage work shirts with the festival's logo emblazoned on them.
They come in two colors: blue or gray.
More like this story on Lawrence.com