Thursday, August 18, 2005
Less than a year after putting together the Haskell Film Festival, Thomas Yeahpau is headed for Hollywood.
"I just got a $50,000 fellowship," Yeahpau said Tuesday. "The people at Disney studios want me to come out there and write for them. They say I'll either be working on a sitcom or a drama."
While at Haskell Indian Nations University, Yeahpau has made several short films and written short stories.
Yeahpau said he would move to Los Angeles in January with his wife and their two children.
"Thomas was one of two students to receive fellowships during this year's Summer Film and Television Workshop," said John Villani, director of communications at the Institute for American Indian Art in Santa Fe, N.M.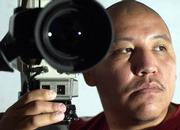 "He is an up-and-coming talent and a very knowledgeable person," Villani said. "Disney and ABC and Buena Vista Studios have made it clear they want to nurture him, to see him grow."
Yeahpau's "My Favorite Runner" was one of four scripts selected for production during the Institute-sponsored workshop. Eighteen were proposed.
Yeahpau, a Kiowa from Anadarko, Okla., said he sees the fellowship as a "get-my-foot-in-the-door" opportunity.
"My biggest goal is to entertain, to get into the mass market," he said. "A lot of people want to preach and teach, I just want to entertain."
Yeahpau, 30, was a key organizer of the Haskell Film Festival, which brought "NYPD Blue" star Rick Schroder to Lawrence for a sold-out premiere showing of "Black Cloud," a movie written, directed and produced by Schroder.
Yeahpau has a liberal arts degree from Haskell. He's working on a bachelor's degree in business.
"Being in Lawrence and at Haskell has been good for me," he said, "because this is really a positive community for a Native American. Back home, people are almost ashamed of being Indian. It's not like that here, which helps me reflect back on my experiences. Instead of wanting to forget them, I turn them into stories."
More like this story on Lawrence.com