Thursday, August 18, 2005
It's that time of year at the Red Lyon Tavern.
With college students flooding back into town, bartender Chris Neverve knows he'll probably see more than a few fake driver's licenses - some of them comically incorrect - from youngsters trying to buy a beer before they turn 21.
"Most of the time, the funniest ones are height discrepancies," Neverve said. "They'll come in six or eight inches shorter than what the ID says."
When caught, the would-be drinkers aren't just refused service - they often don't make it past the door.
After all, Neverve and bartenders around town know that local and state officials are on the prowl ready to bust underage drinkers - or establishments that illegally provide alcohol.
"You never know when they're going to show up, so you've got to be careful," Neverve said of state Alcohol Beverage Control agents. "I'm sure they're out and about and keeping an eye out."
Nineteen-year-old Eileen Quillin, a Kansas University sophomore, said she didn't have a fake I.D. But she knows people who do.
"It's easier to get caught by a bartender than by a cop," she said.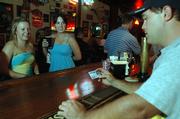 There's a difference: Get caught by a bartender and you'll probably lose your fake license. Get caught by a police officer, you might lose your real license.
Charges surge
There were about a dozen beer drinkers - all apparently of legal age - on the front porch Wednesday afternoon at Free State Brewing Co. Bill Woodard, a fortysomething professional, said he remembered when the legal drinking age was 18.
Back then, he said, it was the 16-year-olds trying to sneak into the bars.
"It's been around as long as there's been limits - you try to beat it," Woodard said. "It's the lure of the forbidden."
Jerry Little, the city prosecutor, said prosecutions of underage drinking and possessing fake I.D.s go up dramatically when students come back to Lawrence.
In July 2004, for example, his office filed seven "minor in possession of alcohol" charges - known as MIPs. In August 2004, when students returned, his office filed 41 cases, then 74 in September.
"With students coming in August and rush week going on, there's a lot of parties, a lot of people going to bars," Little said.
Legal consequences for underage drinkers include hefty fines, a 30-day license suspension - which is reported to the driver's insurance company - community service, alcohol education and even jail time.
The penalties
For underage drinking: ¢ A mandatory minimum fine of $300, though it could go as high as $500. ¢ A 30-day driver's license suspension. A second offense results in a 90-day suspension; the third conviction will get your license revoked for a full year. ¢ A possible sentence of up to 30 days in jail. ¢ A possible requirement of 40 public service hours. ¢ A possible requirement to attend an "alcohol education" class.
For possessing a fake license: ¢ A minimum fine of $300, with a maximum of $1,000. ¢ A possible sentence of up to six months in jail.
- Source: Lawrence city code
"We get a lot of kids in our office here on 'minor in possession' that are pretty upset," Little said, "because it has a major impact on their finances."
Kathryn Nemeth Tuttle, associate vice provost for student success at KU, said new students are told about those consequences during orientation sessions. The university also provides non-alcoholic late-night entertainment during "Hawk Week."
"There are a lot of things where students are needing to make good choices, so that's crucial," Tuttle said. "We hope we've given them the information and support to make good decisions."
On the lookout
That might not be enough to discourage would-be drinkers.
"Going to class, I hear a lot about people going to bars and getting MIPs," Quillin said.
Some students, she said, work hard to memorize the information on their fake licenses so they won't forget it when drunk.
That means more work for Little.
"College towns may be more susceptible to (underage drinking) and fake drivers' licenses. It goes with the territory a little bit," Little said. "But it also has stiff consequences, so they need to be careful."
And, of course, Neverve will be on the lookout.
"There's new people here that have never been here before," he said. "You have to be most careful right now."