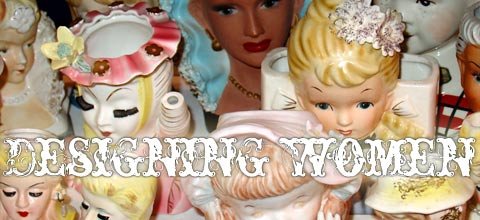 Kristen Ferrell is no snob.
The 29-year-old Lawrence artist - with her mane of dreads and arms sleeved in tattoos - made paintings that were fresh and edgy enough to pack the youthful Olive Gallery with a legion of hipsters at the opening of her July show.
Most of those kids couldn't afford to cough up several hundred bucks to snag a Ferrell for over the sofa. But no worries.
Awhile back, Ferrell took a cue from her broke fans and started printing her artwork on T-shirts and setting up "merch" tables at her gallery shows - just like bands who hawk CDs and apparel at their gigs.
"The kids were loving it, and it made a little bit of extra money," Ferrell says. "I've gotten a lot of people who kind of look down on the clothing line that I have because they say I've made my artwork a product. And I'm like, no, you put a price tag on anything, and it's a product.
"It's still my artwork on a T-shirt; it's just accessible to the general public. I'm not uppity about it."
Ferrell is among a growing number of young Lawrence women designing and selling their own lines of clothing, greeting cards, jewelry, handbags and other accessories. Their motivations vary. They all view their creations as avenues for personal expression, and most are glad to have the extra dough generated by sales, especially those struggling to make ends meet as artists.
Beyond that, the women also share the sentiment that practical objects should come in beautiful packages, and people on a budget should be able to afford them.
"For me, it's a way to get really affordable, accessible art into the hands of people who want it," says Kendra Herring, 33. "On one hand, it's a way to be expressive, but it's also a way to make things that we want to surround ourselves with, as well as share with others."
National phenomenon
Herring and Ferrell belong to LOLA, or Ladies of Lawrence Artwork. Jewelry designer Kylie Grater and caterer Tina Bell started the group last winter to showcase craft and food as art, but it has blossomed into a series of one-night-only sales that spotlight the designs of the city's young creative types.
"I think that it appeals to a 20s and 30s crowd that's pretty hip. They want things that are modern and trendy but yet very stylish and unique," says Bell, 35. "(LOLA shows) have always had a great turnout, and it's always been a lot of fun. It attracts a lot of different age groups, a lot of different professions. It's pretty varied, but I would say that style is the thing that brings most of these people together."
Since starting her side project with T-shirts, Ferrell has expanded the venture to include handbags and underwear sets. She also buys dentures on eBay and uses them to make hair clips. Stores across the country - even several in Canada and Scotland - have picked up the line, keeping Ferrell and the guy who screenprints her products in his Lawrence house exceedingly busy.
Ferrell has discovered something interesting during her travels to trade shows and galleries nationwide.
Upcoming events
What: "ecotone," featuring art and design by Becca Ramspott, Kylie Grater, Shana Rossi and Sara Rich When: 5 p.m.-8 p.m. Saturday Where: Static Hair Salon, 12 E. Eighth St. ¢ Ten percent of proceeds will be donated to the Wakarusa Group of the Sierra Club. What: LOLA (Ladies of Lawrence Artwork) show and sale When: 6 p.m.-9 p.m. Sept. 10 Where: Crafty & Company, 918 Mass.
"Young women taking this route with clothing, accessories and all of that: It's not just Lawrence; it's everywhere," she says. "At the trade show that I do in Vegas, I share a booth with two other girls who do the same thing that I do. There were, I'd say, 15 other companies doing the same thing as us - girls who are artists who have taken their artwork another step and made T-shirt lines, accessory lines, handbag lines.
"It's kind of a phenomenon that's happening everywhere, which is exciting to see."
Hard work
For Herring, making bottlecap pins and greeting cards for LOLA shows provides a break from working in the studio. Most of her fine artwork is based in found objects and the process of collecting and preserving objects that otherwise would be forgotten or discarded. Everything from rusty spoons to broken toys, fake flowers to old photos, make it into her assemblages and drawings.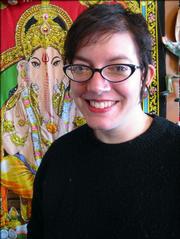 But her cards, which will be sold in her absence at the next LOLA show on Sept. 10 at Crafty & Company, 918 Mass., spring from her other passions: photography and food.
"The series is based on images taken from farmers markets around the Midwest," she explains. "They're really just beautiful images of flowers, fruits, vegetables, old signs and found objects. It's completely different than the art that I make.
"I love the repetition, and it's almost like assembly-type stuff, just kind of intermittently between working in the studio. Something about it is really meditative and : it actually just allows my mind to wander and think about other things while my hands are busy."
Herring, who graduated from Kansas University in May with an MFA in painting and begins a monthlong art residency on Monday in Vermont, says it's encouraging to see so many young women in Lawrence succeeding at their craft.
"It really takes so much discipline to make this happen," she says. "Anyone who thinks making art for a living is easy hasn't tried it. It just takes an enormous amount of determination and discipline."
For a greater cause
Even women outside of organized groups like LOLA are finding ways to get their creations into the hands of the public. Lawrence designer Becca Ramspott, who started making her own jewelry about six years ago just for fun, had her first trunk show last spring with a friend who also creates jewelry. Ramspott structured it as a benefit for GaDuGi SafeCenter, formerly Rape Victim-Survivor Service, and invited guests to her house for refreshments and shopping.
"We sold almost $1,000 worth of jewelry, and we ended up getting a great donation to Rape Victim-Survivor Service," says Ramspott, 28. "Ever since then, I've been making a lot of commission pieces for friends."
Building on the success of her first outing, Ramspott has organized a second show - this time with four designers at a downtown location, Static Hair Salon, 12 E. Eighth St. She's calling it "ecotone," which is the word for a transitional area between two different environmental communities, and donating 10 percent of the proceeds to the Wakarusa Group of the Sierra Club.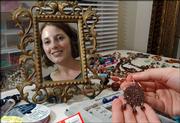 "(My husband) and I are huge outdoor enthusiasts, and I thought it would be good to bring environmentalists together with artists," Ramspott says of the Saturday benefit. "I just really think it's great when you can do something creative and at the same time support a cause that you care about."
Ramspott's "handmade bling" comes in a range of styles, but she finds herself using a lot of natural and recycled elements, such as shells, wooden and vintage beads, and sterling silver birds. She forages for great finds at garage sales and admits she has become a bit of an eBay addict. Between dual gigs as a freelance writer and doing PR work for a Kansas City museum, Ramspott finds making jewelry incredibly relaxing and fulfilling.
"It's really exciting to start doing something creative and realize you can make money off of it," she says. "This is something that's really vital right now and really growing in Lawrence."