Annie McEnroe first encountered Audio-Reader as a child, hanging around the studio of the radio station for the visually impaired while her mother read small-town newspapers.
"She would always tell us the funny parts, like who had brunch with who and who made the potato salad," McEnroe recalls. "On its face it doesn't sound important, but we came to learn that knowing what's going on in town is something that people who can read and speak have the privilege of knowing and take for granted."
Now 20 years old and a KU junior, McEnroe is one of 200 volunteers who spend an hour a week reading newspapers, magazines and books for The Kansas Audio-Reader Network. Their voices travel via closed-circuit radio signals to more than 2,000 visually impaired subscribers throughout Kansas and western Missouri who tune in to be both informed and entertained.
"This means a lot to me because the written word is such an integral part of my life," says McEnroe, an English major. "I can't imagine being without it."
You don't have to be a "voice talent" to work for Audio-Reader. McEnroe never participated in any school plays and never considered a career in radio. She's shy to the core, but she quickly overcame the initial trepidation of reading live on-air.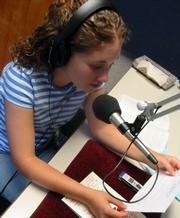 Plus, nothing could be worse than the first time she fumbled.
"It was somebody's 90th birthday and I read it as if they had died," she recalls.
"I'm sure whoever was listening laughed at me. Nobody writes nasty letters or anything."
For the last year, Audio-Reader subscribers have known McEnroe as the voice behind Kitty Kelley's 650-page book "The Family: The Real Story of the Bush Dynasty."
Considering McEnroe's moderate-to-conservative political persuasion, it might come as a surprise that she's reading a book full of virulent Bush-bashing.
Audio-Reader will host a "For Your Ears Only" used audio goods fundraiser on Sept. 23 and 24 at The Douglas County Fairgrounds. Anyone interested in volunteering should call Jennifer Nigro at 785-864-4600. The network is currently seeking volunteers to read weekday mornings. A commitment of at least one hour a week is required. Go to reader.ku.edu for more information.
"I don't let my biases dictate what I read," McEnroe says. "I figure it's important and people will appreciate hearing it."
To that end, McEnroe also read "Dress Your Family in Corduroy and Denim" by David Sedaris. The occasionally R-rated book was proceeded by an advisory on the Audio-Reader network, but a lack of FCC regulations allowed to McEnroe to plow right through the F-bombs.
"I just felt like I was reading a very grown-up bedtime story," she says. "You have to kind of get into character with certain books. I found myself doing different voices, which is kind of cool because I never did drama or anything."