ACTUALLY, THE BOTTLENECK PROBABLY WON'T HAVE A PROBLEM IF THEY JUST START BRINGING IN NEW AGE MUSICIANS INSTEAD OF ROCKERS:The new Hobbs Taylor Lofts - five stories tall and running a half-block in length - are a big new addition to downtown. Construction is nearing completion, and developer Bo Harris says he expects the first residents to move in early next month.
"I think it's going to have some meaningful impact on downtown Lawrence," Harris said last week.
In fact, Harris and others say the project could be a template for future downtown development: commercial and office uses on the ground floor, with upper-floor luxury condominiums - starting at $200,000 per unit - bringing well-to-do Lawrence residents close to Massachusetts Street to live as well as play.
Back across the street, though, longtime businesses like The Bottleneck are now in the shadow of the new lofts. And some of their patrons are concerned the expensive new building could gentrify their old haunts out of existence.
CAN'T WE ALL JUST GET ALONG?: Police officers in Kansas, Missouri and three other states have filed lawsuits against Arizona-based Taser International Inc., claiming they were seriously injured after being shocked with the electronic stun gun during training classes. Pete Herring, police chief of the northeast Missouri town of Hallsville, is among those suing. He claims he suffered heart damage and two strokes when he volunteered to be shocked while hooked up to a cardiac monitor as a way to demonstrate the safety of Taser to his officers in April 2004. Herring also claims "painful, permanent and progressive" hearing and vision loss and neurological damage in addition to the strokes and cardiac damage.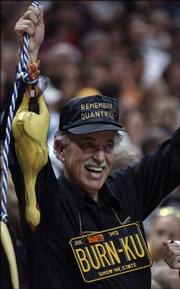 IT'S NOT LIKE HE MASSACRED DOZENS OF PEOPLE IN THE CAUSE OF DEFENDING SLAVERY OR ANYTHING: One hundred and forty-two years ago this week, William C. Quantrill and his band of more than 300 Missouri ruffians rode into Lawrence, murdered most of the menfolk and set fire to all but a few homes and businesses. In a span of three hours, 85 women were widowed, and 250 children lost their fathers.
For Lawrencians - then and now - Quantrill personified evil. Not so in Missouri. Then or now.
SINCE IT'S SCIENTISTS WHO ARE WARNING ABOUT THE PROBLEM, WE EXPECT THAT KANSANS WILL ROUNDLY IGNORE THEM: Kansas lakes aren't aging gracefully.
Many of the reservoirs in the state used for drinking water are filling up with sediment, which reduces their capacity and can harm the quality of the water.
"This is potentially a huge problem that is going to confront the state in the next 20 to 40 years," said Edward Martinko, director of the Kansas Biological Survey.
There are 93 reservoirs in Kansas used for drinking water for approximately 60 percent of the state's population.
Those lakes are an average of 51 years old.
Big lakes - such as John Redmond Reservoir, Perry, Tuttle Creek and Cheney - have lost anywhere from 23 percent to 30 percent of their capacity to hold water.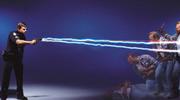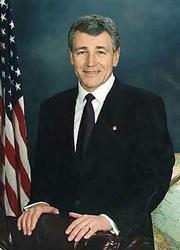 WHY DOES CHUCK HAGEL HATE AMERICA? A leading Republican senator and prospective presidential candidate said Sunday that the war in Iraq has destabilized the Middle East and is looking more like the Vietnam conflict from a generation ago.
Nebraska Sen. Chuck Hagel, who received two Purple Hearts and other military honors for his service in Vietnam, reiterated his position that the United States needs to develop a strategy to leave Iraq.
Hagel scoffed at the idea that U.S. troops could be in Iraq four years from now at levels above 100,000, a contingency for which the Pentagon is preparing.
"We should start figuring out how we get out of there," Hagel said
THAT GROWN MAN WHO ENJOYS THE COMPANY OF CHILDREN? HARMLESS: A case that ended this week in District Court serves as a reminder that, in most sex crimes, the victim knows the offender. The case of John T. Whitehead also illustrates the fine line between innocent contact with children and sexual misconduct - and that it's possible for people to cross the line under parents' noses.
Whitehead, 30, a former resident of Westgate Apartments, 4641 W. Sixth St., was sentenced Thursday to two years' probation for one count of aggravated indecent solicitation of a child. Prosecutors initially charged him with three counts of child molesting, alleging that he repeatedly sought out physical contact with children in the complex - wrestling them, asking them to go down the slide at the playground, putting them on his shoulders - as a way to arouse himself. He also kept thousands of pictures of children cut out of catalogs and newspapers.
More on ljworld.com, including a map of the locations of the 62 registered sex offenders in Douglas County.
WELL. THAT SHOULD CERTAINLY MAKE UP FOR BEING FORCED TO LIVE IN CONCENTRATION CAMPS: Amid tears and their grandchildren's shouts of glee, 58 Japanese-Americans sent to internment camps during World War II received diplomas Sunday, finally earning recognition from the communities they were forced to leave more than half a century ago.
The honorees, wearing colorful leis and sashes, walked down the aisle of Los Angeles Trade Technical College's auditorium. Some needed canes, a few were in wheelchairs, and more than a few had tears in their eyes.
The graduates represented the largest group of former internees to ever receive their diplomas at one time.