Let's play a funk riff.
Key of C.
Drummer counts it off.
Ready. Set. Jam.
It's a Monday night at The Jazzhaus, 926 1/2 Mass., and The Spanktones are on the stage operating as both headliner and backing band. After watching the five-piece deliver a few relaxed jazz standards, selected audience members begin to take the stage in the order they signed up.
Some come to pluck rhythm guitar on a blues tune. Others perform an original song, as Spanktones members attentively follow along with the unfamiliar chord changes. Often entire bands use the opportunity to make their debut in front of a paying audience.
"A lot of the kids are just so excited to play with a decent backing band, in addition to actually being able to get on the stage," says Rick McNeely, Jazzhaus owner and Spanktones baritone saxophonist.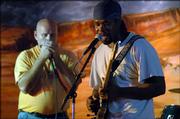 "Some of them may not be very good, but sometimes you'll be amazed."
Spanktones guitarist Michael Hamm agrees, "There are a lot of talented musicians who come up - probably people I otherwise might never see."
This same scenario is repeated in more or less the same fashion in a surprising amount of venues throughout the city.
Whether these open jams/open mics cater more to the blues crowd, are geared to acoustic folk musicians or are specifically designed to attract young rock bands, they seem to be popping up in nearly every club.
"The Kansas City jam sessions tend to be real competitive and real uptight," McNeely says. "We keep our jam sessions really loose. If you want to play a tune and you don't play it very well, go home and practice and we'll try it again next week. It's no big deal. It's a (expletive) jam session."
New subculture
Recurring event
Bottleneck, 737 New Hampshire, Lawrence
18+ / $2
"You never know what's going to happen here," says Sue Corbett, guitarist/singer for Blue 88.
"If you get to a gig with your band, sure, it's different every time. But you know which songs you're going to play; you know pretty much how it's going to go. But with a jam you're clueless."
Recurring event
Jazzhaus, 926 1/2 Mass., Lawrence
21+ / $2
Corbett and the group she has fronted with her guitarist/husband Mark for 17 years supervise regular jam sessions at three different spots. Every Tuesday they're at Blayney's in Westport; most Saturdays at Parker's BBQ in Parkville, Mo.; and Thursdays find them at Lawrence's Slow Ride Roadhouse, 1350 N. Third St.
"People need to be interacting with people," she says. "That's the wonderful thing about jams: It becomes family. You see the same people every week, and you get to know them."
On this particular Thursday at the Slow Ride, Blue 88 collaborates with a variety of musicians, most of whom have shared the stage with the KCK-based quartet before.
"I waste a lot of gas money going to jams," admits Lawrence resident Bruce Schweda.
The harmonica player often joins Blue 88, regardless of the location. Although he's been dabbling with music for 30 years, he only started going to jams in October. But by his own admission he's become something of an addict.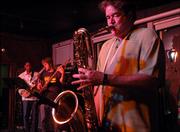 "It's for the experience of learning how to play with everybody," Schweda says. "I don't read a lick of music, so it's a challenge to go up there and play anything and everything. ... But I'm about the only harmonica player (who attends), so I can jump up and down as much as I want."
Schweda is part of a growing subculture of players in the area whose main musical outlet is at these improvised gatherings.
"They always say bands are like marriages and relationships," recalls John Gregory, a 6-foot-6-inch "former '80s hair band guy" who is known in the circles as Big John.
"I was in a band about eight years ago. It went bad real fast. So I decided it was more important for me to be with my family than be out on the road with those guys."
Gregory didn't touch his bass for eight years until he got the urge to explore the club jam scene. The get-togethers offer him the creative catharsis of interacting with other musicians without the inevitable drawbacks of being in a band.
"I was up there tonight, and I could feel everything that's negative coming out through my fingers," he says. "I'm wringing my hands out, and it's like, 'Yeah, it's done and it's out. It's such a release."
Odd instruments
Recurring event
Jazzhaus, 926 1/2 Mass., Lawrence
21+ / $2
Prolific blues and zydeco performer Billy Ebeling remembers attending his first jam in 1982 at Lawrence's Off the Wall Hall (now The Bottleneck, 737 N.H.).
Twenty years later, he is still immersed in the scene, acting as master of ceremonies at two area jams: Saturdays at Knuckleheads in Kansas City, Mo., and alternating Thursdays at Slow Ride.
"I started to record the jams at Knuckleheads," he says. "It's really cool to come back and listen to it. Some of the stuff that works, really works. Other stuff doesn't. (laughs) Sometimes it's a train wreck."
Ebeling says that guitarists are by far the most prevalent at the jams.
"You hardly ever get a balance of everybody," he says. "Sometimes it's 'bass player day,' with five bass players and one drummer. But there's never a shortage of guitar players."
Occasionally, however, some more eccentric folks haul in unusual instruments.
Ebeling recalls bringing a washtub bass to a small jam and running into another guy who had brought one.
"It would have been cool to play at the same time, like 'Dueling Banjos' on washtub bass," he says.
Corbett says a patron once showed up with an Irish goat-skin drum known as a bodhran.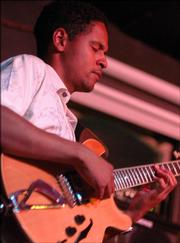 "He wanted it mic'd," she says. "It was really weird, because he was playing blues on it."
Thom Alexander, executive director of the Americana Music Academy, 1419 Mass., oversees several weekly jams in Lawrence. Although his friend Tom Bogardus routinely wields a musical saw at these assemblies, that isn't the weirdest instrument he's seen make an appearance.
"One time someone brought a toy slide whistle and could actually follow the melodies of some of the songs on it," Alexander says. "Then there was the typewriter guy. We kicked off a blues in B flat, and he started typing like a crazy man."
A healthy draw
Guitarist Alexander explains these roundups don't have the same pressure as a performance, because one is there to share musical ideas, not to showboat.
"When a bunch of folks want to play together, a jam session becomes a very organic affair that grows as people participate," he says. "Oftentimes the location we are jamming at needs to close before people want to stop. It is a very edifying time for musicians and listeners, too."
Even if the clubs may sometimes frantically have to shoo the jammers away at closing time, the establishments are embracing these events because they are usually a win-win situation financially.
"A lot of venues use it as a way to not pay a lot of money to have a bunch of musicians come in," Ebeling says. "They figure musicians drink a lot - that's their market. They use it as a way to turn a dead night into a good night."
"I wouldn't be doing it if it wasn't a draw," says McNeely, who's owned The Jazzhaus since 1982.
In fact, the venerable Jazzhaus features two open formats: The Spanktones on Mondays and acoustic open mic night on Wednesdays. McNeely says the evenings attract different crowds.
Other club owners agree that the extemporaneous setup is equally conducive to musicians and venues.
"We started open mic to give bands a place to showcase and develop their talents," says Brett Mosiman, owner of The Bottleneck. "It is obviously a way for us to identify good young bands, too."
The business has maintained an open mic format on Monday nights since the late 1980s.
Other open mics/jams in Lawrence
Thursdays: Billy Ebeling or Blue 88 open jam, 7 p.m., Slow Ride Roadhouse, 1350 N. Third St. Sundays: Jazz at the Tap Room, 11:30 p.m., Eighth Street Tap Room, 801 N.H.
"In the early days, many area musicians would experiment with other musicians and put together special sets for open mic," he says. "Some bands, like Paw and Stick, would use open mic to fine-tune their shows before they went on the road. I'd love to see more bands use it as a way to sharpen their show or test out new material on their fans."
The next virtuoso
Whatever the configuration or musical style these events showcase, those involved tend to agree that the ultimate goal is to allow the opportunity for fledgling musicians to develop ... whether they're the next Jimi Hendrix or some tone-deaf wannabe.
McNeely recalls a story about a famed Russian composer that applies to the open mic/open jams experience.
"Igor Stravinsky used to give lessons as a way to supplement his income," he says. 'Somebody interviewed him and asked, 'Someone of your stature and obvious ability, how can you stand giving lessons?' Stravinsky said, 'I would rather encourage an idiot than discourage a genius.'"
More like this story on Lawrence.com