A moody private detective. A femme fatale. Double-crosses. World-weary narration.
In the decades since film noir reached its peak in the late 1940s, dozens of movies have tried to reinvent the reliable genre. Some attempt to modernize it ("The Long Goodbye"), some parody it ("Who Framed Roger Rabbit").
"Kiss Kiss, Bang Bang" pulls about every stylistic magic trick it can - including actual magic tricks - to rework the film noir angle.
These self-reflexive, often irreverent maneuvers don't necessarily guarantee the movie comes across as compelling or entertaining - and at times "Kiss Kiss" drifts in both of these areas. But the movie is so relentlessly impulsive that it becomes easier if the audience just cries "uncle" to its stylistic arm twisting.
This is the type of picture that finds a way for its lead character to lose his finger, get it reattached, then lose it again.
The always energetic Robert Downey Jr. plays the lead, Harry Lockhart, a small-time crook who crashes a casting audition and gets shipped to Hollywood to be the "next big thing."
While prepping for a detective role, he is partnered with Perry Van Shrike (Val Kilmer), a gay private eye who acts as a consultant to the studios. Before long, Harry is finger-deep in a murder investigation, framed and pursued by hired goons.
On the positive side, he is reunited with Harmony (Michelle Monaghan), a childhood friend from Indiana who moved to L.A. some years ago to make it as an actress. So far she has only managed to land one juicy role on a national beer commercial starring a talking bear.
Harry rekindles his frustrated crush on the kooky gal ("It's like someone took America by the East Coast and shook it, and all the normal girls managed to hang on," he says). And soon she, too, becomes involved in what he narratively jokes is "the case of the dead people in L.A."
Movie
Kiss Kiss, Bang Bang
***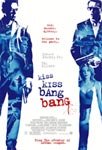 This dark comedy about a small-time crook (Robert Downey Jr.) who becomes involved in a Hollywood murder pulls every stylistic magic trick it can to rework the film noir angle. Writer-director Shane Black seems constantly impressed by his own wink-wink cleverness. But there's no denying what he delivers is clever, either.
Shane Black, best known for writing three of the four "Lethal Weapon" flicks, takes a crack at directing his loose adaptation of the Brett Halliday novel "Bodies Are Where You Find Them."
The filmmaker culls a fine performance from Downey, whose manic cynicism and self-deprecation make for a very atypical noir hero. Also quite appealing is newcomer Monaghan, a girl-next-door beauty who says everything she is thinking - which makes her the polar opposite of the traditional mysterious fatale.
Although considered a pioneer of the action genre, Black proves much better at writing comedic dialogue than staging shootouts. Whether seducing, insulting or trying to act tough, his characters share some immortal exchanges.
Perry (agitated at Harry): "Look up the word 'idiot' in the dictionary. You know what you'll find?"
Harry: "A picture of me?"
Perry: "No. The definition of the word idiot, which is what you (expletive) are."
Plotwise, "Kiss Kiss" is frequently hard to follow. There's the sense that Black would rather spend time with the idiosyncratic asides than craft a deeply involving murder mystery.
Black further draws attention away from the central story by Harry's eccentric voice-overs. Not only does the hero constantly make reference to the fact he is narrating a movie. ("Don't worry, I saw 'Lord of the Rings.' I'm not going to end this 17 times.") He also stops the feature - as if the projector broke - to replay key scenes.
At one point he reruns the film's flashback prologue and asks a pair of extras to move away from standing in front of a sign that would better explain the necessity for the original prologue.
There is little doubt that Black, Downey and "Kiss Kiss, Bang Bang" itself are constantly impressed by their own wink-wink cleverness. But there's no denying what they are doing is clever, either.