Saturday, December 3, 2005
Certain movies, television programs and plays signal Christmas for some people as much as presents under the tree. Would the holiday really seem complete without the Grinch, Rudolph or the Nutcracker?
University Theatre is hoping to add another title to that illustrious list: "The Snow Queen."
Based on an adaptation of the Hans Christian Andersen classic, the Theatre for Young People version retains the old-world charm of the original while adding some extra touches.
New to this version are two fresh characters - the author and the troll - used to narrate the story. They were added by Lithuanian guest director Romualdas Viksraitis, who wrote the tweaked script. Viksraitis first adapted the story as a radio program in Lithuania, where, he says, "One woman told me she cried while listening to it. It's a very touching story."
"The Snow Queen" follows two childhood friends, Gerda (played by Manhattan sophomore Cassidi Kay Stuckman) and Kay (played by Omaha, Neb., freshman Robbie Gordy). In the coming-of-age tale, the young heroine embarks on a journey to save her friend from the spell of the evil Snow Queen.
Although it's a fairy tale, Viksraitis believes the lesson the story tries to teach is just as important for adults as it is for children.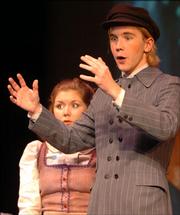 "When we are growing, if we try to keep ourselves as children, always hoping, not sad, we will see the world as a better place," he says. "We will hold on to our dreams, not just by fighting for them, but in a gentle way."
The KU production marks the world premiere of Viksraitis' theatrical project, and special care was taken to keep it as original to the old-world feel of the story as possible. Costumes, set and music were inspired by the original Andersen tale. Along with director Viksraitis, scenic designer Anna Wieczorek also originally hales from Europe, specifically Poland.
"The Snow Queen" has undergone many interpretations in its long history as a classic children's tale. In 2002, it was turned into a made-for-TV movie starring Bridget Fonda, and next year, Ric Averill's dance adaptation of the story will make a run as the winter show at the Lawrence Arts Center.
Viksraitis' wife, visiting Fulbright Scholar Egle Perkumaite, also has fallen under the Snow Queen's spell and will be a featured musician in Averill's version.
The show
What: "The Snow Queen" When: 10 a.m. today and 2:30 p.m. Sunday Where: Crafton-Preyer Theatre, Murphy Hall, KU Tickets: Adults, $10; seniors and KU faculty, $9; students, $5 Ticket info: 864-3982