Amanda Franklin loves cats. Unfortunately, her fiance doesn't.
"That's mainly why I come," says Franklin, who volunteers at the Lawrence Humane Society. "But the dogs are kind of hard to say 'no' to ... It's just nice to know that they're getting out of their small cages and getting to run around."
Franklin, 23, is one of approximately 300 volunteers who reap the benefits of unconditional animal love at LHS. The shelter - located at 1805 E. 19th St. (west of 19th and Harper) - is always seeking volunteers to walk dogs and puppies, socialize cats, kittens, and rabbits and help at events.
"They have a system to let you know which animals have gotten attention that day," Franklin says. "Everybody is very caring."
Volunteers attend a two-hour orientation before handling the animals. They are not expected to perform tasks like cleaning cages.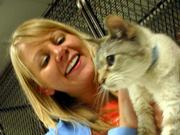 LHS Director Midge Grinstead says the shelter is currently seeking volunteers to oversee groups of visiting children and bring puppies and kittens to local nursing homes.
"Right now the staff is doing it and it's just a big hardship," Grinstead says of the latter program. "It's just a very good situation for these people to see these wonderful pets."
Both commitments require only a couple hours and can be scheduled at the volunteer's convenience.
College students are an integral component of the volunteer force, Grinstead says.
LHS holds volunteer orientations the first Thursday of every month at 4:30 and 6 p.m. No registration is required. To inquire about volunteer opportunities, contact the shelter at 785-843-6835 or volunteer@lawrencehumane.org. More local volunteer opportunities are available at rhvc.org.
LHS's business hours are: Tues - Fri: 11:30 a.m. - 6 p.m. Saturday: 11:30 a.m. - 5: p.m. Sunday: 1 - 4 p.m.
"They need some down time and they enjoy loving on animals and having animals love on them," she says. "It depends on what they want to do. I have a volunteer that comes in every night and walks a dog or two on her way home."
LHS is a low-kill shelter that adopts out more than 80 percent of its animals. The only animals euthanized are ones with unadoptable temperaments or illnesses that are unlikely to be cured.