The Pomonas might well be the funniest band in Lawrence. Force them to listen to their most recent EP and undoubtedly you'll be rewarded with fart noises and guffawing. Such humor pervades the band's seriously good music, which maintains an unflinching rock-and-roll spirit in the face of steady opposition from "the man." The band - composed of multi-instrumentalists Justin Ripley, Brandon Ripley, Andy Gassaway and Ryan Laird - is currently holed up at home recording its debut full-length album and trying to fend off bill collectors.
So Justin, I read on one of your band bios that you picked up the guitar when you were 21. Did you feel a little intimidated coming to it at a later stage in the game?
It just sort of dawned on me one day when I was on the road: 'I am in a band and I'm doing music? What the hell? I was supposed to run for office and stuff' ... When I was 21, I picked up the guitar and started listening to The Beatles. Think about that. I mean, what did you listen to when you were in high school? Don't you do Pink Floyd and Led Zeppelin in high school? I did it when I was like 21.
So what were you listening to in high school?
Um, neo-metal. Aerosmith's greatest hits was my first CD, and I was like a junior in high school. I worked at a steak house and didn't do anything. (Brandon and I) are from Pomona, KS, so...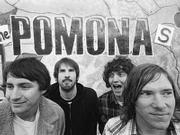 Did you quit school?
I went to KU for six years. I was a film major and a political science major and an English major and had tons of hours. I could go back and graduate in a semester. But I don't see the point in it. You don't learn trades in school anymore; you learn 'em out doing things. I've got a library card and it's a lot cheaper.
Gassaway: But for the listening audience - stay in school.
Ripley: Yeah, definitely.
So, these days, what do you do besides music?
Gassaway: I was on unemployment for the duration of the summer and I am currently temporarily laid off from the University of Kansas as a data-entry drone. My colleagues and I were doing too efficient of a job, so this week we were told not to report in. But we're holding on that maybe next week we might get to go back and work.
J. Ripley: But you better slow down.
Gassaway: I don't understand. I check my e-mail most of the time when I'm there. I don't know what everybody else is doing. They must be plowing though files and making that database all it can be for next semester. Me, I'm content to just read 'The Onion' and straighten all the paperclips in my cubicle ...
Past Event
Thursday, December 8, 2005, 10 p.m.
Replay Lounge, 946 Mass., Lawrence
21+ / $2
I don't want there to be too much bad blood. (My supervisor) did make us brownies when she made that announcement. She's like, 'Look, the bad news is you don't get to come into work next week. But I did make you brownies and if you want you can leave 15 minutes early.' Which I thought was nice.
What's next for The Pomonas? If we sat here a year from now, what do you think we'd be talking about?
J. Ripley: Get these fuckers signed. I want a 45-cent paycheck every three months.
Gassaway: If we could sell a song to a commercial, I would feel pretty satisfied. It would have made the whole journey worth it.
There aren't many bands that found their band with the stated objective of, 'Let's get a song on a commercial and then let's break up.'
Gassaway: That's been the objective since day one.
J. Ripley: Look, we're not Broken Social Scene. We're not like, 'Oh, this is an art collective; let's do this shit for art fag reasons.'
B. Ripley: I don't know if I'd want a song on a Home Depot ad.
Gassaway: I would love a song on a Home Depot ad. In fact, I think we've got several on the new album. If there are any executives listening in - it would push lumber in a big way. Especially the astronaut song we were talking about.
What would be your second choice after Home Depot?
Ripley: Water slides. Water theme-parks.
Gassaway: Actually, I've always said that track number three on this album would be good for a video game ... Gran Turismo, Mario Kart, etc.
What about track number six?
Gassaway: Uh, suicide help-line.