Thursday, December 8, 2005
"I've been praying for a crack in that alliance," said Danni Boatwright as day 34 of the reality TV series began.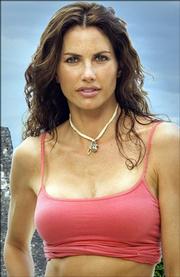 The Tonganoxie resident and former KU Jayhawk found herself among the final five contestants still vying for the $1 million prize in the penultimate episode of "Survivor: Guatemala."
One of four women and a self-proclaimed "gay guy" left in the hunt, Danni enjoyed a noticeably more loose environment in camp with the last of the alpha males voted off the island.
That would change once the reward challenge began.
Host Jeff Probst dubbed the competition "second chance," as it featured a medley of past obstacles all rolled into one.
Zookeeper Cindy won the event, and with it a 2006 Pontiac Torrent. But Probst informed her that the past 10 recipients of the win-a-car challenge have never gone on to prevail in "Survivor." So he offered Cindy the option of giving everybody else in the group a car and forfeiting hers.
She decided to keep the vehicle.
Danni didn't agree with Cindy's strategy. "I would have done it in a heartbeat, because you would have four people who are very happy with you."
Cindy brought co-alliance member Stephenie on the secondary part of the reward -- a barbeque -- and together they agreed to vote out Danni.
Meanwhile back at camp, Danni made a pact with Rafe to take each other to the final two.
At the immunity challenge, the five battled in a rope unwinding challenge that also involved freeing themselves with keys from shackles.
Stephenie became emotional after winning the race because it not only guaranteed her a spot in the final four, but it was the first individual immunity contest she had ever earned.
At tribal council Danni watched as her rivals' alliance further crumbled. Stephenie once again backstabbed a former compatriot. Cindy was unanimously voted out -- perpetuating the "curse of the car" for another season.
The move situated the Kansan into the final episode, which airs Sunday night on CBS (Sunflower Broadband channels 5 and 13).