It took Ebenezer Scrooge visits from three ghosts before he learned that giving is better than receiving, but that lesson comes easily to Lawrence youngsters thanks to the Lawrence Arts Center's annual Children's Holiday Shop.
The event, which brings in about 750 kids each year, according to arts center development director Noelle Uhler, allows the kids to pick out inexpensive gifts for their friends and family. Many of the gifts are donated by local stores, while the rest are purchased by volunteers at sales throughout the year, says Ann Evans, arts center director.
Gifts are priced between $1 and $5 so that they are affordable for most kids or their parents. The shop even gets donations from area businesses and locals to sponsor "Holiday Dollars" so kids who could not normally afford gifts still can surprise their parents. The event is open to all children in Lawrence, regardless of religion.
"That's what's so important about this event," Evans says, "that as many kids as possible can have this experience - so that they can pick out what they want and surprise their families."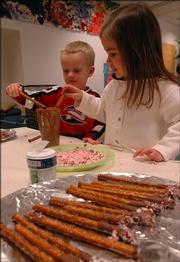 The surprise, according to 8-year-old Ben Novorr, is the best part of the event.
"You don't go in with your parents," he explains. "A shopping partner (usually a volunteer dressed like an elf) helps you. They say 'All right, you have this much money, here's what you can get' because if you're a little kid sometimes you can't control money very well."
The volunteers also tag and wrap the gifts, but Novorr warns: "If your parents are waiting downstairs, you'll be busted because they wrap the presents right there."
Luckily, there are other activities to occupy parents and other adults. The arts center preschool sells homemade cookies by the pound. The children even help make the cookies, and the sales go toward buying new equipment or bringing in guests for the pre-schoolers.
The center also provides entertainment while the kids wait to buy their gifts.
"This year we're having Santa, Baby Jay, the KU Juggling Team and a boy that went to preschool here and is now in junior high who is coming to make balloon animals," Evans says.
Children's Holiday Shop
When: 9:30 a.m.-2 p.m. Where: Lawrence Arts Center, 940 N.H. Children can purchase presents for their family and friends. Gifts range from $1-$5.
So what kinds of gifts can parents expect their children to select? Some are more traditional than others. Last year, Ben bought his mom a cup, his little brother a lunchbox and his dad a watch (a pink, sparkly rhinestone one). This year Ben has his eye on a pair of SpongeBob SquarePants boxers for dad.
In the spirit of the season, it's the thought that counts.