Monday, December 12, 2005
The homemade gift is personal, from the heart, fun to make and to give. We've heard all that. But there are plenty of other reasons to buy a glue gun this holiday season. Among them: cluttered junk drawers, mass consumerism and the cost of natural gas.
Let us explain. Your home is brimming with goodies that easily might be fashioned into interesting, usable gifts that don't involve doilies. Furthermore, you'll rest assured that production of said gifts polluted no stream, ousted no local business and employed no child (at least not in a bad way). Finally, homemade gifts are economical, allowing you to brace for a Kansas winter of heating bills.
Don't get us wrong. We hope to find the latest Seinfeld DVDs and other offensively marketed products under the tree on Christmas morn. But our holiday wish is that more gifts be crafted for personal, rather than mass, consumption.
Here are some ideas we've come across.
Mouse-Trap Clips
Where spotted: Downtown Lawrence, holding a show flyer to a lamppost.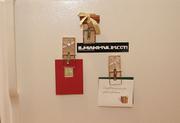 You need:
Mouse trap
Magnet
Wood glue
Adornment of choice (We used snowflake ornaments and cinnamon sticks. Other options: stickers, old jewelry, cut-up photographs.)
Doin' it: Remove the bar that "sets" the trap. Glue the magnet to the back of the trap. Glue something cool to the front.
Wine Bottle Lamp
Where spotted: On a friend's end table.
You need: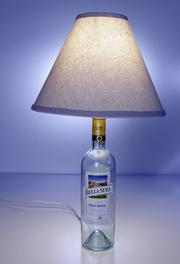 Empty wine bottle (preferably from a momentous occasion-an anniversary, the night you fell off the porch in a drunken stupor, etc.)
Small lampshade
Light bulb with socket and cord (stocked at hardware stores, Blue Heron, anywhere that sells lighting)
Hot glue gun or clear packing tape
Doin' it: Screw together the lamp shade, light bulb and cord socket. Set them at the bottle opening, and glue the cord along the back of the bottle. Or, if you're hopelessly resourceful like us, use small strips of packing tape to affix the cord; then wrap the tape around the top a few times, to stabilize the socket to the bottle. It's hidden by the lampshade, yo.
Dog Collar
Where spotted: Environmental Protection Agency list of suggested ways to recycle stuff around the house.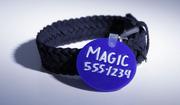 You need:
Old belt
Old keychain
Marker
Some sort of sharp object
Doin' it: Cut the belt to snugly fit canine recipient's neck, leaving a little extra length. Use something sharp to poke new holes for buckling. (Braided leather belts, circa 1991, are ideal-no need to poke holes!) Write the dog's name and info on the keychain, and hook it to the buckle.
More ideas from the EPA
¢ Paint bottle caps red and black to make a checker board.
¢ Just laid carpet? Make a texture book for a kiddo.
¢ Cover the top of an old table with used/scrap ceramic tiles.
¢ Make window-sill planters from old coffee mugs.
¢ Glue wine corks onto wood backing to create a corkboard. Use lone earrings as push-pins.
¢ Make bookends by filling two glass jars with colored water (just add a few drops of food coloring), layers of colored sand or shells. Glue pieces of felt or rubber from a pair of old rubber gloves to the base to prevent slipping.
¢ Cut bookmarks from saved greeting cards.
¢ Turn a shower curtain into a car windshield cover to prevent frost build-up. Cut the curtain to fit a windshield and glue magnets along the edges to hold it in place.
¢ Cut pieces of old tablecloths and sheets to make lint-free kitchen towels.
Too lazy to make stuff?
You can still give hand-made lovelies to friends and family. Here are some stores that carry work by local crafters and artists:
Back to the Garden, 619 2nd St.
Black-Eyed Susan's, 820 Mass.
Diane's Artisan Gallery, Inc., 801 1/2 Mass.
Fields Gallery, 712 Mass.
Natural Way, 822 Mass.
Phoenix Gallery, 919 Mass.
Prairie Pond Studio, 809 Mass.
Roy's Art Gallery and Framing, 1410 Kasold
Signs of Life, 722 Mass.
Silver Works and More, 715 Mass.
Southwest and More, 727 Mass.
The Casbah, 803 Mass.
The Etc. Shop, 928 Mass.
The Olive Gallery and Art Supply, 15 E. 8th St.
Waxman Candles, 609 Mass.