Monday, December 12, 2005
Back in the days when he was raising three children by himself, Greg Likes was no stranger to adopt-a-family programs around Christmas time.
"A lot of times you're not even thinking about gifts for anybody - you're just thinking about having a warm place to sleep," says Likes, 46. "To have someone say, 'Here, I'll take that burden from you' is a wonderful thing."
This year, Likes and his girlfriend Cheryl Aiello will be receiving support from Lawrence's Holiday Bureau program. Five local agencies - Ballard Community Center, ECKAN, Penn House, Pelathe Center and Salvation Army - work together to ensure that those in need receive exactly what they need.
"Homelessness is a very stressful period, so people like this are a godsend," says Likes, who is now raising a 2-year-old daughter. "Food alone on Christmas day is a struggle; gasoline to even go anywhere is a struggle."
There are plenty of ways to get involved with local charities during the holidays. The hardest part may be choosing which ones: Adopt a family? Serve a meal? Ring a bell? Buy a "Jingle Jar"?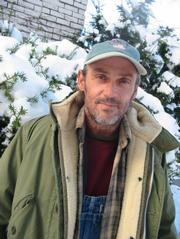 To ease the decision, here's our handy-dandy list of places to volunteer for the holidays. Thanks to Margaret Perkins-McGuiness of The Roger Hill Volunteer Center for helping assemble it.
Adopt a Family
Shop for a family's wish-list by contacting one of the following agencies:
Ballard Community Center, 842-0729
ECKAN, 841-3357
Penn House, 842-0440
Pelathe Center, 841-7202
Salvation Army, 843-4188
Adopt a Grandparent, 842-0543
Pair with a senior from Douglas County Senior Services and provide at least one wish-list item and a grocery certificate.
Adopt a Child
Shop for a child's wish-list by contacting the following agencies:
Kaw Valley Center, 331-4200
Achievement Place for Boys, 843-5560
The Villages, 267-5900
Women's Transitional Care Services Adopt-a-Family, 865-3956
Provide food, clothing and other necessities to women and children who are in danger from domestic violence.
Salvation Army and Toys for Tot's Christmas Toy Shop, 843-4188
Volunteer escorts are needed to assist clients in choosing toys and clothing (Dec. 12-14).
Christmas and Holiday Bell Ringers, 843-4188
Volunteers are needed for minimum two-hour shifts (through Dec. 24).
Kaw Valley Center's Holiday Party, 331-4200
Holiday cookies are needed (Dec. 15).
Lawrence Community Shelter Holiday Gift Program, 832-8864
Needs donations of gift items such as radio cassette players, AA batteries, tents, sleeping bags, socks, gloves, knit hats, blankets and coats.
Jingle Jars for Douglas County Senior Services, 842-0543
Support the Adult Day Program by purchasing a jar filled with ingredients to make baked goods, soups, and drinks.
Douglas County AIDS Project, 843-0040
Donate holiday gifts and certificates for gas, food and clothing.
Donations for Children
Donate clothing, toys, books, gift certificates, diapers and school supplies at the following agencies:
Mother to Mother, 841-0838
Boys and Girls Club, 841-6854
Douglas County CASA, 832-5172
Kaw Valley Center, 331-4200
Christmas Day Meals (bake or help serve)
Community Holiday Dinner at First United Methodist Church, 843-9199
Lawrence Community Shelter Hot Breakfast, 832-8864.
Food Pantries
The following agencies are especially needy during the holidays:
ECKAN, 841-3357
Ballard Center, 842-0729
Pelathe Center, 841-7202
Penn House, 842-0440
The Salvation Army, 843-4188
Trinity Interfaith Food Pantry, 843-6166