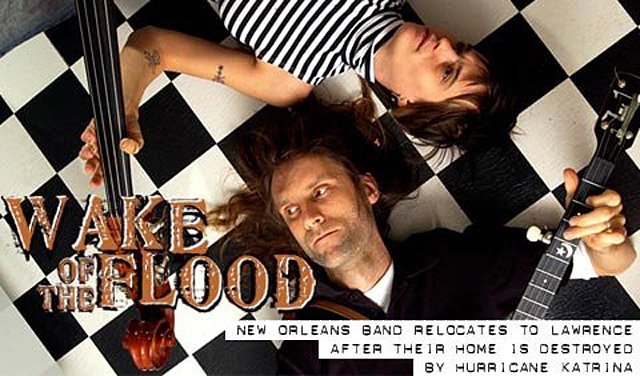 Monday, December 12, 2005
It took a Category 4 hurricane to convince Mike West to buy a cell phone.
The songwriter did without one touring the country dozens of times over with his band Truckstop Honeymoon. Nor did he need one to raise two kids.
"Bunch of crock," says the 42-year-old rail-thin banjo picker with a southern-tweaked British accent. "Your mother and father used to break down with no cell phone. They didn't die. You just fix the f*cking car."
Such stubbornness is likely the character trait that enabled West to build an autonomous career as a musician.
It's also likely what carried him and his wife Katie Euliss through the life-altering aftermath of Hurricane Katrina.
"Our backyard was the levee," says Euliss, the 29-year-old singer and upright-bassist of TSH.
"On any given day you'd hear 'clippedy-clop' and you'd go out the front door and there'd be these gorgeous Indians on their horses. Then they'd run up the levee, and as they were going up the hill some big Russian freighter would be sailing down the river."
Those are memories. Lawrence is home now.
Storm's wake
A box of knick-knacks and a top-shelf's worth of books are the only tangible goods that made the journey from the Ninth Ward of New Orleans to Lawrence's Pinckney Neighborhood.
The rest of West and Euliss's belongings - a home, a recording studio, a life's worth of stuff - are still there, covered in black mold.
"It's more the loss of the town (that hurts)," says West, who forged a press pass to gain access to his house before residents were let back into the city.
"Say you lived in Kansas City and one day everybody you knew and everything you did was gone - you could give a flying f*ck about some microphones and preamps. That's just pragmatics; that's nuts and bolts. But you lost all your friends, all the people you would hang out with. They're all scattered just like you are and wondering whether they're going to go back."
Most likely, West and Euliss won't be going back to New Orleans - not to live there, at least. The couple had enough money from savings, insurance and benefit shows to buy a house in Lawrence. Last month, they and their two daughters - Sadie, 5, and Vega, 2 - moved in.
"We had more friends here and more support here than anywhere in the country," West says. "It was a balance between 'Hey, this is great' and 'Hey, this is great - and we can afford it.' San Francisco? It's great, but you can't afford it."
Friend and fellow musician Kirk Rundstrom of Split Lip Rayfield was also instrumental in bringing the stranded family to Lawrence, Euliss says.
"I was cleaning the van with baby wipes just to feel like I had a home," Euliss recalls. "Kirk called me up and said, 'Come to Kansas' and I said, 'Mike, why don't we do that.'"
The way the wind blows
Truckstop Honeymoon was touring Florida (with children in tow) when their home was submerged along with 80 percent of New Orleans following Hurricane Katrina. They had left for tour before predictions of a direct hit, so they didn't think to take any valuables with them.
"We left for a Florida tour thinking that the hurricane was going to hit Florida," West says. "As we were out there, it shifted west. And the rest is history."
The levee visible from their backyard breached six blocks from their home. Closer to the breach, everything was washed away - even the street signs. The flash flood left their house under eight feet of water for three weeks, according to their insurance adjuster, causing some $250,000 in total loss.
West and Euliss knew nothing about the damage - nor the status of a housemate who had hunkered down during the storm - until a week later, when they saw their flooded street on the cover of The New York Times. A few days after that, CNN revealed more of the story.
"There's this guy on the roof of this building, and out walk our dogs," Euliss recalls. "We're like, 'Oh my god - that's Terry' ... He was totally just hiding out, trying not to get killed over two and a half gallons of water. It was pretty 'Lord of the Flies' down there."
The housemate managed to save all three of the family's dogs by swimming them to dry ground. A chain of friends from Baton Rouge to Atlanta to Tennessee helped reunite the family with their mutts.
Not all of the family's pets were so lucky.
"Our chickens drowned," Euliss says. "Which is unfortunate, because they made us lots of good eggs."
So far, West and Euliss haven't learned of any deaths amongst friends. They haven't heard from their former neighbors Georgia and Blue, which concerns them. Most of their friends, however, have been accounted for by online musician networks that sprang up in the wake of the hurricane.
The couple was also lucky enough to have one thing that most other New Orleans musicians didn't: flood insurance. Despite living adjacent to the levy, their house was not technically in a flood zone - bizarre, but fortunate.
"A lot of flood policies in New Orleans are these skeletal things which wouldn't replace a tenth of what you lost," says West, who spent $300 annually for the policy even though he never bought health insurance. "For whatever reason, we got lucky."
Though the insurance check won't arrive until FEMA gets some money, West says it's a "huge relief" just to know that it's coming. In the meantime, the family has relied on the generosity of friends from their many years in the music business. Some venues promptly organized benefit shows without even telling them, West says.
"They just called and said, 'Give us an address - we've got a check to send you,'" he says. "It was a massive help."
Amazingly, West has already rebuilt his studio, which will retain the name "The Ninth Ward Pickin' Parlor." He recorded a new record for Rundstrom's rock band Grain and Demise while he and his family crashed at his Wichita apartment.
"We didn't have a home for three months, but we tried to keep the normality of everything - touring, producing albums," West says. "We had two weeks off the road and suddenly it's like, 'Wow, we're in Wichita; we don't have anywhere to live; we're crashing with friends.' When one or two days turns into a week or two, you're like, 'God, I must be driving you crazy.'"
Honeymoon in New Orleans
Though they don't play Zydeco music, Truckstop Honeymoon may well have been the quintessential New Orleans band. Their cornucopia-of-life hillbilly music fit comfortably in the seedy yet vibrant French Quarter, where the band performed regularly when they weren't touring.
They sang about things that random onlookers could raise a glass to: how to make soap out of squirrel fat, how to live downwind from an oil refinery, how to live life in spite of the suits on Capitol Hill.
More than anything, New Orleans was a constant muse.
"People carried coffins from house to house and printed T-shirts with pictures of their dead friends," recalls West, who moved to the city 12 years ago after spending most of his life in England.
"You didn't have that kind of Protestant, sweep-the-stuff-of-life-under-the-table kind of mentality," he adds. "You'd feel the proximity of death and mortality. That was just part of the town - it made life rich."
Sometimes, however, life in the Ninth Ward was treacherous. West recalls numerous occasions where he drove down the street with his head ducked down because he heard automatic gunfire. One New Year's Eve, a bullet ripped through the roof of the couple's house. Some mornings, they picked shells off of the front lawn.
"Don't get me wrong - we loved it," West clarifies. "The trade-off is that it's exhausting and you can't let your kids out."
For nearly a decade, West scraped by as a musician and recording engineer. He released half-a-dozen solo albums, toured with a rotating cast of musicians, played three-nights-a-week at the same bar in the French Quarter and performed at numerous international festivals. He received modest support along the way from a Baton Rouge label called Squirrel Records.
Then, three years ago, he met Euliss.
"It all sort of happened at the same time - we became a family, a band and a couple," Euliss says. "We did gigs at night after working in the studio all day. It was too many jobs for two people to do."
Truckstop in Kansas
A fledging Truckstop Honeymoon found one of its most enthusiastic audiences at The Walnut Valley Festival in Winfield, Kan. The band's hell-raising performances at the festival's campground stages made them a fan favorite in the wake of Split Lip Rayfield's hiatus (a band they would later connect with for tours).
"Every time we've played in the Midwest I've always felt like, 'These people get it,'" West says. "Now we'll be touring more in the Midwest, which is what we wanted to do anyway."
Pipeline Productions has picked up Truckstop Honeymoon's booking and management, allowing the band more time to focus on rebuilding their lives and writing new material. The latter has essentially been on hold since the hurricane, West says, and it's unlikely he'll be writing about the flood anytime soon - at least directly.
"I've written a lot of songs about floods, so I have a lot of material relating to it that's already written," he jokes. "I don't feel I need to go there again right now. There's other stuff that's tangentially related."
More likely, West says, he'll write a song about a bear and inevitably end up channeling those flood-related emotions.
"If you take that sadness and put it in a song, you'll end up with crassness," he says. "You're better off writing something about your favorite Jimi Hendrix record and how much you loved it when you were 13 ... There's a very good chance that, through that, the thing that makes sadness anything worth writing about - the stuff that is abstract and indefinable - will be able to come through, because you're not trying to get it."
Not so 'Easy'
This week, Truckstop Honeymoon is returning to New Orleans to play four shows. For the first time, they'll be visitors in a city they used to call their own.
"To see it devastated is going to be heartbreak all over again," says Euliss, who will be returning for the first time.
"It's hard enough singing our songs that were inspired by our neighbors. Right after the thing happened, I just lost it at a couple gigs and couldn't even sing the songs, because they were just so sad to me."
The group's audience will likely be relief workers, construction crews and doctors. The core fabric of their former city - the things that made it so eclectic and funky - is now gone, replaced by a monstrous reconstruction effort.
Either way, the show must go on.
"So what - you lost everything. It doesn't matter. These people need to laugh and drink beer," West muses, assuming his best vaudeville voice.
"Showbiz is ludicrous - and it's very important."