Monday, December 12, 2005
"Every day you wake up is a great day - even if it's a bad day."
Such is the wisdom of harmonica ace Jimmie Meade. The 25-year-old "mouth organ" master has been to hell and back after enduring a near-fatal car accident two years ago that cost him a leg. The circumstances of the crash - drunk driving - are something he talks about candidly in hopes of atoning for his bad judgment. Now fully recovered and walking with a prosthetic, Meade gigs full-time with KC blues/rock quartet Levee Town and teaches at Lawrence's Americana Music Academy.
Describe to me the circumstances of your accident.
I was drinking and driving, but the circumstances of the accident itself are kind of irrelevant. No one could have survived it like 10 years ago ... I was in the car for a couple hours. They were trying to get me out because the metal crushed my leg. They thought they could save it, so they tried for a couple hours until my vital signs went down ... I woke up in a hospital bed and was there for a couple months and didn't have a leg and was kind of delusional for awhile.
I've learned so much since then ... I don't drink, I don't smoke cigarettes ... I was kind of out of control.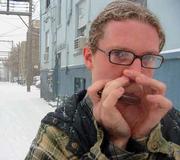 You say the circumstances were "irrelevant." What was relevant at that time?
Family, friends, love. I had people around me all the time. It was incredible. My family came down from Chicago all the time, and my friends - I've got some good friends. They did a benefit for me to help with my medical costs and raised like $5,000 so I could get back to the business of life.
What kind of positives have you taken away from this experience?
I think I can at least, in my own life, try to help people ... Make sure you have a sober driver; make sure you call a cab. Do whatever you have to do but just get home safely. I'm not the only person out there who's drank and drove, but I've lived through it to talk about it. I think maybe that's part of why I lived through it - because people need to take a deep breath and think about what they're about to do.
Tell me about your recovery.
When I was in that hospital, lying in that bed ... There's this one Bob Dylan album called "Time Out of Mind." My friends got sick of it because I was just like, 'Play Bob Dylan.'
Past Event
Saturday, December 17, 2005, 10 p.m. to 1 a.m.
Stu's Midtown Tavern, 925 Iowa, Lawrence
21+
I think a harmonica player's worst nightmare might be to have his jaw wired shut, because you're just looking at your harmonica like, 'I want to play you - but I can't.' Once they unwired my jaw, I rapidly proceeded to play.
I guess 'harp' is the more proper term in the biz. What do you call it?
Call it what you want: harmonica, mouth organ, Mississippi saxophone.
I imagine it has been a goal of yours for quite some time to make a living as a harmonica player.
Oh man, it's a beautiful world. I get to play the harmonica and practice and teach. I go to school too, at Johnson County Community College. I have to take music theory over next semester, actually.
How did you get into blues in the first place? There must have been a time where you were a kid who listened to rock music.
I was really into the Grateful Dead and The Allman Brothers and some of those cats. I would look in the liner notes to see who wrote the songs - Willie Cobbs, Muddy Waters. I started going and getting those CDs, and there was no looking back.
Tell me about Levee Town.
We've all lived together for over three years and we've all been through quite a bit together. Brandon (Hudspeth) got his start playing with Little Hatch from Kansas City, who passed away a couple years ago. As far as harmonica players go, I like Little Hatch probably as much as Little Walter or George Harmonica Smith or Sonny Boy Williamson. Little Hatch had this tone - he would play one note and that's all you needed.
Did you ever think about being called 'Little Jimmy'?
I used to have that nickname. Somewhere along the line, I feel like I grew up.