Thursday, December 22, 2005
Tired of hearing "Jingle Bells" on the radio every five minutes? Wishing there were only two instead of 12 "Days of Christmas"?
The Lawrence Chamber Orchestra thinks it might have a solution for the holiday-song blues: Its "Twas the Night Before the Night Before" benefit concert.
The primary organizer and headliner for this year's concert is Kansas University professor emeritus John Boulton. Boulton, who prefers the term "flutist" because he thinks "flautist" is too "nose-up-in-the-air," says the concert will provide a refreshing change from traditional holiday fare.
"This show does not have a stitch of Christmas music in it," he says, except an encore selection of holiday favorites. "Christmas music is ubiquitous this time of year, and it's not necessarily Christmas music people want to go out and see."
Instead, the concert will feature light classical music, including two trios - one by Franz Joseph Haydn, one by Carl Maria von Weber - and Claude Bolling's Suite for Flute and Piano.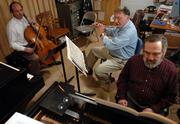 Lawrence Chamber Orchestra director and cellist for the show, Steven Elisha, says most of the works have a romantic tone. The Haydn piece especially, he says, is "sparkly, delightful and immediately listenable." The Suite even showcases the bass flute, an instrument Boulton describes as "enormous. It looks like a piece of plumbing from a hotel."
The concert is not a duet show with Boulton and Elisha, however; it also incorporates the talents of Jack Winerock, KU distinguished professor of piano; retired KU music faculty member Alice Downs on piano; Kevin Bobo, KU assistant professor of percussion, on drums; and Kip Haaheim, assistant professor of music theory and composition, on bass.
Only Boulton and Elisha, who both sit on the orchestra's board of directors, have any official connection to the orchestra. Other performers are volunteering their talents to benefit the group's fundraising efforts.
Like last year's inaugural Christmas show, all of the profits from ticket sales go toward supporting the orchestra. But this year another element has been added to the fundraising mix.
"William Dann (a benefactor of the group) has offered us a challenge," Boulton explains. "From December 10 to December 31, he has promised to personally match any fundraising done by the orchestra up to $5,000."
The concert falls within that time frame, so any donations from the show, as well as the matching funds from Dann, will be used to fund the popular Baroque By Candlelight concert in February and the Spring Celebration concert in April.
Elisha points out another good reason for attending the show.
"Around this time of year, people have very little to do. They have all of their shopping finished, and they need to entertain their guests," he says. "I can't think of a more wonderful reason to get out of the house than to hear wonderful music played at a very high level."