Friday, December 23, 2005
Lawrence massage therapist Kristii Adrian does not get starstruck very easily. But when it came time to give a rubdown to folk singer Arlo Guthrie, she was in awe.
"It was like touching a piece of history," Adrian says.
Massage therapy is becoming increasingly popular in the United States, both for relaxation and medical purposes. Adrian's studio, Bodyworks Downtown, 13 E. Eighth St., has a regular list of local clientele, but she and her staff have developed another approach to massage with Bodyworks Backstage. The group sets up vendor tents at large music festivals around the country and works with bands that come through Lawrence on tour.
"I've been doing massage for 10 years," Adrian says. "This was a way to keep it new and fun and interesting."
This summer Adrian plans to embark on her own "massage tour." She already is booked for six music festivals, including Wakarusa outside of Lawrence and Bonnaroo in Manchester, Tenn. Her next big gig is at a Black Crowes concert on New Year's Eve in Madison Square Garden.
"The musicians are just so appreciative to have us there, especially the drummers with their forearms and hands. Elvis Costello's drummer came up to me after a set and said, 'I played better tonight than I have in 20 years. Let's do it again!'" Adrian says.
Photo Gallery
Massage therapy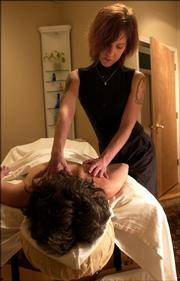 Generally Adrian has to work to set up gigs for herself and the other therapists.
"I'll call and ask if they're interested in having a massage therapist backstage," she says.
Word is spreading, though. Two weeks ago Adrian was requested for a show featuring heavy metal acts Mudvayne and Sevendust in Kansas City.
"I worked for six hours solid at that show. I guess heavy headbangers need massages, too," she says, laughing.
But massages aren't just for rock stars and other celebrities. According to a recent survey by the American Massage Therapy Assn., one in five adults in the United States have received a massage in the last 12 months.
"Every year the benefits and practice of massage are becoming more accepted, in the public eye and also in the eyes of other health care professionals," says Randy White, Massage Therapy Program co-coordinator at Lawrence's Pinnacle Career Institute, 1601 W. 23rd St. In fact, according to the AMTA survey, therapeutic massage has recently tied medication as the treatment that Americans believe brings the greatest relief from pain.
Even men, who have traditionally been less likely than women to embrace massage as a method of pain relief or stress management, are getting massages in growing numbers. White attributes this increase to the positive effects of massage showcased in the media.
"I've actually picked up more males in the last few years," White says. "It's becoming more reported with big sports stars like Dante Hall and Priest Holmes. The public sees that and says, 'I'm just a weekend warrior, but if it works for them, I might as well give it a shot.'"
Adrian also points out that many pro and some college sports teams also have a massage therapist on permanent staff.
"Basketball is a big one," she says, "and golfers because they are always contorting their bodies in weird ways, their lower backs and hips especially need help."
But aside from people involved in physically demanding activities, massage also has benefits for people just in need of some relaxation.
"Everyone can benefit from massage," White says, "but the ones who benefit the most immediately are the highly stressed."
Massage therapists' workloads generally picks up in January, according to White, for this very reason. "The relatives have all left and the shopping is all done. People just want to relax," he says.
So whether it's done as physical therapy for a pro athlete, backstage at a rock concert or in the privacy of a therapist's office, massages all have one thing in common:
"Feeling awesome," Adrian says. "That's what it's all about."
Massage styles in lawrence
¢ Swedish: Very relaxing, full-body massage. Designed to reduce stress while improving circulation, range of motion and tension. What most people thing of when they hear the word "massage." ¢ Sport: Geared toward repetitive-use muscles, joint manipulation, typically deeper than a regular Swedish massage. ¢ Couples: Massage for couples performed by two therapists using separate tables but in the same room. ¢ Hot stone: Uses warmed stones for a deep, penetrating heat. The stones are placed both on and under the body on the main energy centers. Very cleansing because the heat removes any toxins, though according to Adrian may make people feel a little ill about an hour after the massage because of the release of toxins. ¢ Deep tissue: Releases the chronic patterns of tension in the body using long, slow strokes and deep finger pressure. "More elbows, less hands," Adrian says. ¢ Prenatal: Devised specifically for mothers-to-be, includes care treatments to improve skin's elasticity and helps to prevent stretch marks while relaxing the body and relieving heavy legs. ¢ Shiatsu: Done on a mat on the floor, fully clothed. Releases blocked chi by using acupressure along the meridians of the body where there is blocked chi, those areas are more tender to the touch and that is where the shiatsu worker will put pressure. ¢ Reiki: A gentle approach which affects the energy field of the body to heal wounds and pains at all levels (physical, mental, emotional and spiritual). No real physical contact.