Tuesday, December 27, 2005
For three Saturday nights in a row this summer, the county's police dog, Gero, stood guard on the curb outside Last Call, 729 N.H., according to club owner Dennis Steffes.
In the months prior to the dog's deployment, there had been a series of problems related to the club's patrons, including two incidents of looters barging into convenience stores after leaving the club and stealing hundreds of dollars worth of beer, snacks and candy.
Steffes said he has a good relationship with police, but that he was upset enough about the dog's presence to ask for a meeting with Lawrence Police Chief Ron Olin.
He was upset largely because Saturday night is Last Call's popular hip-hop night, and most of the patrons are black.
"I said, 'If I don't sue you, someone else will,'" Steffes said. "That looked real bad, and it can't happen again."
The episode is one example of the public-safety issues that have confronted the club - formerly called Tremors - since it opened as Last Call in early 2003.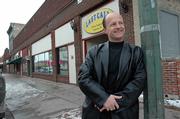 The number of police calls alone doesn't single out the club as a particularly troublesome bar. During 2005, for example, Cadillac Ranch, Crosstown Tavern and Abe & Jake's Landing each had more reported batteries than Last Call.
But the type of crimes involving people leaving the club have been violent and unusual for the Lawrence bar scene. Most of them involve Topeka or Kansas City-area residents who get into fights or disturbances after leaving the club.
Steffes has a special arrangement with the city to close Last Call at 3 a.m. to keep police from being overwhelmed by closing-time traffic from bars. He's required to stop serving alcohol at 2 a.m.
Steffes said he hadn't sensed any friction from the opening of a new condominium building across the street, the Hobbs Taylor Lofts. But the new building on the block stands in sharp contrast to the dance-club scene.
"The back of the parking lot here still is a public urinal for the boys," Hobbs Taylor resident Rud Turnbull said, though he said he couldn't link that to any specific bar. "The entire atmosphere down here has been changed dramatically (by the lofts), but without changes in some of the bars or the behavior of the participants."
Steffes said Last Call is designed to be an urban-style dance club, complete with a $100,000 sound system and a VIP area with leather couches. Its biggest night is "hip-hop night," an 18-and-over attraction that draws hundreds of people from as far away as St. Louis.
It's not unusual, Steffes said, for patrons to stand in line for an hour to get inside.
But a Topeka woman whose 18-year-old daughter reported being raped by two men earlier this month after leaving the club early on a Sunday morning says Last Call's popularity has gone too far. She said many of her daughter's underage friends come to the bar from Topeka and are preyed on by older men.
"I think that's a bad place for these teenagers," the mother said. "I think they need to close it down for a little while and do it a different way - 21 and up and no fake IDs. ... It's a bad situation."
Steffes said he spoke with the mother and told her what he often tells critics: He controls what happens inside the bar but can't be held responsible for what happens after people leave.
On the air
See 6News anchor/reporter Janet Reid's story about issues surrounding Last Call at 6 p.m. today on Sunflower Broadband Channel 6.
"Just because she was here dancing that night, am I supposed to follow everyone and see where they are going?" Steffes asked. "'While your daughter was in our custody, she was safe.' That's all I could tell her."
Police view
Chief Olin declined to be interviewed for this article about his meeting with Steffes. Department spokesman Sgt. Dan Ward said that during the meeting, Steffes provided "insights about the bar business, and the chief listened."
After the second looting incident earlier this year at Zarco, a police spokesman said it would be a matter for city officials to consider when deciding whether to renew the club's license.
"I think the majority of the people that go to those are law-abiding people that want to have a great time," Capt. David Cobb said at the time. "Then there's a group that comes just to be disruptive. ... We're talking about criminals. We're not talking about color."
Last Call's liquor license was renewed in the fall.
2005 reports linked to club
Recent incidents associated with Last Call: ¢ Feb. 20, 2005: For the second time in a month, dozens of people leaving the club barge into Zarco, 1500 E. 23rd St., and steal hundreds of dollars worth of beer, candy and snacks. ¢ May 8, 2005: A man pulls a gun on a group of Kansas City, Kan., women who are beating his girlfriend. The women previously had been in a fight on the dance floor at Last Call. ¢ Nov. 27, 2005: A 16-year-old Kansas City, Mo., girl intentionally drives her car into a group of three women in the 700 block of New Hampshire after a dispute at the club. The women, all from Kansas City, Mo., suffered minor injuries that didn't require medical attention. Police said it appeared the girl used a fake ID to get into the club. She was arrested on suspicion of aggravated battery. ¢ June 12, 2005: An unidentified man pulls a handgun on two Olathe men outside Zarco, 1500 E. 23rd St. According to a report, the Olathe men were leaving Lawrence with another carload of acquaintances after being at Last Call. As they stopped to buy gas, another group of people drove into the parking lot, and they exchanged words before the gun was pulled. ¢ Dec. 4, 2005: An 18-year-old Topeka woman reports being raped by two unknown men in a parking lot near the club.
From the beginning of the year through Nov. 30, police responded to 100 calls to Last Call, an average number, Sgt. Ward said.
On the entire block, police responded to 426 calls between the hours of 11 p.m. and 2 a.m., a relatively high number. But with the Bottleneck nearby and no way to tell where the calls originated, Ward said he didn't feel safe drawing any conclusions about the bar being more of a problem than other establishments.
Since Jan. 1, 101 police cases had originated in the 1000 block of Massachusetts Street, while only 50 had originated in the block housing Last Call, Ward said.
Club owner responds
As people come into the club, Steffes said he often stands out front, looking people in the eye and making small talk to size up their attitude. To get in, he said they must have three things: a good attitude, a valid ID and money.
If someone gets inside and begins showing a bad attitude, he said he'll ask security to pay special attention to the person and find a way to remove him.
"While you're here, you're going to behave like a human being, or we're going to open the back door with your head," he said.
He said his security staff is trained carefully, including taking classes on gang recognition. He urges them to practice their security codes and communication - something that paid off earlier this month when bouncers patted down a man and found he had a handgun.
"He was put up against the wall. He was handcuffed immediately," he said. "The whole thing took 10 minutes."
It was the first handgun his guards had taken off a patron at one of his clubs, he said. Steffes, known for challenging the city's smoking ban, also owns Coyote's, 1003 E. 23rd St.
He said people are too quick to try to blame his gathering place for problems that happen after the crowds leave the dance floor.
"Should we try to catch the criminals or extinguish the watering holes?" he asked. "I will not punish the majority for the actions of a very small minority."
Staff writer Ron Knox and 6News reporter/anchor Janet Reid contributed information to this article.
More like this story on Lawrence.com