Wednesday, December 28, 2005
For once, there can be no argument that nonsense was coming out of the Lawrence City Commission chambers.
Mayor Boog Highberger on Tuesday proclaimed International Dadaism Month, his self-created event designed to celebrate the early 20th-century art movement that embraced nonsense, chance and randomness.
Lawrence resident Eric Farnsworth, at the mayor's request, came to the morning meeting dressed in a paper suit and top hat - a replica of a suit worn by Dada founder and late German poet and author Hugo Ball - to accept the proclamation. He did so in typical Dada fashion.
"Speaking, as I am, as an impostor wearing a Hugo Ball suit, who doesn't know much of anything about Dada, I am pleased to accept this proclamation," Farnsworth said.
Highberger's fellow commissioners watched with a smile but didn't offer any remarks as part of the proclamation. They did take some cookies that Farnsworth handed out as part of the celebration.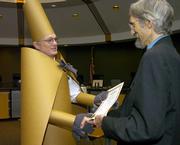 Highberger said he wanted to do something to spice up the end-of-the-year meeting that usually is about five minutes worth of bill-paying and otherwise routine tasks. Plus, the mayor - who dabbles as an artist - said he thought there was value in reminding people that "reason and anti-reason, sense and nonsense, design and chance, consciousness and unconsciousness, belong together as necessary parts of a whole."
In that spirit, instead of choosing a particular month to designate as International Dadaism Month, Highberger chose Feb. 4, March 28, April 1, July 15, Aug. 2, Aug. 7, Aug. 16, Aug. 26, Sept. 18, Sept. 22, Oct. 1, Oct. 17 and Oct. 26. He chose the dates by rolling dice and picking numbers out of a hat.
The unique proclamation has drawn national attention. The New York Times on Tuesday published an item about Highberger's plans.
A Saturday Journal-World story also was posted on fark.com, a Web site that posts weird news from around the world. The article generated several comments on the site's online discussion board.
"Being that it is Kansas, I believe it is some sort of coded message to proponents of intelligent design," a poster wrote.
Others, though, were more positive.
"I miss Lawrence. In a state that gives us intelligent design ... Lawrence is a breath of fresh air," another wrote.