Wednesday, February 2, 2005
WHERE THERE'S SMOKE THERE'S FIRE. AND WHERE'S THERE'S FIRE THERE'S BURNING SENSATIONS. AND WHERE THERE'S BURNING SENSATIONS, YOU OUGHT TO THINK TWICE: A Lawrence bar owner has reignited the debate over the city's smoking ban by filing a legal motion in Municipal Court claiming the ban is unconstitutional. Dennis Steffes - the president of Tremors Inc., which operates Coyote's, 1003 E. 23rd St., and Last Call, 729 N.H. - filed a motion last week contending a state law governing smoking supersedes the Lawrence ordinance and that the Lawrence ordinance is "unconstitutionally vague." It is the first legal challenge to the city's ban on smoking in most public settings, which began July 1.
THIS JUST IN - GAY PEOPLE SHOULD THINK TWICE BEFORE CATCHING COLD: Opponents argued that a proposed state constitutional ban on same-sex marriage could eliminate health and other benefits for both gay and unmarried heterosexual couples, though some legislators expressed skepticism of the claim. Several committee members who support the measure said critics were misreading it and that the amendment wouldn't apply to private companies offering benefits to gay employees' partners.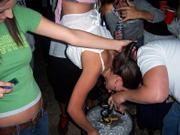 AFTER WHICH THEY'LL HEAD TO LOUISE'S FOR SOME DRINKS TO BE FOLLOWED BY A NIGHTCAP AT THE KEGGER ON THE 1200 BLOCK OF TENNESSEE: Lynn Parman is looking to score 15 of the hottest tickets in town. Parman, vice president for economic development at the Lawrence Chamber of Commerce, is asking business leaders to part with tickets to the KU men's basketball game vs. OSU Feb. 27. Her game plan: give the seats to a visiting squad of economic-development officials looking for the definitive Lawrence experience, wedged in among 16,300 fans in Allen Fieldhouse for a clash of conference rivals. Parman plans may be complicated by the fact that Gwar is playing at the Blue Note in Columbia, Mo., that same evening.
AT LAST...GOOD NEWS FROM IRAQ: Iraqis embraced democracy in large numbers Sunday, standing in long lines to vote in defiance of mortar attacks, suicide bombers and boycott calls. Pushed in wheelchairs or carts if they couldn't walk, the elderly, the young and women in veils cast ballots in Iraq's first free election in a half-century. Uncertain Sunni turnout, a string of insurgent attacks that killed 44 and the crash of a British military plane drove home that chaos in Iraq isn't over yet. Yet the mere fact the vote went off seemed to ricochet instantly around a world hoping for Arab democracy and fearing Islamic extremism.
BLACK DAY: A U.S. helicopter crashed in a desert sandstorm in the early-morning darkness Wednesday, killing the 30 Marines and one Navy sailor aboard. Six other troops died in insurgent ambushes in the deadliest day for Americans since the Iraq war began nearly two years ago.
MAYBE KEEP A STASH OF FRAGRANT DOGGIE BISCUITS ELSEWHERE IN YOUR RIDE: Gero, Douglas County's crime-fighting German shepherd, has a nose for drugs. He can sniff out cocaine, marijuana, heroin, methamphetamine, ecstasy and OxyContin. But is he a hairy, four-legged invasion of privacy? The U.S. Supreme Court doesn't think so. Last week, the court gave police broader search powers during traffic stops, ruling in an Illinois case that drug-sniffing dogs - like Gero - can be used to check out motorists even if officers have no reason to suspect they may be carrying narcotics.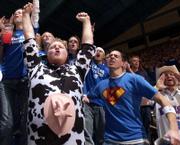 HOOKED BY THE 'HAWKS: Following a day's worth of free 'College Game Day' advertising on ESPN and ESPN2 Saturday, the 'Hawks destroyed No. 16 Texas, 90-65, at Allen Fieldhouse. ESPN's commentators Rece Davis, Digger Phelps and Jay Bilas were in town to broadcast three hour-long shows in the 50-year-old Fieldhouse, followed by Dick Vitale's calling of the game. The No. 6 Jayhawks (16-1 and 6-0 Big 12 Conference before Monday's game versus Mizzou) put on quite a show on the actual court in the day's main event against the 16th-ranked Longhorns (15-5, 2-4).
CHEETOS ALSO FOUND TO BE MORE FATTENING THAT, SAY, TRISCUIT THANKS TO THE LATER'S RELATIVELY HIGH REQUIRED ENERGY EXERTION FOR CONSUMPTION: Strolling to the bus stop, fidgeting during a meeting, standing up to stretch, getting up off the couch to change channels and other seemingly minor physical activity can make the difference between being lean and obese, researchers reported Thursday. The most detailed study ever conducted of mundane bodily movements found that obese people tend to be much less fidgety than lean people and spend at least two hours more each day just sitting still. The extra motion by lean people is enough to burn about 350 extra calories a day, which could add up to 10 to 20 pounds a year, the researchers found.