Next week.
That's when Lawrence's premier hardcore band The Esoteric was supposed to be purchasing renter's insurance for its "House of Metal" at 820 Ohio St.
Today, as the crispy remains of guitars and amps float in the basement that served as the band's practice space and recording studio, guitarist Eric Graves is no longer pondering the prospect of buying renter's insurance he's thinking about selling it.
"I could be like 'Jared for Subway' but 'Eric for renter's insurance,'" joked Graves, referring to TV testimonials for the restaurant chain.
"I could have the story that you would think was made up, but it was actually real being super bummed out about losing everything in a fire."
Close call
Graves and his four bandmates Steve Cruz, Anthony Diale, Cory White and Marshall Kilpatrick compose the razor-sharp metal band known in Lawrence and beyond for its complex and "pummeling" sound.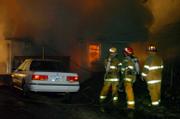 Fortunately, the early Tuesday morning fire at 820 Ohio St. only wreaked that kind of havoc on the house and its contents : and not on the musicians.
"We're very thankful to be standing here right now because it was close," said Kilpatrick, who fled the house with Cruz at approximately 3:00 a.m. (Graves was the only tenant not home when the fire started).
Cruz was watching the director's cut of "Donnie Darko" in his room when he first smelled "something horrible." He discovered flames and thick smoke creeping from the basement into the kitchen and alerted housemate Kilpatrick.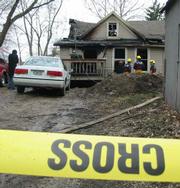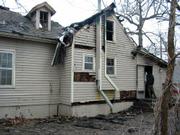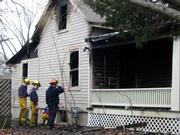 "I was in bed and I just remember Steve yelling, 'There's a fire! Get up! Run!'" Kilpatrick continued. "The minute I step out my door this flame just comes barreling though : I just ducked and ran."
The fire was extinguished at approximately 5:40 a.m. by a crew of 17 firefighters. Damage to the dwelling was estimated at $175,000 by Fire & Medical Deputy Chief Mark Bradford.
"I doubt seriously that it can be reconstructed," said Bradford, who said that the cause of the fire had not yet been determined. "We'll continue our investigation and once it is concluded the scene will be turned back over to the homeowner."
A spokesperson for Property Management Services declined to give comment or reveal the owner of the property (who lives in California), saying that all the details had yet to come in.
Painted black
Though the band is still tallying its losses, Graves estimated about $20,000 worth of equipment was irreparably damaged in the fire. That figure includes nearly a dozen guitars, half-a-dozen cabinets and heads, a custom drum set, miscellaneous pedals and processors and a G3 Apple computer.
"We still have a van," Graves half-joked, referring the band's miraculously unscathed tour vehicle which was parked in a driveway adjacent to the house.
In addition to the financial damage, the band also lost a large catalog of recordings that were housed on the hard drives of the damaged computers.
According to band manager Dean Edington, The Estoteric's full-length debut "With the Sureness of the Sleepwalking" due out April 19 on Prosthetic Records will not be in jeopardy, but other projects could be.
"Literally next up on the plate for next week was getting secure storage for their hard drives," said Edington, adding that the band had planned to record new vocals for its "A Reason to Breathe" EP in hopes of re-releasing it later this year.
"When you're poor musician you don't really ever think you need that kind of thing. And then something like this happens."
Besides recording as The Esoteric, the band members also stay busy with side projects like "Ballz Deep" (a prankish rap group) and "Emotron" (a humorous electronica project). Cruz said a number of recordings by these projects were likely to be lost.
Reason to breathe
The band is hoping it can borrow enough equipment in time to play two gigs booked for this weekend. "Last Caress" The Esoteric as a Misfits cover band will still perform Friday at The Replay Lounge and Saturday in Wichita.
"We did these Misfits shows to raise money for merch," Cruz said. "Now it's turned into merch plus clothes."
In addition to band equipment, the three tenants of the house also lost all of their personal belongings. The loss of hundreds of records was particularly devastating for Cruz, who DJs "Neon" on Thursdays at The Granada.
"My turntables are totally black," Cruz marveled while staring through a broken window at the water-soaked remains of his charred room. "I'd rather (the house) was totally burned to the ground, because you can still see every single record sort of."
If there's one thing keeping band member's spirits up, it's the prospect of regrouping and going forward with a two-week tour scheduled to begin March 10. The band has already posted a link on its website - the-esoteric.com - for people to make donations via Paypal, and a benefit show is being organized for March 30 at The Granada.
Album Mp3s

1336
"We luckily have a lot of friends here that are always supportive and helpful anyway, but now it's really going to be important," Kilpatrick said. "We are all starting over together with nothing, and whatever we build we all build together."
"Hopefully we'll have a new solid foundation because of it."