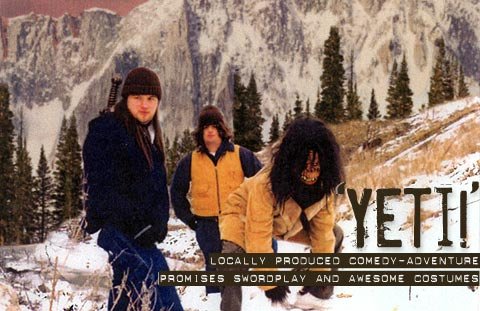 Friday, February 25, 2005
Director W. Dave Keith recalls the quandary of setting his movie in the Himalayas despite having no real budget.
"Snow kind of looks the same in every continent," he says. "So we shot it in Kansas."
This wasn't the first liberty that "Yeti! A Tale of the Brothers Krong" took with accuracy, believability or good taste. Yet the cheap, anything-goes feel of the locally filmed project remains part of its charm.
"I had an idea of a character I wanted to play," says actor Mike Weatherford, who stars as Caspian Krong. "I was thinking I chased polar bears or something. Dave had an idea for a movie about a yeti. I think we both just compromised."
Ultimately, "Yeti!" tells the story of brothers Caspian and Brian Krong, adventurers who were given mystical blades when they were young and schooled in the art of swordsmanship. When one of their colleagues at the U.P.O. (Unexplainable Paranormality Office) disappears in the Himalayas, the pair is sent to retrieve him from the clutches of the powerful yeti.
The picture will have its premiere 6:30 p.m. Monday at Liberty Hall, 642 Mass., followed by a Q&A; with the filmmakers. It will be the first time cast and crew has seen the 55-minute feature on the big screen.
Past Event
Monday, February 28, 2005, 6:30 p.m. to 9 p.m.
Liberty Hall Cinema, 644 Massachussets Street, Lawrence
All ages
"We always wanted to make a yeti movie because we made a Sasquatch movie previously," says Keith, who also teams up with Weatherford to produce the "popular" lawrence.com series "Question Time With Randy" (available here for download). "I'm trying to get movies out of all the paranormal and mysterious things."
First came creating the costume for the titular menace. Keith started by renting an Easter bunny suit, adding a yeti mask then buying a fuzzy white rug from Target, which he cut a whole in the middle of to fit over the performer's neck.
The production team also had to secure a costume for the secondary character of Mordecai, a helpful gorilla-like creature that befriends the Krongs.
"We've had a person in a monkey suit in almost all our movies," Keith says. "It's kind of our thing."
For nearly 10 years, Keith has partnered with the multitudinous Weatherford family to crank out peculiar little films.
In addition to Mike Weatherford, brother Aaron tackles the role of Brian Krong, while brother Steve plays a helpful monk and composes the film's music. (Preteen sibling Mark even makes an appearance as a young Krong during a flashback sequence.)
The Weatherfords first met Keith while students at Blue Valley High School in Stilwell.
"We were competing class clowns in high school," Weatherford says of Keith. "We didn't like each other very much. But he became a friend with my younger brother."
The collective went on to form a comedy troupe, occasionally performing standup at Stanford's in Overland Park. Then the gang started making music videos for the farcical band they also formed. Eventually the video shorts turned into narrative features.
"I don't like making artsy movies," says Keith, who studied film at Kansas University before dropping out. "I try to make more Hollywood-ish movies."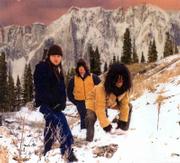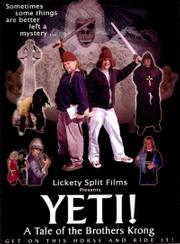 Past projects from the team's Lickety Split Productions include "Giggleplex" (part 1, 2 and 3), "A Burt Reynolds Christmas" and "Evil Prime: Prime Evil II."
"We started out really crappy like anybody else," says Weatherford, a Lawrence resident who is attending Ottawa University to earn his art teacher's certification. "And our crap started to get better. We've added more special effects and our own music. We've just gotten better."
He specifically mentions a blown up building effect at the beginning of "Yeti!" as one of the film's highlights. And he also points to the great ingenuity that went into generating the sound of the beast's scream, which became a sonic cocktail of tiger, yak and orangutan."
The Lickety Split gang hopes to enter the flick in regional film competitions. They are already planning the Krongs' next cinematic adventure. In fact, the latest movie ends with a teaser clip involving a hunt for the "chupacabra," a fabled lizard-like biped whose name means "goat sucker" in Spanish.
"It was supposed to be set in Puerto Rico but it was shot at Clinton Lake," says Weatherford. "My sister was in a chupacabra outfit and we were standing next to her with swords and a little monkey guy. The camera was really far away, so basically we were standing in the woods by ourselves and people were driving by really SLOW."