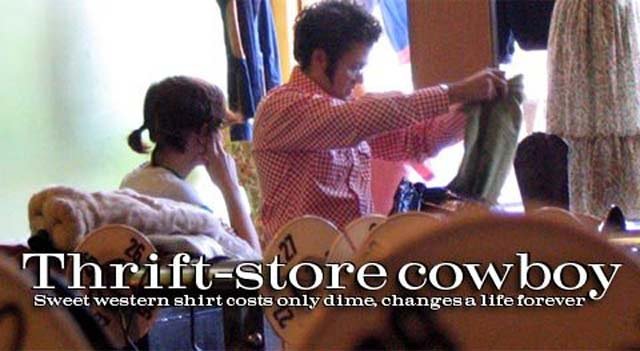 For those who had a prosperous year, Christmas morning held the promise of a nice goose and a plump red visitor with an engorged sack filling your flue. Who doesn't dream of being smothered in a flood of oversized packages swollen with the love of their fellow man? Who indeed?
But the economy is not kind to everyone. One percent of the American populace possesses more wealth than 95 percent of the country combined. In other words, "Merry Christmas, Warren Buffet."
But take heart. Not every aspect of our lives has been Overland Porked. Even outside of the Christmas sale bins, bargains can still to be found. Zippo lighters still carry a lifetime guarantee. For but a pittance, Comet cleanser's abrasive properties can be used throughout the household for years. And used clothing allows you to own good quality wares at a fraction of the price.
According to Phil Chiles, American and owner of Wild Man Vintage (918 Mass., formerly Sugartown Traders) the benefits don't end there.
"There's an infinite amount of used clothing out there, and so no matter how much you buy, no one's ever going to be exploited in the making of it," he says.
And Lawrence's Social Service League gets the clothes Phil doesn't buy if the seller doesn't want it back.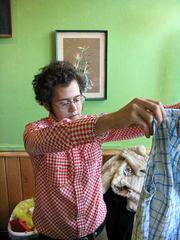 It all started with a western shirt.
"I'd get a few of those for my friends, and go out to a country western bar or something in just the most hideous western shirts," Phil recalls.
The quest led him to about 20 of the dude duds before he reached the fateful small-town garage sale where he purchased one he actually liked for a dime. A quick ebay search led him to an identical shirt on which the bidding had reached $110 before auction's end.
It was like a vintage boot to the head.
For the next three years, Phil took his camper-shelled truck out on the road in search of bargains that could be re-sold to vintage clothing stores. His buying runs took him through Kansas, Arkansas, Oklahoma, Illinois, and Missouri (1500 miles in a weekend wasn't uncommon), and his customers were mostly in Lawrence, Columbia (Mo.), and St. Louis.
One of these clients was the former Sugartown Traders. On a selling trip, Phil found out that Sugartown would be closing in a week. He'd been putting items aside since he'd started selling, and had amassed a large quantity of choice items (enough to make his parents ask him to rent a storage facility in order to reclaim their Springfield home). Despite the very short notice, he found a way to go into business, dropping anchor for the first time in years.
"I haven't had a place to live since I graduated (from MU)," he says. "I'm excited about doing this in Lawrence. I've been coming here for years. It's just an amazing town with a really great scene, so I think it's great that they can support three stores of this kind."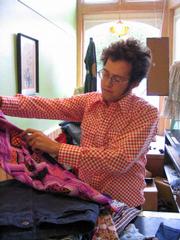 If you slide into Wild Man for some vintage threads, prepare to be immersed in a whirlpool of retro wonder - sort of. With Curtis Mayfield on the turntable (at Wild Man, they call it a "record player") and something called "vinyl" on the furniture, the ambience is decidedly pre-, uh, 2005. Phil's definition of vintage is pretty open: anything that's been fashionable, has gone out of fashion, but is still appreciated for some reason.
That being said, he looks primarily for either very new or pre-'80s items. But don't just throw away those fanny packs or that Tommy Hilfiger crap.
"I've not gotten to the point where I'm like a true connoisseur of all things vintage," he says. "We want to make this the friendliest store in town. There's nothing that people hate more than, when they walk into a store - clothing store, record store, bookstore, anything - and be looked down on because they have different tastes than the people that run the place."
So bring it on. Wild Man's set buying policy gives sellers 40 percent of what the sale price will be. A few tips for a successful sale: make sure it's clean, doesn't smell like cigarette smoke, doesn't have pet hair, and maybe fold it and put it in boxes. And if this, the season of giving, moves you to give the Wild Man a gift, think: neckwear.
"A Salvador Dali tie would be nice," he urges. "They're impossible to find."