A stroke of imagination and sound effects can do wonders to mesmerize a roomful of fidgety children.
Spencer Lott has mastered the creative combination in his budding career as a puppeteer.
"I've learned in my shows it is best - especially for the little kids - to be long on action and short on plot," said Lott, a junior at Free State High School. "They don't want to sit through a love ballad or whatever. The more farting noises, explosions and sound effects you can have, the more they will be entertained.
"I've had parents come up to say, 'My 2-year-old can't sit through a TV show, but he sat there for an hour and watched your puppets nonstop.'"
Lott is passionate about puppets. He has created 40 of them in his basement workshop. He's a member of Puppeteers of America and even formed his own company, Squiggle Puppet Productions.
He also helped design a permanent wood theater at Plymouth Congregational Church, 925 Vt., where he teaches children how to use puppets for Sunday school.
"He's one of those rare people who can connect with all people," said Cheryl Powers, director of children's ministries at the church. "He could stand up in front of people, wouldn't have to say a word, and he could still entertain them just by moving his eyes and using facial expressions."
Lott also has pulled off impromptu performances.
"I have thrown him to the wolves," Powers said. "I've told him, 'Here are 100 kids. Entertain them for 15 minutes.'"
Budding performer
As a toddler, Lott was enthralled by Jim Henson's characters on "Sesame Street," and "stuffed animal" shows would occasionally break out at the foot of his parents' bed.
"We were always surprised when he'd pop up with an entertaining foot-of-the-bed show, and wonder where he'd come up with his ideas," said his mother, Nancy. "Some of them were absolutely hilarious - enough to make us snort with laughter, trying to catch our breath with tears rolling down our cheeks. My husband (Hunter) and I laugh now when remembering them.
"We never knew exactly what went on at school in this regard, but at parent-teacher conferences the teachers would always comment, 'It must be really interesting at your house.'"
Since elementary school, Lott has developed his characters with sketches and scripts before putting his hand and rod puppets in motion.
"I'll sit down and see what I can do with the foam and the fabric, take an idea and see how it will work it," said Lott, who is slowly learning to sew after depending heavily on glue to keep his puppets intact.
Resourceful entertainer
Lott is resourceful when acquiring materials to construct his puppets and scenery.
"I take trash from other people: hosing, tubes, foam - anything I can get my hands on," said Lott, a regular customer at Hobby Lobby and Hancock Fabrics. "Every once in a while I'll go Dumpster diving, grab some foam board or hose."
A month ago, Lott performed "The Three Billy Goats Gruff" and led a puppet-making workshop for 40 children at Kamp KU kids' series at the Kansas Union. He had to mouth his own music after forgetting his CD player and trusty kazoo.
"I made up tunes, a lot like elevator music," he said. "Some of the kids were cracking up, so it put them in the mood for something zany."
As the sole performer, Lott had to master several voices at the KU show.
"I love to do voices," he said. "It's hard though, especially for a show that I'm not very familiar with. The voices all mesh into each other. I'll start with one voice, and by the end of the show I'll have a totally different voice. I'm really working to have set voices for set characters. It's hard when you're doing two different voices."
Lott has learned to amuse youngsters by getting them involved in the action.
"I have a little squirt gun tied backstage that I can squirt the audience with for splashes over the bridge," Lott said. "It adds a lot to the show."
His mother often helps lug around puppets, scenery and props to his shows.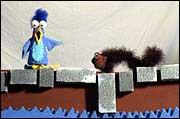 "I'm the roadie," Nancy said. "I schlep stuff all over for him. Before he was good at sewing, I would do a lot of that and he would do hot gluing. He's taking over all of that."
Career goals
Since sixth grade, Lott has worked with Paul Mesner, a puppeteer based in Kansas City, Mo. Lott has created papier-mâche heads and helped with Mesner's shows "to see what it's like."
And Lott likes what he sees. He plans to major in puppetry at the University of Connecticut and dreams of landing a job with Disney or in Hollywood working in film, TV or children's programming.
Meanwhile, he is content entertaining children in Lawrence and the area.
"I've been asked for my autograph," he said. "They'll say, 'We know you'll be famous in 20 years.' That's awesome. It's hard to beat that."