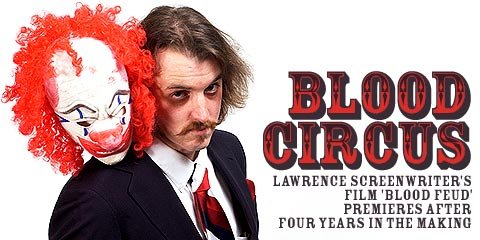 Tuesday, January 18, 2005
John Wallace Cochran is a smarter man thanks to "The Blood Feud."
The Lawrence-based writer, musician and wearer of capes did quite a bit of research before writing the screenplay for his four-years-in-the-making feature film. He versed himself on various topics in etymology, pathology and dermatology. He read up on kidney diseases, dystrophy and black markets for medical collectibles.
But, predictably, he skipped the research on how to actually make a movie.
"It's an almost completely incomprehensible film," Cochran said. "I wrote it and was involved in every aspect of the making of it - and it doesn't make a lick of sense. But I know that, so I don't ask questions. Other people don't know that and they're going to want to ask questions."
And, by the way: "It's probably the best movie made in the United States in the last 50 years."
Cochran's claim will be put to the test Thursday when the independently produced film makes its debut on the big screen at Liberty Hall. The 75-minute film will be followed by a Q&A; session with the film crew and a night of music courtesy of Drakkar Sauna, Vular, Disabled Lovers and Civil War II.
"It's going to be a weird, kind of circusy night I think 'cause there's a lot of strange people from strange places in this country that are congregating to see a movie that they were in," Cochran said.
"Once the movie's over there's going to be music and arguments and probably a shoving match ... I promise that if it comes to fisticuffs, we will do it in front of people."
Aphasia and other afflictions
The film's overt weirdness shouldn't come as a surprise to anyone who's seen Cochran's band Drakkar Sauna, a vaudevillian folk duo with multi-instrumentalist Jeff Stolz that specializes in outlandish bear-fighting sagas.
That popular local band is actually a byproduct of the film's long and winding production history, which began in May 2002 with a whirlwind month of filming in Pittsburgh (Pa.). After meeting through a mutual friend, Cochran and his production team cast Stolz to play the part of Everitt Kelly, an AWOL Navy cadet who returns to his hometown to collect a debt before high-tailing it up to Canada.
For Stolz, who had never acted before, the filming sessions offered a breakneck introduction to the world of independent cinema.
"We all were doing pretty much everything," Stolz recalled. "When I wasn't acting in a scene I would be holding a boom stand or making lunch."
The 10-member cast and crew worked piecemeal (and often backwards) on a script that follows a "black marketeer who deals in medical collectibles" as he becomes entangled in a web of unsavory characters.
"The script is relatively simple," Cochran explained. "It's just that something happened in the making of it ... I'm not sure who did it, but somebody involved put on some kind of weird hex that did things to the camera and did things to the actors.
"It's as if the director or the cinematographer, or perhaps a combination of both, had some type of aphasia where the communication roots were being pinched, and that comes out in a kind of flashy, strobe-like effect."
Elementary, dear Cochran
The month-long shoot yielded 32 hours of mini-DV footage and stretched the film's budget to about $7,000. None of the actors - amateur or professional - were compensated outside of hospitality.
"It was really guerrilla-style as far as showing up and shooting with available light and sets," Cochran said. "We didn't spend that much more money than we would have spent if we all just lived in Pittsburgh together for a month."
A few months after the shoot, Cochran relocated to Detroit (Mich.) to begin the arduous task of editing the film.
"The mistakes - the little inspired moments - were the things that ended up in the movie, as opposed to trying to get exact line readings," Cochran said. "It was great to have so many friends involved and to share it with them because everything was new and surprising."
After seven months of editing the film between day jobs, Cochran relocated to Lawrence to complete the soundtrack. He moved in with Stolz and Chris Kulhman (also an actor in the film and part-time Drakkar Sauna member) and soon discovered he'd be staying longer than expected.
"My initial lease was for six months," he said. "But then I realized what a fuckin' lazy prick Jeff was and that we were never going to get the music done unless I learned how to play."
So, as Cochran tells it, he took matters into his own hands.
"I would go to these elementary schools and ask if I could sit in during their music classes," he said (this story could not be verified). "I just walked by them; I saw little kids; I figured that there was probably going to be a recorder somewhere on the premises, and so, you know, I tried to make my move.
"They were a little upset with my presence," he continued. "I was real polite, you know? I just wanted to sit in the back of the class and just learn music, you know, like the basics ... There was a really nice teacher at one of the schools on Sixth Street that kind of showed me how to breathe while I'm singing."
The greatest show on Earth
Cochran describes the film as a black comedy in the vein of director Lindsay Anderson ("O Lucky Man!"), but probably not as funny.
"I don't know that anybody's going to find it funny except for forensic pathologists and probably dermatologists," Cochran said. "We're going to be taking polls after the movie is done to find out what kind of professions really do enjoy the movie."
According to producer Alex Wright, however, the film does have a relatively accessible storyline.
"It's not unlike 'The Maltese Falcon' - there's a bunch of people who want something," said Wright, a documentary filmmaker who met Cochran at Western Michigan University and currently resides in Detroit. "Our hope is that as many people can sit through it as possible that aren't related to us, friends with us, or drunk."
As Wright sees it, "The Blood Feud" is just one chapter in Cochran's broad and multifarious mental vault.
"John is a writer, first and foremost," Wright said. "He writes like a maniac - books and plays and everything. He once wrote a novel in a weekend."
In Wright's opinion, Cochran's greatest asset as a writer is his dialogue.
"His characters have a way of talking that's not just cool in like the modern 'cool' sense," he said. "The style is sort of out of time and out of place. He sort of invents his own cliches - things that maybe should have been cliches but aren't. They're familiar but they're all kind of tainted by an oddness."
And his greatest asset as a person?
"He's got a little P.T. Barnum in him, for what that's worth," he said. "I mean, you've seen what he wears at his shows..."
Blood on the tracks
"The Blood Feud" will screen in Pittsburgh next month and possibly at some small festivals later in the year.
"If there's one thing that I've learned from my day job (as a documentary filmmaker), it's that festivals are desperate for content," Wright said. "There's enough digital video festivals out there now that I think it'll catch on somewhere."
Cochran said he would eventually like to take the film on a small tour across the country. In the meantime, he's setting his sights on a smooth "world premier" at Liberty Hall.
"For five dollars, there's nothing better going on in town I would imagine," Cochran said. "I don't know - I don't go out that much."