Wednesday, January 19, 2005
Bill Kurtis never expected to become a youth icon.
But Kurtis, a 1962 Kansas University graduate and host of A&E; television's "Investigative Reports," says that's exactly what has happened ever since he narrated the Will Ferrell comedy "Anchorman: The Legend of Ron Burgundy."
"I think I'm so old I'm in," Kurtis said by phone last week. "We call it the 'Tony Bennett Syndrome.' For some reason, young people think I'm cool."
Kurtis, who lives in Chicago, isn't the only Kansas connection to "Anchorman," which opened at No. 1 and currently occupies two different slots this week on Billboard's Top DVD Sales chart -- No. 2 and No. 5, for differing editions of the DVD.
¢ Paul Rudd, who attended KU in the early 1990s and a fraternity brother to Kurtis, plays Brian Fantana, reporter sidekick to Ferrell's Burgundy.
¢ "Carry On My Wayward Son," by the '70s band Kansas, plays over the credits.
Kurtis' involvement in the movie, however, might be the most unusual. After all, he's been a "serious" journalist for nearly four decades. In "Anchorman," however, he provides comic lines like the following:
"His name was Ron Burgundy. He was like a God walking amongst mere mortals. He had a voice that could make a wolverine purr and suits so fine they made Sintara look like a hobo. In other words, Ron Burgundy was the balls," Kurtis narrates during the movie's opening scene.
Kurtis received the scripts at his office in Chicago, recorded the lines and sent the tapes back to Hollywood. He spent one day on the set.
"It just seemed like it would be fun," Kurtis said. "You never know what a movie is going to turn out like when you go into it. But the participants doing it were such a high level -- I've always been a fan of Will Ferrell."
Adam McKay, the director, persuaded Kurtis to participate.
"He gave me a call," Kurtis said. "They never thought I would do it -- but I said, 'I like working with young people. Satire is good.'"
The movie mocks an era Kurtis knows well: 1970s local television. Kurtis, in fact, was anchoring at a Chicago television station -- after a short stint at Topeka's WIBW in the mid-1960s -- when its first female anchor came aboard, a point of conflict in the movie.
"It wasn't as traumatic (in real life), but the dynamic changed," Kurtis said.
In fact, he said, "Anchorman" is surprisingly sharp in the details.
"Most of it is silliness, but a lot of it is based in fact," Kurtis said.
"The clothes are dead-on," he said. "As a matter of fact, I had that suit -- that maroon wide-lapeled suit."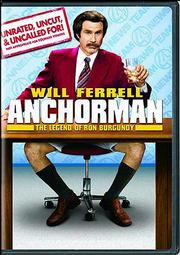 Kurtis has stayed close to his Kansas roots. He owns the 10,000-acre Red Buffalo Ranch near Sedan, along with the property that was once home to the family of Laura Ingalls Wilder, and he is part-owner of KIND-AM, a radio station in Sedan. He has poured money into buying and revitalizing historic downtown buildings in Sedan.
He said the movie has helped him discover, and be discovered by, a younger generation.
"They worship Will Ferrell, and wait for anything he does to come out," he said. "I was shocked, because it's like another world. My age group, you can't stay up late enough to see 'Saturday Night Live,' so we don't know Will Ferrell."