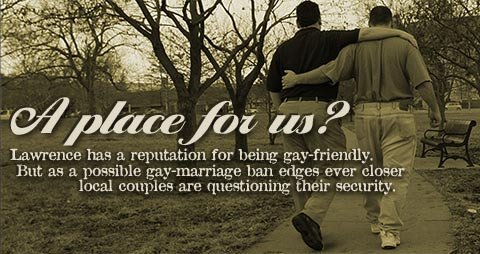 Maureen Warren was a high school student in Garden City when she realized she was lesbian. She let only a few people in on the secret.
"In fact, I still continued to publicly date guys," Warren said last week. "I came out to my mom and some friends maybe as a senior in high school. I came out completely once I came to KU."
Warren's story isn't uncommon. Jimmie Manning said he realized his sexuality was "fluid" while a student at Emporia State University; he waited until he moved to Lawrence to leave the closet.
"I kept quiet, because I didn't feel like Emporia was that open a place," said Manning, now a graduate student at Kansas University. "I decided that when I moved to Lawrence I would make the decision to be out, for better or for worse."
Manning added: "All the gay people seem to want to move to Lawrence."
Lawrence cemented that reputation a decade ago -- April 1995 -- with passage of the "Simply Equal" ordinance that protects homosexuals from discrimination in housing and employment in town. Until last year, when Topeka passed a similar ordinance, Lawrence remained the only Kansas city with such a law on the books.
"It has reputation of being gay-friendly -- or at least accepting," said Bruce Ney, chairman of NetworQ, a "social group" for the city's gays and lesbians that claims more than 120 members. "I think in the latest terminology, Lawrence is an island of blue in a sea of red."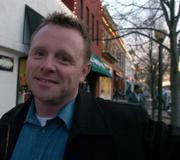 As the Kansas Legislature moves closer to letting voters weigh in on a state constitutional amendment banning gay marriage, however, the gay and lesbian community in Lawrence is feeling less comfortable.
Proponents of the amendment say marriage is the province of heterosexual relationships -- and that gay unions threaten the institution of marriage.
"Marriage is special," Sen. Phil Journey, R-Haysville, said during this month's debate in the Kansas Senate. "Marriage needs to be protected."
The issue peaks at a time when Warren is planning a commitment ceremony with her partner.
"I've been dating a long time, and when I met Allison, it very quickly became clear that it wasn't just another person, as anyone knows who wants to get married," said Warren who, like Manning, is an officer with Queers and Allies at KU.
"When you find somebody you really connect with who's your best friend," she added, "you want to have a sort of public declaration that your relationship is special and significant and an important part of each of your lives."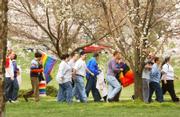 Gay marriage is already banned by state law in Kansas, however, so the couple have turned to Warren's father, an attorney, to ensure they'll be able to help each other make medical decisions and exercise other rights available to straight couples.
"We really do plan to make a lifelong partnership of our lives," Warren said.
Ney, an attorney, said the amendment under consideration in the Legislature could undermine such arrangements.
"It not only outlaws gay marriage, it outlaws any form of domestic partnerships, civil unions, any other form of quote-unquote 'marriage' that the state doesn't choose to recognize," he said. "That may go so far as to affect common-law relationships."
In Lawrence, however, the amendment shouldn't undercut the city's "Simply Equal" law.
"When the City Commission adopted that change to its antidiscrimination laws, the issue at that time was raised whether it impacted the state's marriage laws," Aassistant City Manager Dave Corliss said. "The answer was no then. It's still no."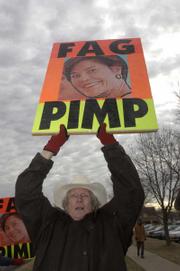 An oasis?
Manning, Ney and Warren said the Legislature's timing seemed odd because their western Kansas hometowns appear to be growing more tolerant, if not accepting, of homosexuals.
"There's a lot of open gay people in Liberal now," Manning said.
Ney said a visit to his hometown of Russell by picketers from Fred Phelps' antigay Westboro Baptist Church -- often seen in Lawrence at Lied Center events -- also sparked a reaction there.
"When they are finally exposed to what those of us in this part of the state see on a regular basis, it's pretty much an eye-opening experience for them," Ney said.
Lawrence, however, remains a singular place.
"Lawrence is the oasis for the rights and peace and quiet for gay individuals in Kansas," Warren said. "I think there are people all over the state who have very tolerant viewpoints, but it seems the concentration is highest in Lawrence."
But all is not perfect for gays here.
Antigay bias was blamed in a 2002 assault on Jeffrey Medis, a gay man, at a local bar. Manning said he still encountered people in Lawrence who didn't want to hear about his relationships. And Ney suggested Lawrence, while accepting, hadn't gone as far as other gay-friendly cities.
"If you go someplace like Palm Springs or Provincetown, (Mass.), they actually go out and promote it and want you to bring it in as a tourist venue for gay people to come to," he said.
In the short term, however, the focus is on politics.
"I have faith that the people in Lawrence would reject such an amendment," Ney says. "As for the rest of the state, I don't hold out as much hope. But we'll certainly try to get our message across."