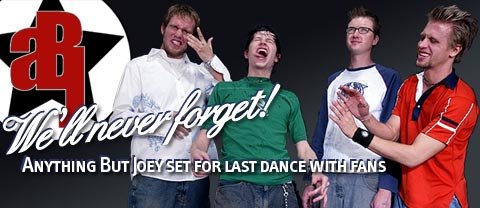 Thursday, January 27, 2005
During a recent three-month tour that brought Anything But Joey to Washington D.C., the band experienced another in a string of motorized failures.
Seems the fan clutch on the group's van busted. Left in the cold with little assistance, the members decided to fly their Kansas City mechanic out with the necessary replacement parts. While he and guitarist Bryan Chesen toiled in a parking lot fixing the vehicle, they discovered the hub on the trailer was cracked.
"At any time, we could have been driving and the wheel could have rolled right off," Chesen says. "If we're on the highway going 70 mph, it's going to kill us, and the trailer axle is going to fly off and probably kill some other people. I was like, 'Is the best thing about my day today - after playing in this band for eight years - that we DIDN'T kill anybody with our trailer?'" It was an omen that it might be time for the unit to split up.
But Anything But Joey is going out in style. The Lenexa-based troop of former Kansas University students is throwing a farewell concert 7 p.m. Saturday at The Granada.
"Every band eventually breaks up, so it's inevitable," Chesen says. "Ours was progressing. We were playing better, touring more and selling more records. There was certainly no downfall on a national level. It was just not going as fast and as well as I wanted it to."
Upcoming shows
Anything But Joey
Girls with X's
Since the four Shawnee Mission West High School students first got together during the summer of 1995, the Anything But Joey experience has been a series of highs and lows.
"Our first show ever together was in my garage," says singer Matt Groebe, who founded the poppy-rock quartet with Chesen, drummer Jeff Polaschek and bassist Drew Scofield. "We started early in the morning to rent the PA and got an elaborate setup in my back yard. An hour later it rained, so we moved it all into my garage. So our friends who watched it stood out in the rain to watch it. The cops showed up three times."
The former "marching band dorks" originally performed under the name Thulium (the 69th element on the periodic table), strumming Weezer covers for their schoolmates.
Band songs
Anything But Joey
"Thulium was fun but it was just a high school band," Chesen admits. "ABJ we actually took seriously."
By the new millennium, the energetic ensemble began to garner a fan base often ignored by the indie hipsters of Lawrence and the heavier emo-rock acts of Kansas City. Young girls started flocking to the shows.
In fact, the band toyed with the idea of titling its debut album "Girls with X's," based on the amount of devotees who showed up bearing the scarlet letter drawn onto their hands to denote their underage status.
"We cared a lot about our fans," Chesen says. "We spent a lot of time talking to them and treated them well. We would have a fans that would drive everywhere to see us. People would drive 600 miles to see us, even though it was the same show we put on two weeks ago in a different city."
While other groups were schmoozing the DJs at KJHK or the bartenders at clubs in Westport, the band was finding alternate avenues of promotion.
"We would 'sidewalk chalk' high schools in four or five different districts," Chesen explains the method of advertising the band's upcoming shows. "You go at midnight, and if the cops throw you off the property, then the cops throw you off the property. There's never sidewalk chalk at high schools, whereas KU is cluttered with it."
Homegrown Buzz
Anything But Joey really trumped other locals when its single, "Girl Roommate," found itself in regular rotation on corporate radio station 96.5 FM The Buzz. The quartet became the only unsigned act in the region to achieve that objective.
"Getting on the radio made us a band," Chesen says. "All the sudden we had a fan base. Instead of drawing 50 of our friends, we would do a thousand people that would come to hear one song." "We opened a lot of people's eyes to bands that aren't necessarily on the radio," Groebe adds. "People started coming to see us who didn't come to see local shows."
The airplay led to bigger gigs: opening for Jimmy Eat World show at Memorial Hall, performing at Late Night with Roy Williams and joining the NBA's Rhythm 'n' Rims tour.
"It was kind of a rush walking out of the VIP room at Memorial Hall and having so many kids I couldn't count them out there waiting to talk to me," Groebe recalls. "That was a very exciting moment. I felt like a rock star."
New outfit
Although Saturday's Lawrence gig and a Feb. 4 show at The Beaumont in Kansas City will represent the band's last waltz, there are more potential rock-star moments ahead for Chesen and Groebe.
The pair starts rehearsal this week with an as-of-yet unnamed outfit they are forming, in which the rhythm section of the band will not be taking part.
"We're all just going in different directions and we want different things out of life," the singer says. "Bryan and I are definitely on track to go the route of making this our career. Jeff and Drew were just a little more relaxed with it."
Although Chesen, a 2000 KU psychology grad, hopes to someday put his degree to use as a relationship psychologist, for now he'll continue pursuing his musical livelihood. For him, the Anything But Joey experience remains a positive one. Yet he also views it as one stop along a winding road.
"In ABJ's practice space we have three huge pictures of us that are just reminders of how stupid we looked," he says. "We'd look at them and think, 'We thought this was good?' Every time I look at them they remind me of always trying to progress and learn more."
More like this story on Lawrence.com