The earthquake struck two minutes before noon with devastating force.
The midday meal was close at hand, and charcoal and wood stoves were being stoked in preparation. Fires quickly engulfed houses in the congested city, and a strange series of windstorms and cyclones spawned by intense heat and lack of oxygen sped the destruction.
More than 140,000 people died.
The date: Sept. 1, 1923. The place: Tokyo and Yokohama, Japan, the country's primary port city.
What followed was a decade of vigorous reconstruction that transformed Tokyo into the imperial capital.
In the midst of this campaign to establish a modern city that would be revered worldwide and serve as a base for Japan's military operations emerged a young artist named Koizumi Kishio.
He produced a series of 100 woodblock prints that are the subject of an exhibition opening Saturday in the Spencer Museum of Art's Kress Gallery. "Tokyo: The Imperial Capital," on loan from the Wolfsonian-Florida International University in Miami Beach, Fla., remains on view through March 20.
Unlike the woodblock artists working in the centuries before his birth, who focused on people who worked and played in Tokyo and Kyoto's pleasure districts, Koizumi concentrated on the new spaces, structures and technologies cropping up as Tokyo rebounded from disaster.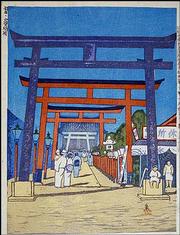 Parks, arenas, stadiums, factories, bridges, radio stations, trains and airports occupy the spaces of Koizumi's prints.
But he doesn't ignore the past.
In fact, it's his intermingling of modern and traditional Japanese cultures and artistic styles that make Koizumi's works so intriguing, says Sherry Fowler, a Japanese art history professor at Kansas University.
"By this time, there's already been a significant amount of Western art interaction in Japan, and in some ways Koizumi is reacting to the West," she says. "But he's also using traditional Japanese style, so it's really a comfortable blend."
In "Yamashita Entrance to Ueno Park," for example, Koizumi shows a woman in stylish modern dress walking under an electric streetlight in a park that had served as an enormous refugee camp for displaced residents after the earthquake. Parkgoers in the background still wear traditional kimono, but neon signs on tall buildings break through the night sky behind them.
"Seeing this park look like this -- looking all nice, seeing the kind of fashionable people walking around in it -- is sort of emphasizing how far Japan had come in its reconstruction," says Hillary Pedersen, Carpenter Foundation Intern in Asian art at the Spencer.
New technique
Koizumi's subject matters weren't the only modern components of his work. Previously, woodblock prints were created in what was known as the "ukiyo-e quartet," Pedersen says. (Ukiyo-e is the Japanese word for "floating world," which referred to the pleasure districts depicted by earlier woodblock artists).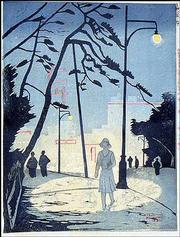 At least four people -- a publisher, artist, carver and printer -- created works collaboratively in the 19th century and earlier. Koizumi and a group of artists working in the early part of the 20th century were the first to work alone.
"The artist had a lot more freedom in what they wanted to do," Pedersen says. "You're getting a lot more personal expressive qualities in the prints, a lot more variety of artistic styles. Perspectives are different; textures are different. There's a lot more variation with this new print movement."
In mid-February, Lawrence artist Sally Piller will give a demonstration of the printing technique used by Koizumi, which she says requires highly specialized tools she had to order from Japan.
"It takes patience. You can't rush anything," she says of the printing process. "I'm boning up on the technique because it's completely different from the Western technique I usually use."
For Koizumi, who was trained as a calligrapher and acquired his printmaking skills from old masters, the technique was nothing new.
"But clearly, pictorially, (his prints) are a world apart," says Steven Goddard, curator of prints at the Spencer. "That's what's kind of wonderful is this anachronism of your anticipation of what one mode of work might suggest. He's doing these beautiful water-based Japanese prints, and yet the subjects are power plants and factories and the modern world.
"There are certain expectations that come with a choice of medium, and this really kind of subverts that in a wonderful way."
Broader understanding
It took Koizumi 12 years to complete "One Hundred Pictures of Great Tokyo in the Showa Era," the series he started in 1928.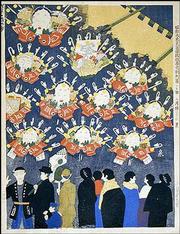 The city changed dramatically during that span. Complementary exhibitions organized by Pedersen attempt to put that period of flux in historical and art historical context.
Post-earthquake imagery that once belonged to Kate Ingeborg Hansen, a native Kansan who lived and worked in Japan at the time of the disaster, will be on display. The collection, on loan from KU's Spencer Research Library, includes photographs, postcards and magazines from the time, Pedersen says. A selection of Edo period (1615-1868) woodblock prints from the museum's permanent collection as well as a sampling of additional 20th-century Japanese art also will be on view.
Taken as a whole, the exhibitions offer a way for museumgoers to expand their understanding of pre-World War II Japan and a pivotal moment in Japanese art history, when the influence of Western artists began showing up in a time-honored creative tradition.
And although Pedersen hesitates to draw a connection between the 1923 Japan earthquake and the tsunami that struck mostly economically depressed areas of Asia in December, there might be an inspirational link.
"It may offer some sort of hope," she says, "that even after such a huge amount of devastation that rebuilding can occur."