Meet Kara.
She's an 18-year-old high school student whose favorite colors are green and purple. She might want to be a fashion designer someday. But right now, all she wants is for her sister to make it home alive.
Her sister is Della, 19, who's more into camouflage fatigues than high style. She's a die-hard patriot, and she just joined the U.S. Army.
It's winter 2003, and in a matter of days she'll be in Iraq.
While she prepares to fight in a faraway land - against a regime she believes could threaten her family and other Americans - Kara wages her own battle back home, reconciling her disdain for the Bush administration's justification for invading Iraq with the fact that her sister is there willingly.
The siblings are fictitious - mere characters at the center of "Kara in Black," a new play being performed this weekend by Lawrence high-schoolers. But the issues they confront, even in the early stages of the war, couldn't be more pertinent today.
"I think the issues are still resonating," says Max Bush, the Michigan playwright who authored the script and is co-directing its world premiere at the Lawrence Arts Center's Summer Youth Theatre. "I think these issues would have resonated in 1965. They are going to get larger and more intense and more vocal over the next years as we continue what we call the war on terrorism."
Innocent lives lost
Photo Gallery
"Kara in Black"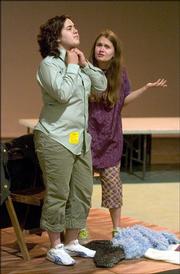 Bush conceived of "Kara in Black" at the urging of a Michigan women's group concerned about young women taking initiative on peace issues. He narrowed the subject by drawing comparisons between the current war in Iraq and the Vietnam War, spending the Christmas before the 2003 invasion with two Kuwait-bound soldiers who were convinced an Iraq attack was imminent, and thinking about how women were playing new roles in the latest conflict.
Thus, his two female protagonists.
While Della travels with her unit, phoning in frequent answering machine updates for her kid sister, Kara struggles.
One day, while talking with some friends at school, the gravity of the situation hits her hard. The Iraqi soldiers don't know Della. They don't know that she has a little sister and that she likes Frank Sinatra albums. To them, she's just the enemy, a target.
"They're going to try and kill each other," she realizes.
She seeks answers from a Vietnam vet who haunts a local war memorial. But he's seen a lot of combat, and his scars run deep. Kara wonders if Della, too, will be a shell of her former self when she returns.
IF she returns.
Kara decides she can't stand idly by. She even contemplates forming a local chapter of Women in Black, an international peace network that stages silent vigils to protest war and related atrocities around the world.
"Those women are not afraid to take risks, and neither is Kara," says Carina Fowler, 13, who portrays the young pacifist. "They (the directors) showed us pictures of the signs we're going to be holding up, and they're just awful pictures, showing the worst of what happens in war: children with bloody faces and men holding their daughters. It's just really depressing, but these women aren't afraid to associate themselves with this bad part of every war, that these children and women who didn't do anything - they're going to die, too."
Two-sided conversation
Ric Averill, who's co-directing with Bush, says the production has been invaluable for the teen cast.
"I think one of the main things is for young people to get a sense of trying to find your voice, trying to find a voice for your beliefs and finding a good way to express your beliefs - not by violent protest or yelling or screaming, but by taking action," he says.
"It's really nice to see the variety of opinions the kids have. We've been talking all summer about what issues are important to you, what are the things you feel strongly about, that you'd like to make a statement about. In 'Les Miserables' (performed in June), there's the revolution issue. In this one, it's feelings about war and anti-war."
'Kara in Black'
High school students in Summer Youth Theatre stage the world premiere of a play by Max Bush. When: 2 p.m. and 7:30 p.m. today; 2 p.m. Sunday Where: Lawrence Arts Center, 940 N.H. Tickets: Adults, $8; students and seniors, $6. Ticket info: 843-2787 This show is not recommended for children under 12.
Both sentiments - and several in between - are represented in "Kara in Black."
"This is not a play that preaches. There isn't a single point of view here," Bush assures. "The play should be entertaining; it should be fun. It is also quite serious, and neither I nor anyone else is trying to put forth a point of view that will change people's minds about anything.
"What we ARE trying to do is provide an aesthetic experience that we can all share around something that's extremely important in our culture at this very moment."
Personal battles
Although the show addresses the politics of war, it also moves beyond the political to the personal, putting human faces on "troops," "casualties" and "deaths."
By talking to Vietnam veterans, soldiers who have returned from Iraq and military families, Bush discovered war's effect on specific individuals.
"War is not a generalized experience," he says. "It's personal to each person who's in it, and the effect on them is different because each person goes off to a different war.
"I also learned that it doesn't just change the soldiers; it alters the people back home as well."
Topekan Chris Waugh, who served in the U.S. Marines from 1969 to 1971 but did not go to Vietnam, portrays a veteran of that war who suffers from severe post-traumatic stress disorder. Waugh says "Kara in Black" does not demonize the military.
"We have a very sympathetic character in the show who is in the military," he says. "We have a very sympathetic character who is NOT anti-military but anti-violence, and there's a difference between being anti-violence and anti-military."
Recent Free State High School graduate Lauren Bornstein, who plays the role of Della, worries that some people will dismiss the show as "some liberal hippie's view" of the war in Iraq.
"No," she says. "It's actually a very nice comparison and contrast of two girls who are closely tied together with their separate opinions on something that breaks people apart."