Most musicians, it stands to reason, would be fairly excited by the prospect of getting a song on a nationally syndicated television program.
Chris Tolle, however, remains unenthused.
"I'm not going to wade through a whole season of Dawson's Creek to hear a song I've heard a thousand times," deadpans the mild-mannered singer/songwriter of The Belles, a KC-via-Lawrence quintet that specializes in reflective, mostly-acoustic, psychedelic-tempered folk rock. "If I knew what episode, I'd watch the whole episode for sure. But it hasn't been pinpointed for me."
So we did a little legwork and unearthed the following: "Omerta" by The Belles appears on Episode 11 of the Season 4 DVD set. For those of you who are in the know, that's "The Tao of Dawson" episode where Dawson admits to Pacey that he has feelings for Gretchen.
The Belles also got a song on One Tree Hill - another teen drama on the WB - when "Disarmed" appeared in the "Lonesome Road" episode. Tolle hasn't seen that one either...
World through a windshield
You can't blame The Belles for being clueless about their contributions to the teen-drama empire. TV licensing is the territory of the band's LA-based manager, who spent the last year hustling to help The Belles establish a stateside identity while Tolle and drummer Jake Cardwell frolicked across Spain, Italy, Germany, Ireland, Scotland and England.
"We're definitely more popular over there," Tolle says. "You can't pick your fans. I'm just happy that anybody's sitting around listening to us."
These days, it's impossible to calculate how many people are listening to The Belles. Two years after the band's debut release "Omerta" hit shelves in America, the album is circulating worldwide via a half-dozen different record labels: "Eat Sleep" in Britain, "Audioglobe" in Italy, "Sinnamon" in Spain and "Cargo" in Germany. There may be a couple more, but Tolle isn't exactly sure.
The worldwide push is largely the doing of Eat Sleep Records, a UK-based label that licensed "Omerta" shortly after The Belles inked a one-off stateside deal with movie-production magnate Lakeshore Entertainment (which also happens to run a record label). A couple phone calls later, Eat Sleep brokered "Omerta" to labels across Europe and helped The Belles line up gigs at high-profile festivals like Rolling Stone Germany and MTV Italy.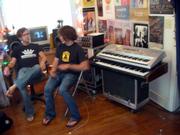 "I saw our video on MTV when I was in London and it really freaked me out," Cardwell recalls. "Andrew (Connor) from Ghosty came back from visiting his girlfriend in Italy and told me he saw the video on MTV. That doesn't happen to us here."
The whirlwind of activity has kept The Belles on the road in Europe for half of the last year, with only a two-week tour with Appleseed Cast to their credit stateside. When the band plays at The Jackpot Saloon on July 13 with their former Italian tour buddies Dada Swing, it will mark their first Lawrence show in nearly a year.
"I still feel like Lawrence is home," says Cardwell, who lived in Lawrence when The Belles formed in 2002 but recently relocated to KC. "We can't wait to show (Dada Swing) our hood."
Album Mp3s
Misery Loves Industry
Homebrewer's association
In between tours, Tolle and Cardwell - the core of the group since its formation - have been holed up at Tolle's Westport-area house and home studio, where the attic and adjunct spaces provide an endless array of geeky home-recording ideas: vocals in the bathroom, percussion in the stairwell, drums in the living room.
"Everything you really need is in here as far as isolation and separation," says Tolle, whose home-recording rig consists of a G4 computer with DigiDesign ProTools, a rack of Behringer Tube Ultragain Preamps, a Line 6 effects pod and a wide selection of high-end and low-end microphones.
"A lot of it is just imagination," he says. "Taking the time to route a microphone that's running through every pedal you own through an amp that you mic up and then drop that microphone into a piano and yell and scream for two lines to get that weird distorted crazy vocal that you can't find anywhere else."
"That's not something you have the luxury to do when you're paying for someone's time."
Now in its final mixing stages, the tentatively titled "Misery Loves Industry" is Tolle's most ambitious project to date in a back catalog that also includes two full-length Creature Comforts records, The Belles' "Idle Acres" EP and a couple singles.
Recorded entirely at home with assistance from ace Black Lodge producer Ed Rose, the album marks a definitive step towards Tolle's dream of producing and engineering his own records.
"I definitely looked at it as a mentoring project," says Tolle, who first hired Rose back in 1991 to record his high school band Rise (two Creature Comforts records would follow).
"When he left at the end of the night, a lot of times Chris and I didn't stop," Tolle says. "We were excited to get a bunch of keeper tracks by the time he got back."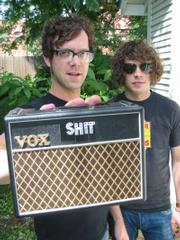 The arrangement enabled Tolle and Cardwell to use the recording process as a songwriting tool, sketching out ideas before lyrics or a definitive structure was in place.
"There's a lot of pieces on the new record where something was taken from an original demo and everything else was sort of built around that," Tolle says. "The writing process is the part I get the most excited about : getting that quick uninterrupted idea down."
Team Belle
"Misery Loves Industry" alternately paints The Belles as FM-friendly popsters and ambitious slowcore experimentalists. It's thick with the sounds of odds-and-ends percussion, effect-warped keyboards and acutely layered double vocals - all presented in spotless hi-fi.
The band even went to so far as to ship early versions of the tracks across the sea to their Italian friend Alessandro Stefana, who recorded backing parts on piano, glockenspiel, lap steel and guitar.
"By the time he sent the tracks back it was literally as if he had been here recording with us the whole time," Tolle says. "We actually dumped all the other tracks that we had recorded."
Other collaborators on "Misery Loves Industry" include Ehren Starks on keyboards, Kristen May of Veda on guest vocals and Brian Everard of Blackpool Lights on bass. The team of hired guns lent a much-needed brevity to the recording process, which was often characterized by late-night sessions and ensuing sleepless mornings.
"Inside every rocker and rock star is just a guy with incredibly low self-esteem, so being isolated in a room doing vocals can be a really brutal thing," Tolle says. "I'll call (Ed Rose) all the time with questions and he'll just laugh at me like, 'Now you know my pain.'"
On the road again
True to the band's ever-evolving form, Tolle went out and recruited three new faces to perform the material live.
The new-look Belles - Nathan Harold of Kelpie on bass, Thom Hoskins of Buffalo Saints on guitar and Andrew Salee of namelessnumberheadman on pedal steel - will play two Lawrence shows in July and embark on a stateside tour this fall.
"Misery Loves Industry" has yet to find a label home stateside or abroad. The band is currently shopping the record and may do a limited self-release if nothing pans out in time for the fall tour.