Tired of grilling burgers and hot dogs?
Maybe it's time to put that grill to a different use and create something that will wow the guests at your next backyard barbecue.
Like a grilled pizza.
It sounds a little funny at first, but no mere oven-baked pizza can compare to the smoky flavor, crisp crust and rustic taste of a pie that's been quickly grilled over hot coals.
All it takes is a few balls of homemade dough, two or three well-chosen ingredients (your favorite cheese, olive oil, diced tomatoes) and a source of even heat - and before you know it, you're turning out pizzas like a pro.
It's actually easy, according to Tim Quillin, chef de cuisine at Community Mercantile Co-op, 901 Iowa.
Quillin enjoys grilling up a pizza from time to time, trying out different ingredients and flavors.
The key, he says, is to be prepared - and to move quickly once the dough hits the grill.
"Grilling pizzas happens fast, so anything you want to put on it has to be ready and standing by before you put the dough on the fire," he says.
The whole process will only take a few minutes, as cooks grill one side, flip the dough, put on the toppings and then let the pizza finish.
"All of this will happen within about two minutes, from the time you put it on the grill to when you eat it," Quillin says.
Pair it with a good, Italian red wine, and you've got a wonderful summer meal.
"Everybody should try it once. If you have friends over for a barbecue, and you pull this off, they'll talk about it," Quillin says.
"It's not what you'd expect out of pizza. It's darker, smokier and more interesting - more of an Old World taste."
But first thing's first: dough.
Make your own, Quillin says, eschewing the refrigerated stuff from the supermarket (though that's OK in a pinch).
"It's really easy and kind of fun," he says. "It's pretty much just three ingredients: flour, yeast and water. Some people put sugar in it, or salt, and there are a million different recipes for pizza dough."
Tips from a pro
Tim Quillin, chef de cuisine at the Community Mercantile Co-op, 901 Iowa, offers these tips on the process of making grilled pizza: A gas grill with multiple burners will work, as long as the dough can be seared on a hot part of the grill and then moved to a cooler side. A charcoal grill is fine, as long as the coals have a chance to die down for even heat. A thin crust is desirable, and the pizzas should be fairly small (7-inch rounds) so they're easy to move around the grill. After warming the grill, prep the dough circles by rubbing them on both sides with olive oil (plus finely minced garlic, herbs, kosher salt and black pepper, if desired) and place dough down, one at a time, on grill. Dough should start to immediately bubble on top and brown on bottom. This is a quick process, so don't walk away. As soon as dough has taken on a golden to dark brown color, flip it and move it to a cooler side of the grill, and add toppings. Cook until both sides of pizza are nicely browned and any cheeses are melted.
"It's a real good idea to do it yourself, so you that you can be involved with it and get what you want out of it. If you get it right one time, you'll pretty much know how to do it every other time."
The dough should be elastic and workable, but not so light that it stretches apart in the hand. A bit of olive oil will help prevent the dough from sticking to the grill later.
Quillin uses a heavy rolling pin to roll out the dough, creating more of a uniform, round shape, though it's fine to do this by hand, too.
Ideally, cooks should strive for a thin crust, which will grill more quickly and yield a crispier pizza.
Don't walk away from the dough once it's on the grill. It's also a good idea to make just one pizza at a time on the first attempt, Quillin advises.
And if the center of the dough starts to burn, move it to a cool part of the grill. That's the benefit of having a two-level fire.
If you do burn one pizza, try it again.
"Any recipe for pizza dough will likely make more dough balls than you need," Quillin says.
Time to get creative
Now the fun part: toppings.
Because this pizza isn't going to bake in an oven, the ingredients shouldn't be runny, liquid or raw. Cheese should be used sparingly, so that it can melt quickly in the short time it will spend on the grill.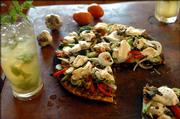 The pizza should be topped, Quillin says, more like a cracker than a Chicago-style pie.
Don't overwhelm the pizza with ingredients or the result will be a mushy mess and a soggy crust.
In other words, a little goes a long way.
Think goat cheese, mozzarella or provolone; plum tomatoes that have been diced, drained and salted to draw off moisture; roasted garlic; a pinch of kosher salt and a drizzle of olive oil.
Or go Greek, using feta cheese crumbles, seeded olives and wilted baby spinach.
Try grilling chicken, zucchini or sliced portabello mushroom caps and using those as toppings.
Almost any vegetable is OK - except perhaps cucumber - as long as it's not raw. It should be grilled or roasted before going on the pizza. Tomatoes, eggplant or squash are good choices. Even field greens dressed with vinaigrette make a nice topping; just don't grill the greens.
And don't forget the herbs: fresh thyme, oregano, rosemary or torn basil leaves.
Cover the grill, at the end of the process, to help the cheese and other toppings get gooey.
Then finish the pizza with a sprinkling of a grated hard cheese, such as pecorino Romano.
"Grilled pizza is very easy, very fast," Quillin says.
"Once you've got past that first one that you burned - and you know why you burned it - everything else is great."
Grilled Pizza Dough
1 1/4-ounce package dry active yeast (2 1/4 teaspoons)
1 cup whole wheat pastry flour
3/4 to 1 cup unbleached all-purpose flour plus additional for kneading and dredging
3/4 cup warm water (about 110 degrees)
1 teaspoon sugar
1/2 teaspoon salt
1 tablespoon olive oil
Stir together yeast, sugar, 1 tablespoon white flour and 1/4 cup warm water in a measuring cup and let stand until mixture appears creamy on surface, about 5 minutes.
Add mixture to remaining ingredients and work together with a mixer with a dough-hook attachment (or a food processor, or by hand on a well-floured counter until dough is smooth and elastic). Divide dough into 5 3-ounce balls and set aside on floured sheet pan until dough has risen and doubled in size (about 1 hour). Shape dough back into tight balls and either roll out or cover and refrigerate for up to 24 hours. Cold dough will need to come back to room temperature before rolling. Yields five personal-sized, 7-inch pizzas.
Source: Tim Quillin, chef de cuisine, Community Mercantile Co-op, 901 Iowa.
Grilled Pizza
2 red bell peppers, seeded and cut into thick slices
1 (7 1/3-ounce) jar sliced mushrooms
Extra-virgin olive oil
Kosher salt
1 large yellow onion, cut into thick rounds
1 pound raw pizza dough, room temperature
2 garlic cloves, minced
2 cups pizza sauce
4 cups mixed grated mozzarella cheese or Parmesan cheese
Heat grill to medium high.
Put red peppers and mushrooms (with juice) in zip-lock plastic bag or big bowl, add 6 tablespoons olive oil and salt to desired taste. Mix evenly or shake zip-lock bag. Use tongs to place vegetables on grill. Add onion slices, brushing onion with olive oil. Cook until vegetables are soft, take off of the grill and set aside.
Split dough into 4 pieces, roll dough on floured surface and brush with olive oil.
Place pizza dough on grill, oiled side down. Leave grill open, and check crust in 2-3 minutes; top should still be a little doughy. Remove crust from grill, brush olive oil on both sides and garlic over cooked side facing up. Spread pizza sauce over cooked side, place vegetables and cover with cheese. Return to grill and close. Let cheese melt evenly and turn brown in spots. Remove from grill, cool and serve.
Makes 4 servings.
Source: www.recipezaar.com.
Pizza Dough
1 (1/4 ounce) package active dry yeast (2 1/4 teaspoons)
2 1/4 to 2 3/4 cups unbleached all-purpose flour plus additional for kneading and dredging
1 cup warm water (105 to 115 degrees)
1 teaspoon salt
Whisk together yeast, 1 tablespoon flour and 1/4 cup warm water in a measuring cup and let stand until mixture develops a creamy foam, about 10 minutes. (If mixture doesn't foam, discard and start over with new yeast.)
Stir together salt and 1 1/2 cups flour in a large bowl. Add yeast mixture and remaining 3/4 cup warm water and stir until smooth, then stir in another 1/2 cup flour. If dough sticks to your fingers, stir in just enough flour (up to 3/4 cup), a little at a time, to make dough just come away from side of bowl. (This dough may be wetter than other pizza doughs you have made.)
Knead dough on lightly floured surface with floured hands, lightly reflouring work surface and your hands when dough becomes too sticky, until dough is smooth, soft and elastic, about 10 minutes. Divide dough in half and form into 2 balls, then generously dust balls all over with flour and put each in a medium bowl. Cover bowls with plastic wrap and let dough rise in a warm, draft-free place until doubled in bulk, 1 to 1 1/4 hours. Makes two 10-inch pizzas.
Cook's note: Dough can be allowed to rise slowly, covered, in refrigerator for 1 day. Bring to room temperature before using.
Source: Gourmet, October 2004; www.epicurious.com.
Grilled Pizza with Spicy Italian Sausage
Pizza dough (made according to your favorite recipe)
3/4 cup olive oil
6 tablespoons balsamic vinegar
3 tablespoons minced garlic
2 tablespoons chopped fresh rosemary
2 yellow or red peppers, cored and sliced lengthwise
1 large red onion, cut into 1/2-inch wedges
1 pound spicy Italian sausage links
salt and freshly ground black pepper
2 cups grated mozzarella cheese
1/2 cup freshly grated Parmesan cheese
4 plum tomatoes, halved, seeded and chopped
3/4 cup chopped green onion
Roll out each of four dough balls into 8- to 9-inch rounds. Set aside. In medium bowl, combine olive oil, vinegar, garlic and rosemary. Let vinaigrette stand 15 minutes at room temperature, or refrigerate up to 2 hours.
Thread bell peppers and onion on metal skewers; brush skewered vegetables and sausages with vinaigrette and season with salt and pepper. Grill over medium heat, basting occasionally with vinaigrette, until sausage is cooked through and peppers and onion are slightly charred and crisp-tender. Allow about 12 minutes for sausage and 8 minutes for vegetables. Transfer sausage and vegetables to cutting board. Cut sausage into 1/2-inch pieces and peppers into thin strips.
Place dough rounds on grill about 3 minutes; turn and grill about 1 minute more. Transfer to baking sheet with most-done side up. Sprinkle each crust with mozzarella and Parmesan, then top with sausage, peppers, onion, tomato and green onions. Drizzle pizzas with about 1 1/2 teaspoons vinaigrette.
Return pizzas to grill and close lid; cook until cheeses are melted and dough is browned, about 5 minutes. Serve warm, cut into wedges. Makes 4 servings.
Source: www.thatsmyhome.com.
Grilled Pizza with Tomato, Mozzarella and Basil
1 cup diced, seeded tomatoes (about 8 ounces)
1 1/2 cups grated mozzarella cheese (about 6 ounces)
1/2 cup thinly sliced green onions
1/2 cup thinly sliced fresh basil
2 tablespoons olive oil
2 tablespoons balsamic vinegar
2 large garlic cloves, minced
1 10-ounce tube refrigerated pizza dough
1/4 cup grated Parmesan cheese
Mix together first seven ingredients in medium bowl. Let tomato mixture stand 15 to 30 minutes at room temperature.
Oil grill rack. Prepare barbecue (medium-high heat).
Unroll dough onto work surface, stretching to form 12-by-inch square. Cut into four equal pieces. Using large spatula, transfer dough to grill rack; cover and grill until bottoms are brown, about 4 minutes. Turn squares over and immediately top each with tomato mixture, leaving half-inch border. Cover and grill until pizza bottoms are brown and cheese is melted, about 4 minutes. Sprinkle pizzas with Parmesan and serve. Makes 2 servings.
Source: Bon Appetit, July 2003; www.epicurious.com.
More like this story on Lawrence.com