If only there was a spell to fight the "dark art" of sleep deprivation.
Hundreds of Harry Potter fans of all ages -some costumed - waited late into the night Friday at Lawrence bookstores for the midnight release of "Harry Potter and the Half-Blood Prince," J.K. Rowling's latest novel about the orphaned wizard.
Many readers were expected to dive into the novel immediately upon purchase and keep reading until dawn.
"I promise you if you drove around at about 3:30 this morning, you would see lights on in about every third house because kids will be up reading the book," said Doug Weaver, manager of Borders, in an early prediction. "About half of my employees asked for time off (today) so they could stay home and read the book."
"All the kids I've talked to plan on having the book finished by tomorrow," said Kim Patton, a young adult specialist at Lawrence Public Library, which plans a "Harry Potter Lock-in" from 5 p.m. today to 9 a.m. Sunday for 100 11- to-18-year-olds
"I plan on staying up tonight myself," Patton said Friday afternoon, hours before the book's release.
Photo Gallery
"Harry Potter and the Half Blood Prince" celebrations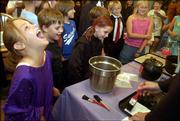 The Harry Potter hype was alive and well into the midnight hour. The Raven Book Store, among others, had staff members dress up as Potter characters and serve a Harry Potter snack called "golden snitches" - that's decorated doughnut holes to you muggles.
A Potter party at Hastings Entertainment on Friday evening leading up to the midnight release included kid-friendly "butter beer" and Potter games as employees and fans donned wardrobes fitting the occasion.
"We don't get our books until tomorrow," said a somewhat disappointed but festive and eager Alex Carlson, 10, of Lawrence, with a cape tied around her neck standing next to her brother and two cousins at Hastings.
"I want to find out who dies at the end," said Emily Ortiz, 10, of Lawrence, who is Carlson's cousin and who said she has read every Potter book.
Emily and her sister, 8-year-old Jamie, agreed that they also looked forward to a speculative scene in the new book of Harry and pals attending a joke shop.
"Yeah, we like them because of how they are funny and stuff," Emily said.
Nic Carlson, 6, stood next to his cousins, also wearing a cape and sporting a fake wound on his forehead. When asked who his favorite character was, he flashed a broad smile.
"Harry," he said.
When she receives her book today, Emily didn't know if she would stay up all night reading it, but she sure would try, she said.
Lawrence book merchants, hoping for magical sales, scheduled the many late-night parties around the city.
Pat Kehde said The Raven had 160 copies in stock for the opening and nearly all were sold early. Weaver described Borders' supply only as "a ton," but said corporate regulations would not allow him to divulge the exact number.
Hastings management said it had about 1,500 copies on the shelves with about 500 pre-orders to honor, and Patton said the library would start with 25 copies, which all currently have lengthy reserve lists.
More like this story on Lawrence.com