They enjoy working on cars, scouring salvage yards for early 1970s Impalas, and they absolutely love the sound of metal crashing against metal on hot summer nights.
They are demolition derby drivers, and this is their time of year.
It's the season for county fairs, and almost every fair seems to have a night set aside for a demolition derby. There is no shortage of drivers and fans to line up early at rodeo arena gates to make sure they get their annual fix of motorized mayhem.
The drivers are happy to oblige.
"I like to be able to build something, just to see how well it holds up and what all you can do to it," said Mike Leming, a 31-year-old Lecompton resident who has been driving in derbies since he was 18.
Starting young
Leming and other drivers said they developed an interest in demolition derbies when they were youngsters watching from the stands.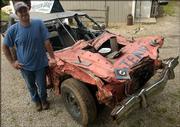 "I've been watching them my entire life," said Lawrence's Chris Cheek, 31, who started driving eight years ago. "I was always there."
Bruce Elm watched the derbies as a youngster, but the 29-year-old Lawrence man also had two uncles who where derby drivers, and he often helped them rebuild their cars.
"Usually they put me to work stripping cars and taking the interiors out," Elm said.
Elm drove in his first derby four years ago in Overbrook behind the wheel of a 1976 Chevrolet Caprice. There were 60 cars entered in the derby, he said.
"I somehow managed to get first," Elm said. "I was pretty lucky, I think."
Cheek's first derby was during the Douglas County Fair in 1997. Driving a 1969 Chevrolet Impala, Cheek took first in his heat but was an early dropout in the main feature.
Leming drove a 1972 Dodge Polara station wagon in his first few derbies.
"I seemed to get a little better each time," he said.
Expensive hobby
All three drivers said they prefer driving the big General Motors model cars from the early to mid-1970s. But they also like the small-block engines. They buy the cars and then strip them down and rebuild them to their preferences.
Upcoming demolition derbies
¢ Friday: 7:30 p.m., Kansas City, Kan., Wyandotte County Fairgrounds.
¢ Saturday: 7:30 p.m., Kansas City, Kan., Wyandotte County Fairgrounds.
¢ Aug. 5: 7 p.m., Lawrence, Douglas County 4-H Fairgrounds.
¢ Aug. 6: 7:30 p.m., Overbrook, Osage County Fairgrounds.
¢ Aug. 13: 6:30 p.m., Tonganoxie, Leavenworth County Fairgrounds.
¢ Aug. 13: 7 p.m., Gardner, Johnson County Fairgrounds.
The car bodies they prefer, however, are getting more difficult to find and more costly, they said. When he started, Leming said he could buy a car body and frame for $75 to $100. Now they are more likely to be $300 to $400. Buying spare parts and a good engine can cost up to $1,000 or more, he said.
"I know some people who have $2,000 to $3,000 wrapped up in just the motor," Leming said. "But if you spend that much money, it is going to last you four or five years. The motor is the heart of the car."
More derby cars also are appearing for sale over the Internet. Those cars generally cost more than others one might find in salvage yards or up on blocks in somebody's backyard, the drivers said.
Once he gets a car, it often takes him three months of weekend work to get it ready for a derby, Leming said.
"A lot of people think you pop the glass out, chain a couple of doors and away you go," Leming said. "That's not even close to what it takes to get a car ready for a derby."
Drivers also pull the gasoline tank and install some other, smaller container to hold the gas. Leming uses a 5-gallon aluminum keg for a tank while others often use a motor boat tank. Rubber body bolt mounts are removed and so are the seats and dashboard. A bucket seat is installed and, for safety purposes, metal bars are installed behind the driver and where the dash was. The doors and trunk are also welded shut. If there is rust on the frame, it also has to be removed.
Elm likes building the cars and doing the mechanical work on them better than driving them. He now has a 1966 Lincoln and a 1963 Ford Galaxy being prepared for derbies. He may drive the Galaxy in this year's derby during the Douglas County 4-H Fair, scheduled for the night of Aug. 5.
"It's a lighter car," he said of the Galaxy. "But they have a reputation for being a good car. You don't see many of them."
'A good show'
Attitudes of derby drivers have become more aggressive in recent years, Cheek said.
"Now the derbies are wanting you to go out and put on a good show for the crowd," he said. "They want you to demolish the car.
"When I drive, I go for the tires and try to get the front bumper off," Cheek said of his derby driving plan. "Once you get the bumper off, that radiator is exposed. And if you get that motor running hot, it's not going to run much longer."
Demolition derbies aren't just tough on the cars, they are tough on the drivers as well.
"It's painful," Cheek said. "It's a lot easier when you are hitting someone, because you expect it. If somebody hits you from a different direction and you're not expecting, it that kind of hurts - but it's still fun."
The Douglas County Fair derby has been selling out for years, pulling crowds of about 3,000 people each year, fair officials said. As many as 60 cars are usually entered.
Neither Cheek nor Leming are driving in the derby. Both have taken some time off this year to inspect cars and officiate at area derbies. But they say they will be back.
"I've got too much money in motors and transmissions just to hang it up now," Cheek said.
Leming loves the competition.
"To me, it's a cheap version of NASCAR racing," he said. "You got to have the enthusiasm to go out there and do it."
For those who are just getting started driving in demolition derbies, Leming has some simple advice:
"Just go out and have fun."