Wedding photography has changed dramatically in the past few years. Not long ago, everything was carefully posed.
This style remains today, and it can give you beautiful images. But posed photographs lack spontaneity, naturalness and life.
That's where photojournalism comes in. Every wedding becomes unique, and the personalities of the bride, groom, families and guests are allowed to shine.
I see the bride's KU tattoo on her shoulder. Snap. The groom looks admiringly at his cool sunglasses in the mirror. Snap. The father of the bride stretches his arms triumphantly in the air at the reception. Snap. The mother of the groom gets down on the dance floor. Snap. The groom fights back tears as he hugs his grandmother. Snap.
Photo Gallery
Wedding photos by Monte Mace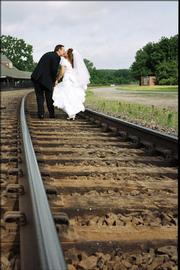 Weddings are emotional events. That's why photographing people unposed and real is the best way to capture those emotions.
If couples don't have to pose all day, they look more natural in their photo albums. Plus, they truly are able to enjoy their wedding day without constantly being pulled away for photographs.
That's my goal at weddings: Be there to capture the moment, but stay out of the way.
Monte Mace is a Lawrence freelance photographer. His Web site is montemacephotography.com. He can be contacted at 842-5525 or montemace2000@yahoo.com.