Just do it.
That's Craig Nowatzke's advice for how to start a hot dog stand. Then again, he may be holding a few details back.
"I answer a lot of questions about how to do it, and then I'm kind of like, 'What am I doing?'" says the jovial 36-year-old street vendor with the bright-red tan. "It's one of those things that everybody wants to do, you know? But I'm the only person down here."
Situated at 9th and Mass. next to The Third Planet, Nowatzke's "Sun Dog" stand is indeed the lone sidewalk food vendor in Lawrence's downtown. His menu - hot dog, bratwurst, polish sausage, chips and soda - may not rival the variety offered by restaurants down the street, but it makes the most of its limited range.
"I go with the all-beef Kosher," Nowatzke says proudly. "People that are from Chicago and New York are always like, 'You got all-beef Koshers? Right on!'"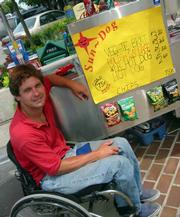 Hot doggin'
Anyone who knows Nowatzke probably isn't too surprised about his new business venture. He's an outdoor guy through and through - an avid water-skier, bicyclist and horticulturist who spent previous summers hawking his homespun produce at the Farmer's Market. He also runs his own photography business, which he hopes will take off with a little re-investment of his hot dog earnings.
Never mind that he's paralyzed from the waist down.
"This is pretty typical of him," says Regina Van Rees, Nowatzke's longtime girlfriend.
"We climb mountains wheelbarrow-style - I hold his legs and he uses his hands."
By all appearances, the prospect of breaking down and setting up a 1,000-pound hot dog stand with only two working limbs is pretty intimidating. It was for Nowatzke - but that was part of what attracted him to the gig.
"(When you're in a wheelchair) you don't want to feel like, 'This is what I can do - sit in front of a computer,'" says Nowatzke, who previously worked a desk job for the Social Security Administration. "I wanted to see if I could do it - if it was possible."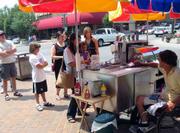 Such challenges have been the norm for Nowatzke since he suffered a stroke of the spinal chord 18 years ago. He was three weeks into his KU education when the freakish stroke hit him without any hint of a cause.
"I was riding my bike going back to the dorms for dinner and it hit me like a heart attack - just totally knocked me down," he recalls. "If it had to happen it was a pretty good time in life to happen."
Wurst of times
Nowatzke's work day begins about three hours before he actually hits Mass. St. (he typically vends from 11:00 a.m. to 4:00 p.m. Wednesday through Saturday). He keeps a commercial kitchen in the garage of his north Lawrence home so he can wash down all his supplies - one of many health codes regulations he had to meet.
"It's kind of like opening up a restaurant, with probably a tenth of the cost," he says. "My first day ended up being like a 12-hour day, but I've totally trimmed the fat."
Despite the relatively low startup costs, vendors like Nowatzke must jump through a number of hoops - including city council permits, health code inspections and zoning laws - before they can hit the streets.
"The corner I picked doesn't have any restaurants around me, so I didn't get any objections," he says, adding that he had to get permission from each business within 75 feet. "It's a good process - just don't be in a hurry."
Nowatzke typically packs about 100 wieners for a day's work, cooking them on location (another health code requirement). Business can be erratic - particularly when it comes to the infamous veggie wieners.
"Vegetarian people are fickle," he jokes. "They like to make sure you carry vegetarian, but they don't really want to buy anything."
Poseur dogs
On a Wednesday afternoon with The Alferd Packer Band playing nearby, however, Nowatzke's veggie bratwursts are flying out of the steamer.
"Veggie bratwursts are the absolute best - they're packed with all these awesome spices," says Virginia Musser, a Sun Dog customer who journeyed downtown with her 6-month-old son Owen to catch the music. "You can't think of it as a hot dog; you have to think of it as its own thing."
Kansas Fiori-Brown also opts for the veggie bratwurst. The 11-year-old says he's been a vegetarian for the last two days.
"I saw these pictures of how they slaughter animals," he says. "It looked sort of cool, but it made me feel sick."