Bob Ebey prides himself on being a pretty easy landlord to get along with.
His tenants stay with him because he charges below-market rent and fixes things when they break. Bob stays with them because they take care of his properties and don't piss him off.
Every once in awhile, though, things aren't quite so simple.
"One guy appeared before a judge and he claimed that there was no carpet," Ebey says of a former tenant whom he had to evict for nonpayment of rent. "The judge stated that he couldn't see the carpet because it was covered with cat feces."
"He left nine cats and a rabbit," Ebey recalls. "The entire unit was covered with feces."
Such nightmarish scenarios are fairly easy to avoid - just don't be a total knob.
Even for the even-keeled, however, renting can be an adventure. Leases are packed with details that may not seem relevant until it's too late; security deposits can disappear in the blink of an eye; and roommates can split when the going gets tough.
Renter's info www.hcci-ks.org including free downloads: - Kansas Residential Landlord Tenant Act - Tenants Handbook (includes move-in checklist, repair-request forms, info on renter's insurance, small claims court, etc) Free renter's counseling: Robert Baker, rbaker@hcci-ks.org, 749-3528 Off-Campus Living Resource Center at KU, 864-4164 Utility Transfer Information Transfer date: August 1st Electric: 1-800-749-6101 Gas: 1-800-303-0752 Water/garbage: 832-7878 Telephone/Internet/cable: 841-2100
To help navigate the matrix of renting in Lawrence, we pass along the counsel of three professionals who know the landscape intimately:
Guru #1: The Tenant Defense Attorney
Max Kautsch remembers the days when it when much harder to rent an apartment in Lawrence. A KU student from 1996-2000, Kautsch would typically go out in February and March to look for his August move-in. These days, he says, there's less pressure to find an apartment early.
"I think a lot of times student tenants - especially ones who leave town for the summer - panic about, 'Oh my god, where am I going to live next year?'" says Kautsch, who devotes half of his law business to tenant defense. "In reality, there's so much rental space that the tenants can be in the dominant position."
Finding the right place, of course, is only half the battle. The real challenges begin at move in, when both parties take an inventory of the apartment's condition. Though an inventory is required by Kansas Law, it doesn't always happen. According to Kautsch, this failing persists because the Kansas Residential Landlord Tenant Act (KRLTA) does not include built-in penalties for landlords who don't do inventories.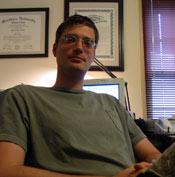 "The law is slanted towards the landlord, there's no doubt about it," Kautsch says. "You can make up penalties in terms of common law (for landlords) but there's no prescribed damages."
To compensate for this power imbalance, Kautsch suggests that tenants act vigilantly to document every aspect of their apartment's condition at move-in. If the landlord doesn't initiate an inventory, document everything with digital pictures. If the landlord does initiate an inventory, be there to make sure it's accurate and get a copy to keep in a safe place.
"It's not as easy for me to help tenants who don't keep the documentation, and sometimes it's totally impossible," Kautsch urges.
That paper trail should continue throughout the course of a tenant's occupancy period, he says. Maintenance requests should be written out rather than called in, with a signature or certified-mail return receipt to prove that the landlord received the request. Those documents can prove to be essential for tenants trying to get out of leases with negligent landlords, since Kansas law allows tenants to leave 30 days after making a request if the landlord does not make a "good faith effort" to fix it.
Such conflicts are usually easier to resolve in situations where the tenant communicates directly with the landlord, Kautsch says.
"With big apartment complexes it's going to be less likely that you're going to have a personal relationship with the landlord," he says. "There's no doubt in my mind that if you can get into a relationship where you know who you're going to be dealing with, that helps a lot."
When it comes time to move out, tenants should be aware of a KRLTA provision that allows them to sue for wrongfully withheld deposits plus 150 percent of the wrongfully withheld amount. It's one of the few KRLTA provisions that favors tenants, Kautsch says.
"American law has this really strong interest in personal property," he says. "Clients will call me all the time and say, 'This landlord just busted into my house,' and nine times out of ten the only way that the tenant can truly solve their problem is to leave."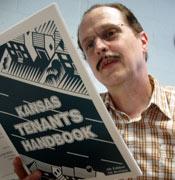 Guru #2: The Tenant-Landlord Counselor
As the director of the Lawrence branch of Housing and Credit Counseling Inc., Robert Baker spends his days counseling Lawrence tenants on the phone or at his office in the United Way Building.
Lately, Baker has noticed a disturbing trend: Lawrence landlords - particularly large management companies - requiring their tenants to give 150-180 days advance notice whether they want to renew their lease.
"I'm just appalled that somebody would only be six months into a lease and have to give notice of where they're going to be six months down the road," Baker says. "That's a real problem for most people. What student knows six months in advance where they're going to be? What if there's an illness?"
The situation is particularly troubling for renters who may not be aware that their leases can renew automatically - sometimes up to six months in advance of their expiration date.
"A lot of students feel really bitter about it when they realize that they missed the date and now these guys are going to try and shake them for all they can get out of them," Baker says. "If you say, 'How come you didn't give me a warning?' they'll say, 'We did - it was in the lease.' If you're a student who's never rented before you have no idea that this hanky panky might go on."
According to Baker, the problem stems from a KRLTA clause that sets a minimum (30 days) on the amount of time required for written termination of a lease, but does not specify a maximum.
"I think the only way we're going to find out whether 180 days is legal or not is if somebody challenges it in court," he says.
Such potential problems can be avoided by seeking out a month-to-month lease, which are more common with private landlords than large management companies or apartment complexes.
"The advantage is if you need to move in a hurry you can always do it on a month's notice," Baker says. "The disadvantage is that it might be colder than a grave-digger's butt and you have to move in a hurry because your landlord is giving you 30 days notice."
Baker's short list of other useful things to know:
* If a dwelling is not up to code by the move-in date, you don't have to move in.
* If one roommate leaves, the others are responsible for his or her rent.
* During checkout, the meter is running until the landlord gets the keys.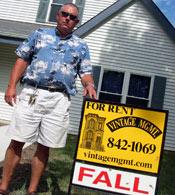 Guru #3: The Property Management Company Guy
Mark Lehmann loves handing over a nice fat return-deposit check to his tenants - it means they didn't trash his properties.
"I've seen a lot of stupid things," says the owner of Vintage Management, a company that looks after nearly 100 local rental dwellings. "I had one last year try to remodel the basement. He tore down a wall and was amazed to find the damage to be over $2,000."
Lehmann's 11 years of rental management experience encompasses a wide range of common renter offenses, such as painting the walls, illegally harboring pets and nailing holes in the walls. These cases typically involve tenants who are aware they are breaking the terms of their lease. Some problems, however, stem from a simple lack of education when it comes to taking care of a home.
"One of the stupidest things they do is they leave for winter vacation and turn the heat off," Lehmann says. "The pipes freeze and when they turn the heat back on water damages the apartment."
Another case: "I had a tenant try to grind up a cardboard box in a garbage disposal. He plugged it up hopelessly."
Such well-intentioned violations can cost tenants hundreds of dollars, or, in the former case, dozens of work hours repairing the damage. A more common way for tenants to lose money, Lehmann says, is to not clean their houses or apartments before checkouts.
"Dirty stoves, dirty floors, dirty walls, dirty baseboards," he rattles off. "They're amazed to find out they spent $500-600 cleaning a big house. It's not hard to do."
Lehmann has learned to protect his company's interests by documenting all of the ensuing cleaning fees.
"Landlords will make the mistake of charging '$500 for cleaning' instead of '$40 for the stove and $20 for the windows,'" he says. "When it's detailed then almost always the courts award us every penny."