More than 20,000 people, almost 6,000 exhibits and hundreds of pounds of funnel cake.
That's what's in store at the Douglas County Fair, which begins officially this weekend with horse shows, and which hits full gear Tuesday with a carnival, exhibit judging and other popular events.
Organizers said they expected that by the fair's end, Aug. 7, more than 20,000 people would have attended at least one event.
Food vendors, expecting long lines, were preparing their fryers.
"Last year, I had lines for funnel cake that were all the way across the street backing up traffic," said Bill Ball of Crazy 8 Concessions.
Ball predicted he would use about 300 pounds of funnel cake batter as he did last year. About 75 cakes can be served from 25 pounds, he said.
The 4-H horse show is Saturday at the Douglas County 4-H Fairgrounds, followed by the open horse show Sunday, also at the fairgrounds.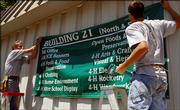 Both shows will begin shortly after 9 a.m. in the Community Building arena.
On Monday, 4-H and open class food exhibits will be entered. Tuesday brings in 4-H livestock entries and exhibits about electricity, forestry, photography, rocketry, woodworking and more. Judging also takes place in some categories.
"Tuesday is the day we really get swinging," said Margaret Kalb, secretary for the fair board of directors.
As one who has remained involved with the fair since her childhood and who now has children in 4-H, Kalb called the fair an important showcase for rural life in a county becoming more urban.
"We usually sell out the Demolition Derby, and that arena holds 3,000-plus. We could easily have 6,000 per night those nights," she said of the auto events scheduled to begin Aug. 5.
Also, as of Thursday, there were 5,440 pre-registered 4-H exhibits, which will increase this week with food, craft and other open exhibitors expected to add 300-500 entries, Kalb said.
Tuesday also marks the opening of carnival rides. The carnival will be open from 6 p.m. to 11 p.m. Tuesday through Friday and 1 p.m. to 5 p.m. Saturday. Each ride generally costs, but on Wednesday through Friday, bracelets can be purchased for $12 that will allow unlimited rides. On Saturday, carnival attendees will be able to buy an $8 bracelet, which will extend riders' fun until midnight that night.
Sunday's open class horse show is tailored to family audiences, especially children. In addition to the main judging events, which include horse riding and barrel racing, several activities, such as egg-balance races on horseback, will be repeated this year.
"It got really exciting and really funny," said Gretchen Brumm, a rider who intends to participate in some of the riding classes Sunday and who operates a horse farm in Douglas County.
"If you are a parent and your kids are really interested in horses, this is the one to bring them to," Kalb said.
Also being brought back from last year is an open class stick horse contest for children 6 and younger. They can bring their own stick horses or some will be available at the arena.
"We had eight participants last year, and they were really cute," Brumm said.
The highlight of this year's fair will again be the Friday night Demolition Derby in the rodeo arena. It starts at 7 p.m. Tickets are $10.
Saturday will mark the first time the Missouri State Tractor Pullers Assn. Hot Rod Tractor & Truck Pull show has been held at the fair. It will be in the rodeo arena; gates open at 6 p.m. The show starts at 7 p.m. Tickets for adults are $10 and for children younger than 12, $5. Tickets will be available at the fair office in Building 21 at the fairgrounds. Call for the tickets at 841-6322.
An antique tractor pull contest will be Thursday night, and a draft horse pull is slated for Wednesday night.
The only events that require admission or other fees are the Demolition Derby, hot rod tractor show and the carnival. Parking also is free.
The fair will officially close with the livestock auction at 4:30 p.m. Aug. 7.
If you go
Here are some events at the Douglas County Fair. For more details, go to www.dgcountyfair.com. Saturday ¢ 4-H Horse Show, 9 a.m., Community Building Sunday ¢ Open Horse Show, 9 a.m., Community Building Tuesday ¢ Spectacular Attractions Carnival opens, 6 p.m.-11 p.m. Wednesday ¢ Evening entertainment by Evergreen, 7 p.m.-10:30 p.m., stage area ¢ Draft horse pull, 7 p.m., rodeo arena Thursday ¢ Antique tractor pull, 6 p.m., rodeo arena ¢ Evening entertainment, DJ Mike Edmondson, 7 p.m.-10 p.m., stage area ¢ Douglas County Farm Bureau Movie Night, featuring "Racing Stripes," dusk, north side of the Douglas County Extension Office. Bring lawn chairs and blankets. Friday ¢ Demolition Derby, 7 p.m., rodeo arena. Tickets: $10, limited number available. Gates open at 6 p.m.
Staff writer George Diepenbrock contributed to this report.