Given the premise of "Brigadoon," it might be surprising that the Scottish fantasy, unlike its namesake town, emerges from obscurity more often than once every hundred years.
But since its original production in 1947, "Brigadoon" has become a favorite of fans and critics alike. It takes inspiration, teamwork and finesse, however, to keep the musical charismatic and light.
Lawrence Community Theatre's production, beginning Friday and boasting a broad array of local talent, promises to weave some magic of its own - and it just might make you long to stay in Brigadoon.
Just as the fictional village's enchantment was granted because of an extraordinarily fervent prayer, the Lawrence Community Theatre's production of Brigadoon may be blessed by a similar feat of conviction. Mary Doveton, the managing artistic director at the theater since 1984, has formed the 26 cast members into a community as tightly woven as the plaid they wear.
"Everybody is getting along. It's been a delightful group to work with," says Doveton, who's directing "Brigadoon."
She looks over the cast as they don plaid kilts and dresses before one of six remaining rehearsals; her gaze is exacting but accompanied by caring words and easy humor. The cast members know Doveton demands a lot from them, but they're inspired by her love of the production.
"She gives so much of herself to the show. Her passion for the music and the show is contagious," says Jayna French, of Shawnee, who plays Fiona.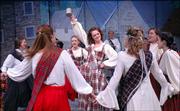 "Brigadoon" is Jayna's second performance at the theater. She fell in love with the small theater while performing in "Enchanted April," and she knew she wanted to return. Surprised by the energy and ability of her fellow "Brigadoon" actors, she says, "there are a lot of incredibly talented people in this cast."
Of the 26 cast members, exactly half are Lawrence Community Theatre veterans; others are new to the theater. Spread across age, experience and motivation, the cast is truly a mix. Kristen VanEngelen, who moved to Topeka from Washington state early last year, plays the effervescent Meg. Regarding Jayna French and Mark Skolaut as the leads, she says, "They are the two perfect people to fill those roles. They have a lot of stage chemistry together."
Case Bruyr, a Hesston native beginning his junior year studying theater at Kansas University in the fall, likes the environment at the community theater. What gives it an advantage over productions at KU, he says, is the tabula rasa that each new cast member begins with. "This is just real life. KU is much more political. When you audition (at Lawrence Community Theatre), they go based on your actual talent as opposed to who you are or what classes you have taken," he says.
The cast agrees that the hardest aspect of "Brigadoon" has been emulating the Scottish brogue. The actors first learned their lines and songs normally, and then had to learn to integrate the accent. The theater recruited the help of Evan Grosshans, a recent KU theater graduate. His help has been effective; even off-stage the cast cannot stop dropping their "l's" and rolling their "r's.
"Brigadoon" opens Friday, and promises music, excitement and magic. In addition to new non-chemical fog techniques, Brad West and William Ran will be providing authentic bagpipe performances both before and during some shows. Whatever your tastes, Lawrence Community Theatre will try its best to enchant you with the fantasy and romance of this production. And unlike the town itself, once gone, the magic of THIS "Brigadoon" may never return.