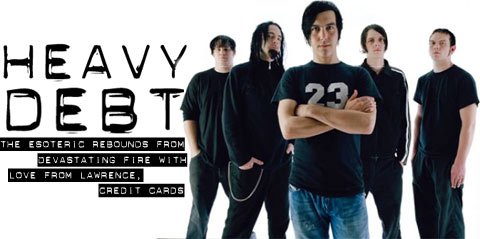 The Esoteric are deeper in debt than they've ever been.
Indebted in kindness, that is.
"Dude, love is all there is," said Steve Cruz, the lead screamer of the ill-fated Lawrence metal band that lost more than $20,000 worth of equipment in a recent house fire.
"There's no way that we would have been able to (regroup) if it wasn't for everybody here in Lawrence and Kansas City," he said. "When you experience such love and kindness there's nothing else you can do except submit to it."
Metal meltdown
Things didn't look so cheery on the morning of February 22. The band's gear guitars, amps, pedals, drums, computers, etc. had just endured four hours of hose pummeling, leaving the band's basement practice space completely flooded. (Story on the fire here.)
"For some guys in the band, the fire probably was the most devastating experience ever," Cruz said. "Finally we had this house : And then it was all gone."
With no renter's insurance or backup gear and a tour looming just three weeks away, the band turned to the generosity of friends. A couple of benefit shows and an online donation account later, Lawrence's hardest-working metal band was on its way to recovery.
Past Event
Saturday, June 4, 2005, 10 p.m.
Jackpot Music Hall, 943 Mass., Lawrence
18+
"I think all-in we've probably raised about $6,000, which is about a third of what the actual recovery bill is going to end up being," said band manager Dean Edington, who has worked with the group since its inception in 1996. "I think everybody's been totally awesome and way gracious beyond what I would have expected."
The band got some more good news just before they embarked on their first post-fire tour: an endorsement deal from Mesa Boogie that allowed them to purchase half-price amps. Another act of grace occurred when Midwest Drum and Percussion amazingly restored drummer Marshall Kilpatrick's half-melted, waterlogged drum set.
"I imagine they probably baked them in the kiln, got all the excess water out of them and resized them and sanded them and refinished them," Edington said. "I've never gotten a bill for it."
Like wildfire:
As the band headed out for a west-coast tour in the one piece of band gear that survived the fire (the van), they discovered that news of the incident had spread quickly.
"Everywhere we go there's press about it and the kids ask us about it," Cruz said. "Kids will be like, 'Oh my god I'm so sorry that happened; I wish I had some more money to give you guys.' Or they'll buy a t-shirt and be like, 'Keep the dollar.'"
The nonstop touring schedule (the band has spent less than two weeks at home since the beginning of March) has offered the best therapy from a harrowing experience that could have been a lot worse had Cruz not been awake at 3:00 in the morning watching "Donnie Darko."
"There's a lot of leftover emotions that kind of come back when we're not in the moment of driving to the show, playing the show or packing after the show," Cruz said. "The only way to do it is one day at a time, because when I think about the totality of it I just get overwhelmed."
Though a handful of fire marshals have contributed to the investigation, a conclusive explanation of how the fire started will likely remain elusive since the water obliterated any reference points.
"They did say at one point, 'Do you think anybody would arson?'" Cruz said. "That's when I figured out, 'Oh my god, you really have no idea what happened.'"
The fire also destroyed the personnel belongings of Cruz, Graves and Kilpatrick and essentially left them homeless. Lately, however, that hasn't been an entirely undesirable situation for a band that's spending most of the spring and summer touring.
Album Mp3s

With the Sureness of Sleepwalking
"On one hand, there's probably no way we could go out there and slug it out for a hundred bucks a night if they had a house and bills to pay," Edington said. "Instead of having five guys with rent and bills to pay, it's two guys with rent and bills to pay."
Burning desire
As the band slowly rebuilds, its remaining energies are directed towards promoting its first full-length studio album "With the Sureness of Sleepwalking." Released April 19 on Prosthetic Records (All That Remains, Lamb of God), the record received national distribution though Sony/BMG and initially shipped 15,000 copies.
"I haven't seen a negative review of the record yet," Edington said. "It's less and less about calling them a metal band, and more and more about seeing the band for what it really is, which is a very heavy pop band."
Record sales should benefit from the new fans the band has earned by touring the country with groups like Nodes of Ranvier and Himsa (they'll also join the Warped Tour in August).
Cruz said he's especially thankful to see people coming to the shows in lieu of higher cover costs.
"The whole market that we're in is a lot more commercialized than ever," he said. "I know what it's like to get five dollars a week and save it up and go to a show, but now to see some nobody bands like us and three other nobody bands it's like 10 bucks. And then the t-shirt or CD is like 10 bucks, and you had to give your older friend gas money to get to the venue because you live in the suburbs."
All of which are blessings that Steve Cruz isn't taking for granted these days.
"The experience has just made us way more humble and grateful than ever," he said. "Even the guys who didn't live at the house have just been blown away by all the compassion."