There's something about the Flint Hills that keeps luring back noted Lawrence landscape artist Robert Sudlow.
"It's kind of like a moonscape: Everything's there and nothing's there," says Sudlow, 85, who taught painting at Kansas University from 1947 until he retired 40 years later.
"It's vast, and it's exposed to the sky and the weather. It's kind of an elemental place, kind of frightening and pretty unforgiving. I've just gotten hooked on it."
There are plenty of other Kansas artists, working in a variety of media, whom the Flint Hills have similarly challenged to capture the beauty and openness of that largely untouched expanse.
A collection of some of their attempts to do so are showcased in an exhibition, "Homage to the Flint Hills: A Gathering of Art Inspired by the Tallgrass Prairie of Kansas," which opens today and will remain on display through July 15 at the Lawrence Arts Center, 940 N.H.
The exhibit is comprised of the work of 37 painters, photographers and other artists, including seven from Lawrence and Douglas County: John Charlton, Louis Copt, Lisa Grossman, Stan Herd, Paul Hotvedt, Rodney Troth and Sudlow. The show features paintings, photographs, a ceramic piece, a fabric piece and a CD-ROM.
"We expect 'Homage to the Flint Hills' to draw many visitors to the arts center. To many people, Kansans and others, this area of the state is the quintessential expression of Kansas landscape," says Rick Mitchell, the center's gallery director.
"Many artists have been inspired by its beauty through the seasons and times of day. I don't know anyone who has been there who hasn't been moved and inspired by its character."
Photo Gallery
Flint Hills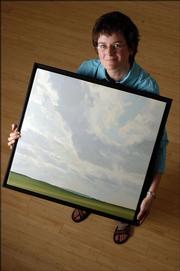 An idea ripe for doing
"Homage to the Flint Hills" opened last summer at the Topeka-Shawnee County Public Library and has since been shown in five other Kansas towns: Arkansas City, Olathe, Chanute, Junction City and Manhattan.
But its roots actually go back nearly 20 years.
In 1985, Topeka freelance writer and arts promoter Don Lambert organized "The Kansas Landscape," a book and exhibit of paintings by 32 Kansas landscape artists that toured Kansas for two years, with assistance from the Kansas Arts Commission and the Wichita Art Museum.
"Along the way, I got to know many artists, like Bob Sudlow and Louis Copt, and I just saw that so many of them were going to the Flint Hills for inspiration. It struck me that this was a phenomenon that could be identified, but no one had quite done it yet," says Lambert, 54.
"There are exhibits of Flint Hills paintings, but there's never been one with 37 works of art that has toured and has a book accompanying it."
Past Event
Friday, June 3, 2005, 7 p.m. to 9 p.m.
Lawrence Arts Center, 940 New Hampshire St., Lawrence
All ages / Free
After leaving Lawrence in July, the exhibit continues touring Kansas until May 2006, visiting Emporia, Great Bend, Wichita, El Dorado and North Newton.
Lambert says he likes calling attention to Kansas artists. And since many of them have drawn inspiration from the Flint Hills, this exhibition seemed like an idea that was ripe for doing.
He's pleased with the public response to the works in the show.
"It's been great because, yes, these are pretty pictures, but I think the appeal has kind of gone beyond that," Lambert says. "It's brought about an invigorated appreciation of what's in our backyard."
Almost impossible to capture
Grossman, a 37-year-old Lawrence painter and printmaker, is among those Kansas artists who have found a favorite subject in the Flint Hills.
Grossman, who earned a bachelor's degree in painting from Kansas University in 1999, considers that region a rich source for her work.
"To some people, all that space is a little overwhelming or unsettling. But to me, it just had an immediate impact - to be able to see great distances, the isolation and the beauty," she says.
Flint Hills preservation effort begins (06-03-05)
What's the hardest part of trying to portray that in her paintings?
"It's to capture that sense of space, light and distance with the most expressive brushwork, in the simplest way possible - to make an austere landscape interesting."
Copt, a Lecompton landscape artist, knows what that process is like. His dramatic paintings of prairie fires in the Flint Hills have become his signature subject.
"Any time you try to put a frame around that vastness, you eliminate what you're trying to do. You've tried to isolate it, and that's almost impossible to capture in painting," says Copt, 56.
John Charlton, meanwhile, uses photography to depict the changing light and moods of the Flint Hills.
Charlton, a photographer for the Lawrence-based Kansas Geological Survey, created a 360-degree panoramic CD-ROM, taken from one of the highest points in that region, in Greenwood County.
Viewers use a computer mouse or the keyboard to zoom in and out of the panorama, while panning around in a circle. There are multiple controls of the image, so there's no one uniform viewing.
Charlton, a good friend of Copt, has been shooting photos in the Flint Hills for the past 20 years.
"I think it's difficult to photograph," says Charlton, 55, who lives between Lawrence and Baldwin.
"You wind up with lots of pictures of green earth and blue sky, and it's kind of monotonous. To me, it's a challenge to photograph it so it doesn't look that way."