The new Nintendo "Revolution" and PlayStation 3 will come out next year, and already 29-year-old Roy Lopez is scheming.
He'll have to save up money to buy both video game consoles on his got-to-have list. And he plans to be at the store when the supply truck arrives.
For many people, video gaming is a hobby. An escape. A way to relax. Or a way to feel the thrill of defeat. Some studies have even shown it improves hand/eye coordination.
It can also be an obsession. For some, it can turn into an addiction.
"It's blossomed," said Maressa Hecht Orzack, director of the Computer Addiction Studies Center at McLean Hospital in Belmont, Mass. "Everything has gone way over the top more recently."
Gaming is a bit more socially acceptable now than it was 20 years ago, said Brian Harris, owner of Game Guy Video Games, 7 E. 7th St. Avid gamers used to be frowned upon for spending hours in front of the television.
"Now when a 35-year-old guy stays inside all weekend and plays a game, no one blinks an eye," Harris said.
Adult obsession
The average age for video game players is 30 and there is about an even split between female and male players, said Nick Yee, a Stanford University doctoral student who studies online gaming.
"There is no monolithic group of video gamers who play all games," Yee said. "Gamers chose different games depending on their personalities."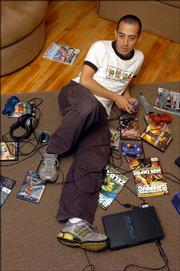 Some turn to action games on consoles, like the Sony PlayStation 2 or Microsoft Xbox. Others seek out online role-playing games for consoles or personal computers, like the popular EverQuest and EverQuest 2, which are part of massive multiplayer online communities, which require a subscription.
It's not unusual for some gamers to spend hours playing in front of the television or computer.
Lopez, manager of Pachamama's restaurant and owner of Happy Paws, a pet-sitting service, plays nearly every day. If he's not playing, he might be researching video games on the Internet or reading about them in one of the many magazines he collects.
"I would say he's obsessed," said Ann Lopez, his wife. "His life in general revolves around games."
But Lopez has tempered from the days when he played games all day and into the wee hours of the morning. Ann Lopez used to go to sleep at night with the sounds of explosions coming from the television.
"It was just a stressful sound all the time," she said. "It was awful. : I kept telling him, 'This is not normal. It's not OK.'"
Though Lopez doesn't play as much as he used to, he still loves to grab the controls - at the end of extended cables that allow him to sit further from his 30-inch high-definition television - and enter an electronic world and play the hero.
"It's like being IN 'Star Wars' when you actually get to be Luke," he said.
Orzack, who works at McLean Hospital and also serves as an assistant clinical professor at Harvard University Medical School, said the games can be fun and recreational, but they can also be addictive.
"Can they stop it?" she asked. "That's the key."
Psychological symptoms of addiction include: neglecting friends and family, feeling empty or irritable when not at the computer, and an inability to stop playing the game. Orzack advocates support groups and therapy for those who are addicted.
But the word "addiction" can prove problematic. There's a lack of research in this area, and no professional standard for diagnosis or treatment, Yee said, and addiction can have a different meaning in the gaming world.
"Addiction has this positive connotation," Yee said. "It's kind of cool to be addicted to a game."
Role-playing escape
Natalie Spiess, 24, a Kansas University graduate who recently moved to Texas, loves the online game EverQuest 2.
She recalled one bender during a winter break when she would play for eight-hour stretches, barely giving herself time to eat.
Spiess enjoys the role-playing aspect. She can be a good character or a bad one. She can be a troll or a human or an elf, but she often plays a female warrior who gets right into the action.
"I like that fact that the possibilities are never-ending," she said.
Spiess often plays against her friend, Amy Hunt, a Lawrence native who recently moved to Independence, Mo.
Hunt, 22, plays Ceecia, an elf wizard with white hair, pointy ears and a crown. She's tall and slim and looks like Arwen Evenstar, the character played by Liv Tyler in "The Lord of the Rings" trilogy.
Inventing a character is how Hunt first entered the EverQuest world. She used to think the game was stupid until her boyfriend and a friend lured her by saying she could pick out a pretty dress and hairstyle for her character.
"I thought that was pretty cool," she said. "They were both like: 'Well, why don't you start to play?' I got hooked from there."
Hunt started playing so much her boyfriend had to buy a second computer so he could play, too. Now the two will sit in the same room, on two different computers, and play together.
Hunt finds community in the way players interact in the game world.
"It's kind of like online chatting," she said. "They're very social."
She played another game where the characters did more mundane tasks, but that wasn't as much fun. She prefers the chance to slay ghosts and goblins.
"It's just really easy to get hooked," she said. "When you're so close to a level, you're like: 'OK, 10 more minutes, 10 more minutes to the next level.'"
More like this story on Lawrence.com